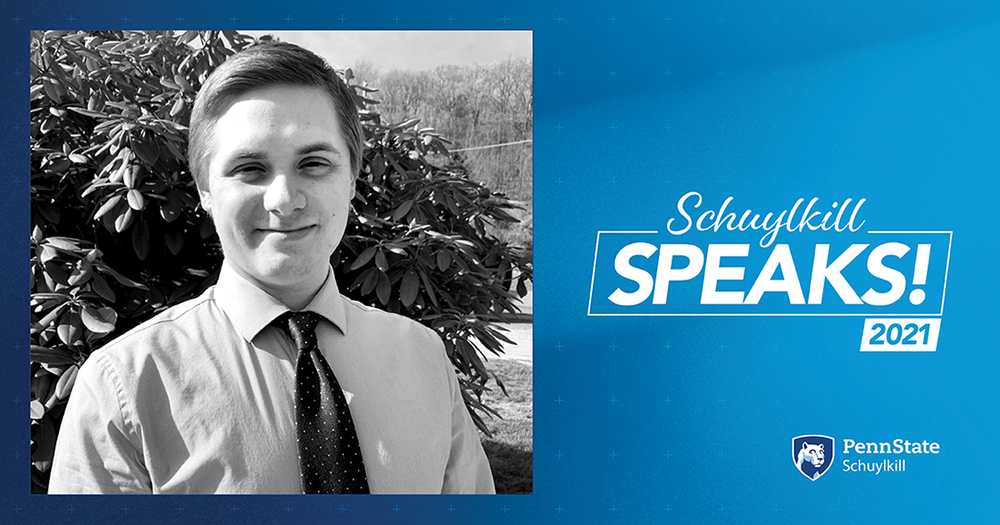 Editor's note: This story is part of a series profiling exceptional members of Penn State Schuylkill's spring 2021 graduating class. For more stories like Sukeena's, visit schuylkill.psu.edu/2021-graduates.
SCHUYLKILL HAVEN, Pa. — Evan Sukeena is a project and supply chain management major from Minersville, Pennsylvania, as well as a participant in Penn State Schuylkill Co-Op. Sukeena's co-op experience was so successful that he plans to continue his role as a scheduling specialist at Prysmian Group full-time after graduation. That Sukeena already has a position lined up is no surprise to those who know him and use words like "dedicated," "professional," and "disciplined" to describe him.
Sukeena was the spring 2021 recipient of the Project and Supply Chain Management Award — given to an outstanding graduate of the program — and will be graduating with magna cum laude distinction.
As a local student, Sukeena's relationship with Penn State Schuylkill runs deep. His grandmother worked at the campus, and he recalls youthful days spent in her office and exploring the campus with his brother.
"I have great memories from those times," Sukeena explained. "I remember how nice the faculty and students were, and even at a young age, I could tell it was a great school to attend. When it came time to select a college, Penn State Schuylkill had a tremendous advantage over the other colleges I was considering."
Doing what you love
Sukeena expresses a sincere enthusiasm for his degree program. He has always been interested in the history of commerce and curious about how — and where — things get made. So, when Penn State Schuylkill announced the new project and supply chain management (PSCM) program for fall 2018, Sukeena knew it was a perfect fit.
"When I saw that Schuylkill would be offering the PSCM major, I could picture myself graduating with that degree and going on to become a supply chain professional," explained Sukeena. "I am excited to be part of the history of this industry and want to be influential in keeping America moving."
Kathleen Fabrizi, coordinator of the project and supply chain management program, said, "Evan is a professional, disciplined, and collaborative team leader and facilitator. His leadership skills became truly evident while serving as the vice president of the campus's Phi Beta Lambda chapter of the Future Business Leaders of America (FBLA) national organization. His passion for project and supply chain management will be a major asset for any employer lucky enough to hire him. We are so proud of his hard work and scholarship — maintaining an impressive 3.96 GPA — over his four years at Penn State Schuylkill!"
As his final semester comes to a close, we caught up with Sukeena to talk about his time at Penn State Schuylkill.
Q: What surprised you most about your time at the Schuylkill campus?
Sukeena: I was surprised by how welcoming the faculty and staff are on campus. Going into my freshman year, I was incredibly nervous because I never saw myself attending college. But after just one semester, I realized that the faculty and staff had a passion for helping every student succeed and feel comfortable. Each year I became more comfortable and confident in my learning. Looking back now, I see the impact everyone on campus had on me.
Q: What extracurricular activities were you involved in, and how did they impact your time on campus?
Sukeena: I was involved in the Phi Beta Lambda (PBL) chapter on campus and was the vice president of the organization in my senior year. In PBL, I was introduced to many great resources for becoming a business professional, including field trips to popular businesses in our area, etiquette dinners, conferences and guest speaker events. For me, PBL was a great way to network and learn tips on how to be successful in my career.
Q: What are some accomplishments that you are particularly proud of?
Sukeena: I recently received the Bachelor Degree in Project and Supply Chain Management Award. It was a great feeling to see my hard work and dedication to my studies pay off.
Q: Outside of academics, what was something important that you learned?
Sukeena: I learned the importance of getting real-world experience. I worked part-time my entire time at Penn State Schuylkill. I started off working as an activities aide in a nursing home. There, I met many great people who always had great advice. I went on to work as a product selector at Wegmans Distribution Center, where I gained experience working on the front lines of a retail supply chain. In addition to my current position at Wegmans, I am interning at Prysmian Group. Each job taught me something different that I will be able to apply to my future career.
Q: Which class or instructor had the most influence on your academic career? Future career? Why?
Sukeena: I have had so many great instructors throughout my time at Penn State Schuylkill. One instructor who influenced me to work hard and want to succeed in my major is Kathleen Fabrizi. Every class I had with her was challenging and pushed me to be the best student I can be. She also has incredible background experience in the supply chain field, which allows her to bring firsthand experiences to each lecture and great insight into being a successful supply chain professional. I also credit Gina Whalen, Patty Shoener, and Darlene Young for helping me become who I am today and encouraging me throughout my time at Penn State Schuylkill.
Q: Do you have a favorite Penn State Schuylkill memory?
Sukeena: My favorite memories involve spending time in the Student Community Center and the library enjoying a cup of coffee while talking with friends, reading books, and doing homework. It was nice to have a comfortable place to relax or study.
Q: As you near graduation, what advice would you give to an incoming student about college in general, and Penn State Schuylkill specifically?
Sukeena: The best advice I would give to an incoming student would be to get out of your comfort zone and take every opportunity that comes your way, no matter how intimidating it may seem. The more you push yourself out of your comfort zone, the more successful you will be. Advice for Penn State Schuylkill students specifically would be to take advantage of all the resources on campus. Tutoring is a great resource to help you achieve the grades you want. I always struggled with math, but after getting help on homework and test prep, I started to enjoy math and learned effective methods for studying.
Q: Where do you see yourself next year? In five years?
Sukeena: A year from now, I hope to continue work with my current employer, Prysmian Group, gaining experience in the supply chain field and working on ways to improve their supply chain processes. In five years, I see myself as a supply chain specialist working for a logistics or manufacturing company. I'd also like to be working on Lean Six Sigma certification. I also see myself getting more involved in volunteering in my community and using my education and experience to help local businesses become more successful.