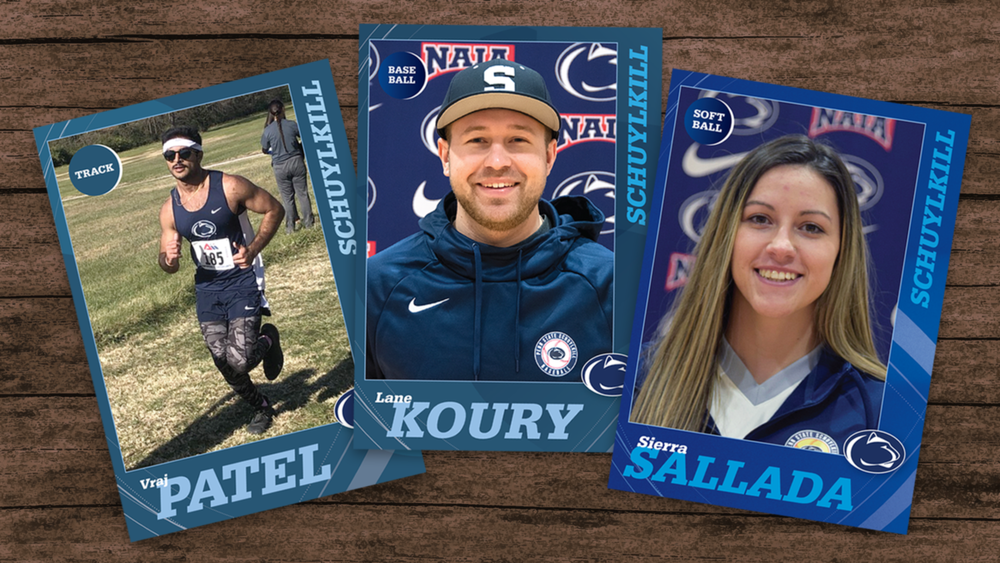 SCHUYLKILL HAVEN, Pa. — For many college athletes, the arrival of spring break signals the start of the spring sports season. For a senior student-athlete, this can be both an exciting and bittersweet time, heralding the last season and the final game to be played. For three Penn State Schuylkill seniors, the spring sports season began, for the most part, as usual, and the arrival of spring break saw the baseball and softball season underway. But, by the end of the weeklong break, it was clear that this season would be like no other.
For Lane Koury, Vraj Patel, and Sierra Sallada, their final season as Penn State Nittany Lions ended almost before it began. Yet, without exception, they remarked positively on the lasting memories and valuable lessons learned from their time as Penn State Schuylkill student-athletes.
Lane Koury
Koury is a business management and marketing major from Schuylkill Haven, Pennsylvania. Both a pitcher and utility player for the Penn State Schuylkill baseball team, his goal after graduation is to combine his sports background with his business degree and become a marketing agent for professional athletes.
Koury grew up not far from the Schuylkill campus and recognized that the campus with its small class sizes was the right choice for him. During his time at Penn State Schuylkill, he excelled both on the field and in the classroom. He has appeared on the dean's list multiple times, with two perfect 4.0 semesters. Koury was named to the PSUAC Academic All-Conference team for scholastic achievements while playing a varsity sport.
"Lane was the consummate student-athlete," said Penn State Schuylkill athletic director Joseph Godri. "He was always supportive of our department initiatives, was very respectful, and genuinely cared about the well-being of his teammates."
Koury explained that his participation in the Penn State Schuylkill athletic program has helped him achieve his academic successes through learning time-management skills and practicing self-discipline. Koury also balanced academic work and his practice schedule with service to his community as a volunteer with the Orwigsburg Fire Department.
Koury will leave the campus drawing on the strong friendships he has made over the years. "The best times at Penn State Schuylkill," recalled Koury, "were centered around a sport I love — every game and practice that was spent being part of this team."
"Lane truly knows and loves the game," emphasized head baseball coach Grant Yoder. "You can talk to him for hours about baseball. His love of the game will carry him well after graduation as he pursues opportunities in a sports-related career."
Vraj Kamal Patel
Patel is a biology major and multi-sport athlete from Edison, New Jersey, participating in the men's cross-country and track teams. A well-rounded student-athlete, Patel cites small classroom sizes and a supportive environment of faculty and staff as key reasons for choosing Penn State Schuylkill.
Smaller class size also allowed Patel the option to work closely with his professors, including Brenna Traver, associate professor of biology, who Patel cited as a major influence.
"Vraj is a dedicated, hard-working student, both in and out of the classroom," noted Traver. "His work ethic and attitude are an inspiration to others. He always puts others first and was recognized for his leadership and school spirit at this spring's Student Affairs Awards ceremony with the Spirited Lion Award. Even though the track season was canceled, he continues to train as if he had a meet coming up. He has been a pleasure to have in class, and I will miss him when he graduates."
Patel has also been very involved in the campus THON chapter, and this year was selected as one of the four dancers sent to participate in the annual University Park THON event. Patel underscored his enthusiasm, saying, "Being selected to dance at this year's THON event is one thing that I will never forget about my time as a Penn State Schuylkill student."
Teachers, coaches, and friends all remark on Patel's commitment to the task at hand.
"Vraj is one of the most dedicated runners I have ever coached," emphasized Penn State Schuylkill cross country and track head coach Joe Muldowney. "In 2018, he suffered a knee injury, which sidelined him for much of the season. He vowed to come back stronger and faster for the 2019 season, and he did. He broke all of his personal records and helped his team earn a berth at the NAIA's Association of Independent Institutions' regional meet in Kansas. Vraj is a true team leader who has always led by example."
Sierra Sallada
Sallada is an administration of justice major from Shillington, Pennsylvania, who elected to play softball at Penn State Schuylkill after attending an athletics open house event. "I did not have a solid plan for after high school," stated Sallada. "But, after attending the open house and sitting down with [softball coach] Darle Cresswell, it was a very easy decision. I also liked the fact that it was a small school that would allow me to get to know my professors."
Sallada credits Cresswell and the Penn State Schuylkill athletic program with helping her succeed over the past four years. Sallada explained that the support she had from the coaching staff, and the campus as a whole, helped her stay the course, even as she faced some personal challenges.
"Coach Cresswell helped to see me through a very tough couple of years, and he stuck by me and believed in me. I also felt the encouragement of the Penn State Schuylkill staff. They support the achievements of student-athletes, and that gives you pride in what you're doing."
Sallada has been named to the PSUAC Academic All-Conference team and was a PSUAC East First-Team All-Conference player. She was also a John Fritz Sportsmanship Award winner. This season she was named to the NAIA's Association of Independent Institutions' All-Conference team. Although disappointed to miss out on her final season of play, Sallada said she made good use of her time as a Nittany Lion.
"Sierra has developed into the ultimate team leader on and off the field," said Cresswell. "Her commitment to our program and her teammates is unmatched. She exemplifies the growth that every coach wants to see in a student-athlete."
When asked what she will take with her as she graduates, Sallada said, "I learned a lot of life lessons over the years. I learned that you need to work as a team if you want to succeed, and you need to run everything out until the last play."
In what they learned would be the final game of the season during spring break play in Myrtle Beach, Sallada credits her team for accepting that fact with character. "I gave my all, and I watched my teammates do the same. We played with more passion and determination than ever before, and that will always resonate with me."
As Sallada looks forward to a career in law enforcement, she reflected on her time at Penn State Schuylkill, "Coming here to play softball was one of the best decisions I have ever made."