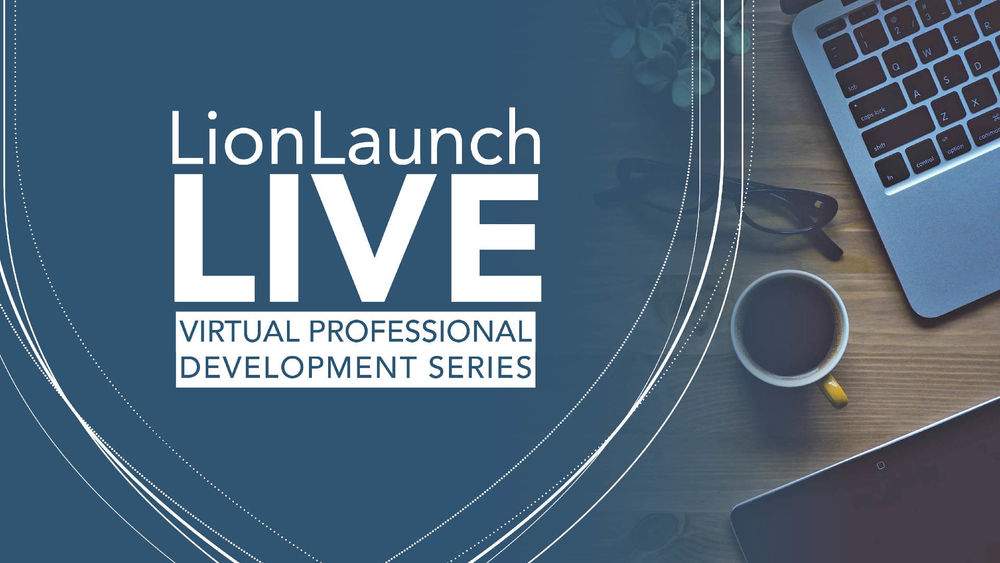 Penn State Schuylkill has instituted a complimentary virtual professional development series called LionLaunch Live to help budding entrepreneurs and small business owners. The programs begin Thursday, April 2, and continue through May.
LionLaunch Live offerings will include professional development workshops, information sessions and mixers for people to participate in from the comfort of their own homes. This complimentary series is presented via Zoom with the intention of making the programs accessible to anyone.
Program schedule
"How to Turn a Side Gig Into a Full-Time Business"
Presented by Alyssa O'Neill
, independent sales director, Mary Kay Cosmetics
Thursday, April 2

4 to 5 p.m.

Register now
More than 40 million people in the United States have a side hustle -- a job on the side to either supplement their income or fulfill a passion their "real job" doesn't. Deciding the right time and way to quit a full-time job and turn a side gig into a real career is challenging, but can become a reality. O'Neill will share how she did it, and will share ways others can, too.
"Low-Budget Marketing Ideas for Small Businesses and Nonprofits"
Presented by Lisa Robinson, instructor of business, Penn State Schuylkill and World Campus
Tuesday, April 7

10 to 11 a.m.

Register now
This presentation will show attendees how to make a big impact with a small marketing budget. Lisa Robinson, instructor of Business at Penn State Schuylkill and World Campus, will teach attendees a variety of inexpensive strategies to help small businesses and nonprofits make the most of their marketing budget.
"Protecting Your Ideas: Intellectual Property Basics"
Presented by Tyler Etter, attorney, Entrepreneur Assistance Clinic, Penn State Law
Monday, April 20

2 to 3 p.m.

Register now
For artists, musicians and entrepreneurs, safeguarding ideas is essential. In this introductory session, attendees will learn the basics of intellectual property (patents, trademarks, copyrights and trade secrets), including what can and cannot be protected and the limits to one's legal rights. This online event is presented in partnership with the Intellectual Property (IP) Clinic at Penn State Law - University Park. The clinic helps counsel Pennsylvania innovators, entrepreneurs, small businesses, and early-stage start-ups in intellectual property strategy.
"Using LinkedIn To Grow Your Professional Network"
Presented by Patty Shoener, alumni relations and stewardship officer and instructor of business, Penn State Schuylkill
Thursday, April 23

12:20 to 1:10 p.m.

Register now
This power-packed presentation will give attendees a whole new outlook on this often overlooked social media platform. Learn how important LinkedIn is for professional use, career growth and networking opportunities. Patty will:
help participants create or improve their profiles,
offer tips for accepting and endorsing connections, and
discuss the advantage of LinkedIn Groups.
"Create Vision Boards That Inspire Success"
Presented by Tina Rose

, coordinator of career development, Penn State Schuylkill
Thursday, April 30

12:20 to 1:10 p.m.

Register now
Rose will show participants how easy, fun and effective it can be to create a vision board. She'll also share examples of others whose vision boards came true, and help participants get started on boards of their very own. Attendees should join the session ready with a poster board, scissors, glue or tape, magazines, special mementos, photos, and other items that inspire them.
Networking Workshop & Virtual Happy Hour Mixer
Presented by Gina Whalen, business division coordinator, Penn State Schuylkill
Thursday, May 7

6 to 7 p.m.
Register now
This fun, interactive session will explore the importance of networking. In the age of social distancing, this event will provide a unique opportunity for attendees to meet new people and participate in a virtual mixer. The first half of this virtual event is devoted to learning about the three distinct types of networking. Participants will then work on their personal strategic networking plan based on their goals. This interactive workshop will conclude with a virtual speed networking mixer.
"Digital Marketing 101: Breaking It Down to Enjoy a Successful Online Ride"
Presented by Scott Williams, owner, Cotts, Inc., and SkooCal.com creator
Wednesday, May 13

2 to 3 p.m.

Register now
Williams brings more than 30 years business ownership, e-commerce and marketing experience to this session. A LionLaunch Business Plan Competition winner, Scott is an established digital marketing pro who will teach attendees how to take full advantage of the tools available. Williams will:
explain why social media alone isn't enough,
define common digital terminology, and
get attendees started with some doable action steps.
Register for an event today
For more information about LionLaunch Live and the other LionLaunch programming, contact Penn State Schuylkill's Community Engagement office at 570-385-6065 or [email protected].