New education initiative to provide students with innovative access to real-world experience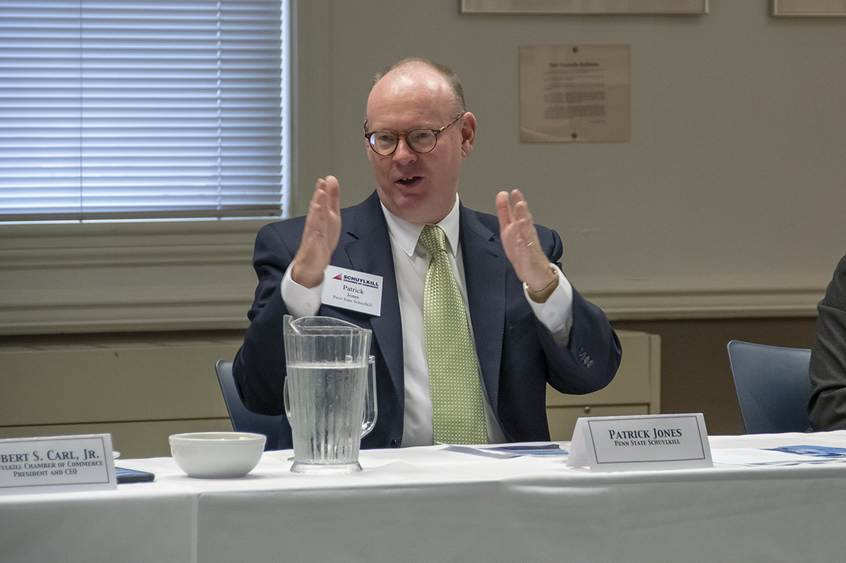 SCHUYLKILL HAVEN, Pa. — Penn State Schuylkill Chancellor Patrick Jones spoke with members of the Schuylkill Chamber of Commerce recently about the new Penn State Schuylkill Co-Op initiative. The forthcoming program will blend classroom learning with relevant paid work experiences across the full four years of students' undergraduate studies.
The overarching goals of the program are to:
Help students better prepare for their post-graduate careers.
Help employers develop talent pipelines.
Retain top talent in Schuylkill County. 
Benefits to students, benefits to employers
The advantages of the Penn State Schuylkill Co-Op are twofold. Students will gain experience applying classroom learning in the workplace and bring lessons from the workplace back to the classroom, learn valuable job skills, clarify career goals, and earn money to help pay for their education. And employers will leverage the program into an effective screening and selection process to help them build a pipeline of new talent while helping to develop and retain a vibrant regional workforce.
A new way for students to gain real-world experience
The program will be coordinated through the Penn State Schuylkill Career Development Center as a collaborative effort involving faculty, staff, employer partners, and advisory councils of successful alumni and industry leaders. The immersive cooperative model differs from a traditional internship program primarily in regard to its structured four-year format that will include three workplace experiences coupled with preparatory coursework and career services programs. While most Penn State Schuylkill academic programs require one internship, the co-op program will not be a requirement but, rather, an elective opportunity that students may select at the outset of their academic careers.
Building the Consortium of Co-Op Employers
Employers are invited to become founding members of the Consortium of Co-Op Employers. Participants will have a designated point-of-contact on campus to help with recruiting and vetting of student employees and to assist them with other organizational aspects of the program as needed. There is no cost for employers to join beyond offering paid work experience for their student employees.
Although the program is currently in development, Jones anticipates a soft roll out for the fall 2020 incoming freshman class and full implementation for the incoming freshman class of 2021.
"We are excited to be working with the business community to develop a program that will be a true win-win," Jones said. "This structured co-operative education program will provide students experiential learning opportunities throughout their undergraduate studies while helping employers meet their workforce needs."
Employers who would like more information about joining Penn State Schuylkill's Consortium of Co-Op Employers can visit sl.psu.edu/co-op.