Ceremony acts as bookend to six-month long collaborative project.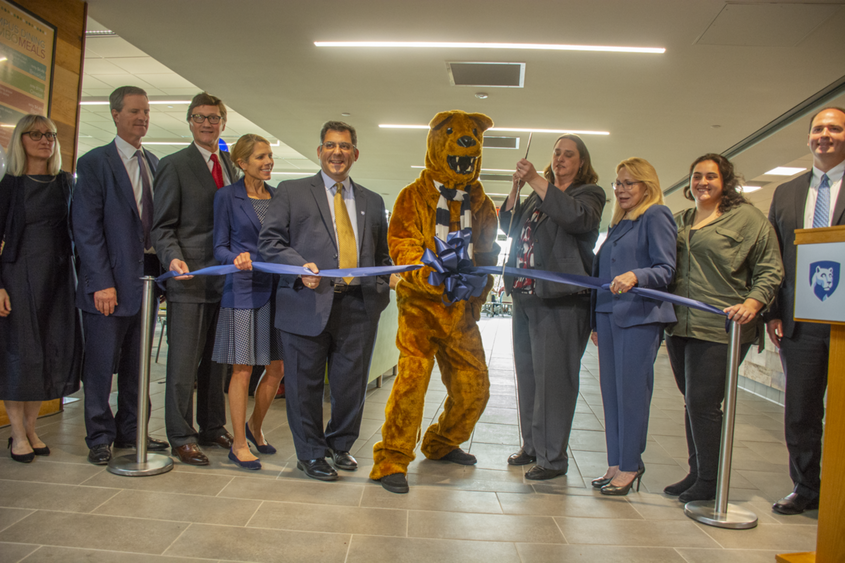 Administrators, dignitaries, and students donned hard hats and shovels on a cold, overcast day. They smiled exuberantly as they bore their shovels into the earth before them. Dozens of onlookers snapped photos, memorializing the final days of Penn State Schuylkill's old Student Community Center. It was March 20, 2018, and the group officially celebrated groundbreaking for the Student Community Center and dining hall's renovation and expansion.
Nearly six months later, on Sept. 19, many key players from the same team reconvened to cut the ribbon on the newly expanded and renovated project, this time without their hard hats and shovels. Sun spilled in through the building's massive, modern windows, illuminating students enjoying their lunches while event attendees streamed into the new space. Excited chatter permeated the lobby until Darcy Medica, interim chancellor of Penn State Schuylkill, calmed the din to begin the ceremony.
Expanding and renovating the Student Community Center and dining hall has been a years-long process. While tangible plans for the renovation became public in November 2017, the project was set into motion several years ago under former Penn State Schuylkill Chancellor Kelly Austin, who now serves as associate vice president for administration in the Office of the Vice President for Commonwealth Campuses. Medica oversaw the project from groundbreaking to completion.
"We had tremendous participation from the entire campus community, starting with the planning process right through to the ribbon cutting, and I have been especially impressed with the focus of our faculty and staff on student needs," says Medica. "For example, the game room was not part of the original project, but these campus discussions and the hard work and creative solutions provided by Spillman Farmer Architects and Alvin H. Butz, Inc., allowed this aspect of the project to come to fruition," she says.
Throughout the ribbon-cutting ceremony, students sampled new food options offered by the Hidden Stream Café staff while others stretched over the billiard and ping pong tables located in the new game room. As Penn State Schuylkill collaborated with Spillman Farmer Architects, the architectural firm that designed the renovation, to design the space, the team involved students, faculty, and staff in steering committees. Time and again, the campus community expressed their desire for more food options while the students stressed their need for a relaxing and fun space. Spillman Farmer Architects listened, and Alvin H. Butz, Inc., made their dream a reality.
Wendy Body, senior project manager at Alvin H. Butz, Inc., guided the construction from project inception to completion. Body highlights the collaborative nature of the project, noting, "The administration, staff, and students at Penn State Schuylkill were engaged throughout the entire process. Alvin H. Butz, Inc. construction management staff worked with our design-build partner, Spillman Farmer Architects, and the University to get student input on the project early through group visioning sessions."
Corporate Communication junior Raquele Amato was one of those students who offered input during the planning process. Amato was a member of the project's steering committee, and commented that, "Having the opportunity to be involved in the new dining hall renovation has made me realize what Penn State Schuylkill is all about." For Amato, being part of the steering committee indicated to her that, "Penn State Schuylkill cares about its students and what the future holds for this campus."
Not only is the space functional, but it is also aesthetically striking. Spillman Farmer Architects wanted the edifice to seamlessly fuse beauty and functionality. With its modern, open concept layout, abundant windows and trendy furniture, "The center is now highly visible from Route 61, and makes an impactful statement to visitors and prospective students about Penn State Schuylkill's commitment to its students," said Christa Duelberg-Kraftician, design principal at Spillman Farmer Architects.
This newly renovated and expanded facility has broadened its footprint by 5,000 square feet and has significantly increased its seating capacity. Madlyn Hanes, vice president for the Commonwealth Campuses and executive chancellor, joined the festivities and touted that, "Learning will take place here, friendships will be formed here, meaningful conversations will happen here, and memories will be made here."
Though this aspect of the Student Community Center and dining hall renovation and expansion has come to a close, Medica hints at future projects related to the space. "Additional features, including a stage, green wall and patio, will be added over the next year," she said.
Student Government Association President Leila Duka spoke at the ribbon-cutting ceremony, in addition to attorney Richard Wiest,advisory board president at Penn State Schuylkill, and John Papazoglou, associate vice president for auxiliary and business services at Penn State.
Duka was poetic about all of the exciting opportunities emerging at Penn State Schuylkill. During her speech, Duka noted that, "Prospective students will be compelled to join our ranks with these exciting opportunities," citing new academic programs, study abroad opportunities, Schuylkill's recent induction into the National Association of Intercollegiate Athletics, and, of course, the Student Community Center renovation and expansion. "Students will undoubtedly find that they wish to complete their undergraduate studies at Penn State Schuylkill," she said.
After years of planning, Penn State Schuylkill's Student Community Center has transformed into an even more sociable, welcoming, comfortable place. At last, the campus community has another space to call "home."