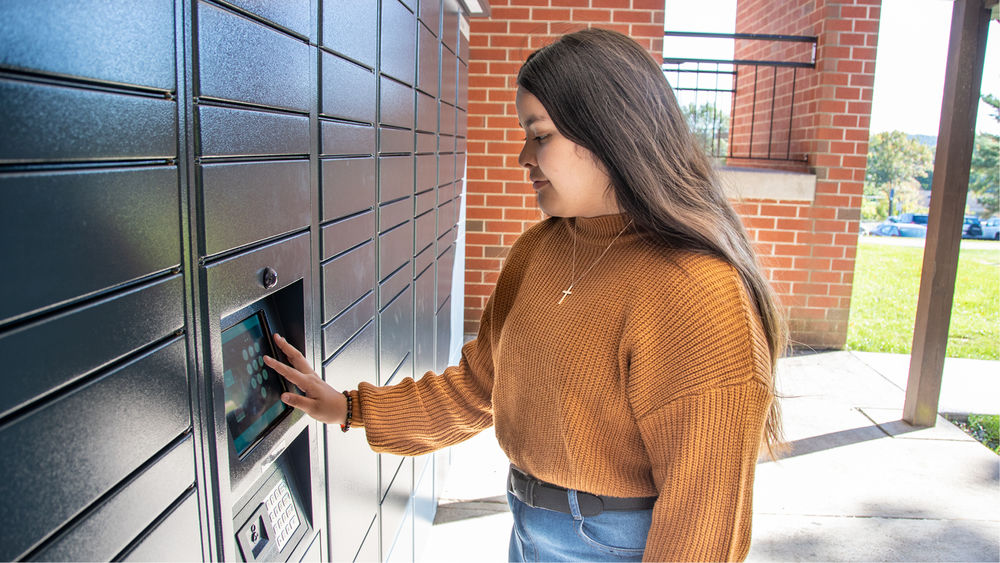 SCHUYLKILL HAVEN, Pa. — To address the growing amount of student packages delivered daily to Penn State Schuylkill, the campus has procured an Amazon Hub Locker — the first of its kind at any Commonwealth Campus. The lockers will allow students to pick up Amazon and non-Amazon packages — including FedEx, UPS, DHL and USPS — at any time of day.
These lockers are available to Penn State Schuylkill students exclusively and will allow more efficient distribution of the 150 to 200 packages that arrive weekly for the Nittany Apartment residents. Prior to the installation of the Amazon Hub Locker, the Business Services office distributed packages during regular office hours, which sometimes caused delays in those packages reaching students.
"As a residential student, I'm really glad to know our packages are safe and so close to our apartments," said Arabi Chavira, a first-year biology student. "It's great that we'll have 24/7 access to package pickup."
Jonathan Kukta, director of business services at Penn State Schuylkill, helped manage the acquisition and installation of the lockers. "This is such a great amenity for our students," Kukta said. "Through surveys, we know this is always a top request for campus amenities, and we're delighted to be able to offer this service to our students."
The hub features 111 lockers in various sizes, which can accommodate 99% of all packages. When a courier delivers a package, an email is sent to the student along with a six-digit code. At the locker terminal, called "Nittany," students will punch in that code and their locker will open so they may retrieve their packages.
The Amazon Hub Locker is located near the Nittany II Apartments and is now available for student use.