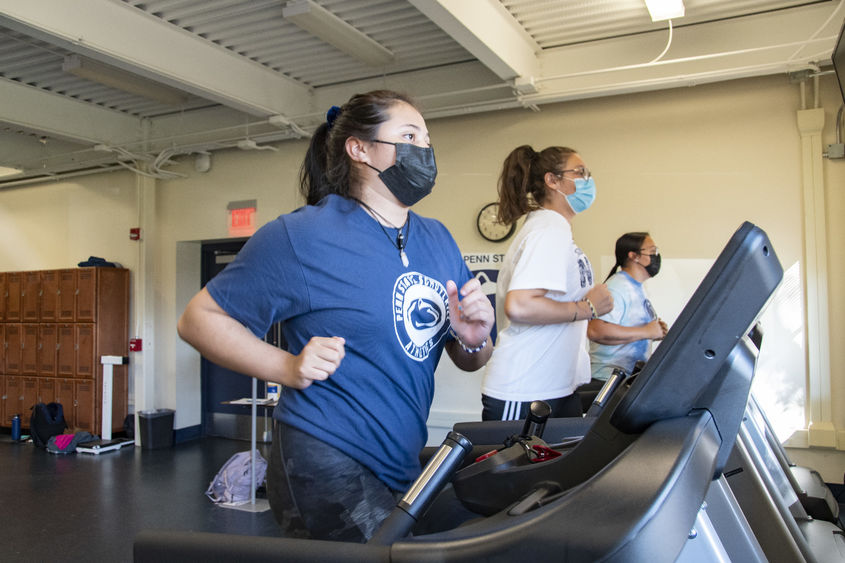 SCHUYLKILL HAVEN, Pa. — This semester, the Penn State Schuylkill fitness center was outfitted with several new pieces of state-of-the-art equipment. The upgrade not only contributes to exceptional campus facilities but also is part of continued efforts to provide students with a well-rounded collegiate experience focused on student wellness and success. The equipment upgrade was made possible with funds from the Student Initiated Fee, which broadly supports student-centered activities, services, facilities and recreation.
"The upgrades to the fitness center allow our students to experience the health benefits associated with using modern fitness equipment."

—Bryan Valentine , director of student affairs and engagement
New fitness center acquisitions include:
Four Spirit Fitness Treadmills.
Two Octane Premium Elliptical Cross Trainers.
One Spirit Fitness Stair Climber.
Four Spirit Fitness Flat/Incline (adjustable) Benches.
One Spirit Fitness Functional Trainer Weight Stack.
The fitness center is located on the lower level of the Health and Wellness Building and is open during the week as follows:
Monday, Wednesday and Friday, 10 a.m. to 8 p.m.
Tuesday and Thursday, 9 a.m. to 8 p.m.
Throughout a given week during the academic year, 120 to 150 students, faculty and staff use the fitness center facility.
"We invite students to visit the fitness center to see the new equipment and try it out," said Valentine. "Our goal is to add or replace equipment in the fitness center each year as needed to provide our students with a fully functional and innovative workout facility."
Learn more about campus facilities at Penn State Schuylkill here.