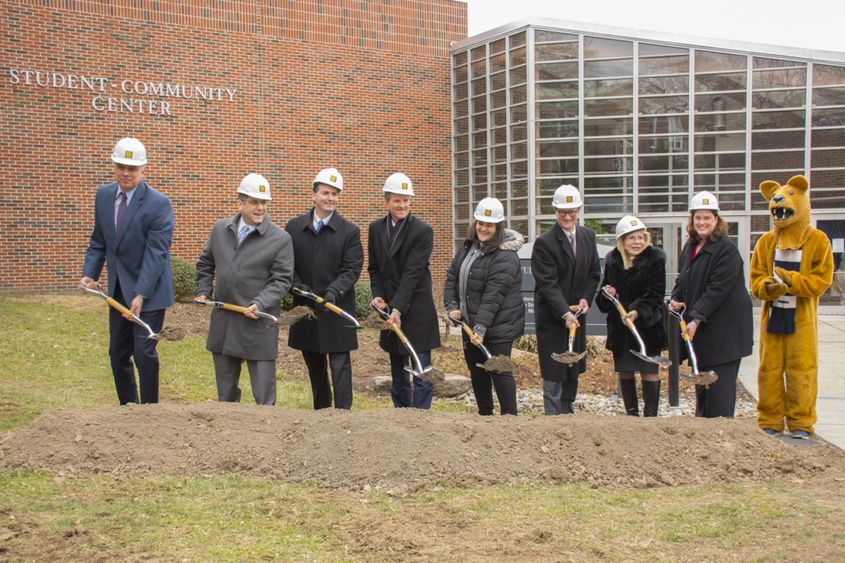 SCHUYLKILL HAVEN, Pa. -- A crowd gathered outside Penn State Schuylkill's Student Community Center in anticipation of the iconic groundbreaking photo. University and local dignitaries held on to the ceremonial shovel with a hard hat in tow. Despite the calendar marking the first day of spring, the air was brisk but the spirits were high as the Penn State Schuylkill community celebrated the beginning of the $6.5 million project.
The project includes renovation of the 9,000-square-foot facility, expanding its footprint by 5,000 square feet and substantially increasing seating capacity.
Darcy Medica, interim chancellor of Penn State Schuylkill, emphasized that "this was a student-centered project and the steering committee and Spillman Farmer Architects listened closely to the wants and needs of the students." Student Government Association President Leila Duka added that she was pleased to see the game room materialize since it was not included in the original plans, as a result of student input.
"Construction has already begun and will ramp up after Schuylkill's graduation in May with a concerted effort to limit disruptions to everyday campus operations," said Wendy Body, senior project manager at Alvin H. Butz, Inc. "This is one of the nicest campuses we have been on due to strong faculty, student and staff support," she said.
Evidence of progress to date includes site preparation, demolition, excavation, footers, and foundation and divider walls. Body forewarned of a dining hall transformation that could be called "extreme dining hall makeover."
Madlyn Hanes, vice president for the Commonwealth Campuses and executive chancellor, said that the project spoke to Penn State values, including sustainability through its design and wellness through expanded healthy dining options.
The plans for a more robust, feature-rich and elegant dining center dates back a few years to former Penn State Schuylkill Chancellor Kelly Austin, currently serving as associate vice president for administration in the Office of the Vice President for Commonwealth Campuses.
Medica said that the new dining hall will include study areas, a new game room, a performance space and more—all of which will provide new collaborative spaces to enhance the student experience.
Hanes concluded by saying, "A striking feature of the building will be the gorgeous view from Route 61 with beams of natural light illuminating the building in addition to a stunning evening silhouette."