New facility will include lots of windows, a game room, stage, outside amphitheater, and, of course, food options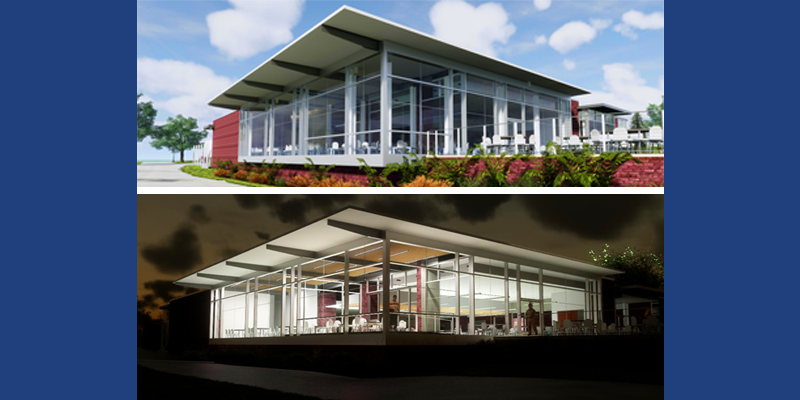 SCHUYLKILL, Pa. — The impetus for a more robust, feature-rich and elegant dining center dates back a few years. Former Penn State Schuylkill chancellor, Kelly Austin, currently serving as associate vice president for administration in the Office of the Vice President for Commonwealth Campuses, and Jonathan Kukta, director of housing and food Services for Penn State Schuylkill, Berks and Lehigh Valley, discussed the many advantages of a dining center renovation and how it would enhance the student experience.
Austin presented the vision to Penn State's senior leadership at University Park and worked closely with them to move the project forward from ideation to project approval.
To make this vision a reality, Darcy Medica, interim chancellor at Schuylkill, this year began shepherding the $6.5 million project, which will include the renovation of the existing 9,000 square foot facility, expand the footprint of the dining center by 5,000 square feet, and expand the seating capacity from 100 to 175.
A steering committee was formed and the architectural firm, Spillman Farmer Architects from Bethlehem, Pennsylvania, walked the campus through a process capturing focus group input that generated several iterations of detailed schematics. From all accounts, the firm took the wants and the needs of the students into consideration while assessing the benefits and costs of features and amenities.
"Students, faculty and staff were heavily involved in the concept and design of the dining center through focus groups and an active and forward-looking steering committee that met regularly," Medica said. "Students will have spaces for studying, a new game room, and new dining options, including more healthy food choices.
"I was pleased with the valuable and impassioned ideas from our community as to what the dining center renovation would become in terms of functionality, sustainability and aesthetics," Medica added.
Stephanie Wood, director of finance and business, and Jerry Cresswell, facility manager, Office of Physical Plant and Business Services, both at Schuylkill, have played important roles throughout the process.
A larger kitchen and a Penn State-branded shake, bake and brew combination station, including bakery and creamery items, along with Starbucks coffee, will provide new food options that are sure to please the Schuylkill community. "This newly desired space in the lobby area will offer expanded hours where you can indulge in a milkshake, latte and Penn State bakery cookies," Kukta said.
On the healthy side, Kukta said that the current salad bar is heavily used and will be expanded during the renovation. "Our staff will add the dressings and mix the salads that include a selection of chicken or beef at a new chop station that offers a large array of accoutrements."
Kukta added that the many large windows, allowing for streams of natural light, is unique to the dining design. "While you dine, you can view the beauty of campus, including the athletic fields," he remarked." All four seasons of Pennsylvania will be on full display with floor-to-ceiling windows.
According to Bryan Valentine, director of student affairs and enrollment services, the students made a big push for the game room. "The architects listened to the students, and we are pleased to have a second common social space in the works, to build community," he said.
Valentine touted the permanent stage in the dining center for student performances, including the Spoken Word. Outside entertainers who are routinely invited to campus will now have a place to perform.
An outdoor patio with amphitheater steps, that overlooks the campus fountain, will provide an excellent venue for faculty interested in an outdoor classroom setting. A special events room will serve as a meeting hub for lunch and accommodate student clubs and organizations, as well as other campus groups.
Sophomores Raquele Amato, a corporate communications major, and her classmate Kaylan Lee, an information sciences and technology major, provided the student prospective on the steering committee.
Amato stated that she appreciated the opportunity to offer input into the process. "Among the features and amenities that the students wanted were a game room, a stage in the dining room center and an expanded menu — all three of these items were incorporated into the plan," she said. "I think the renovation will positively affect the future of Penn State Schuylkill. Asking for our input shows that they care about us and want us to enjoy our stay. And, the result will be truly amazing!"
There's something for everyone in the upgraded facility, including significant curb appeal showcasing a stunning vista for drivers passing by on Route 61.
Also contributing on the project from University Park were Kyle Hollick, project manager, Eastern region; Andy Ritter, facilities project manager; Karen Kreger, senior director for housing and food services, Commonwealth Campuses; and John Walker, housing and food services manager.
The general contractor for the project is Alvin H. Butz, Inc. from Allentown, Pennsylvania.
The construction process will shift into high gear after the May commencement ceremony, with a completion date prior to the beginning of fall 2018.