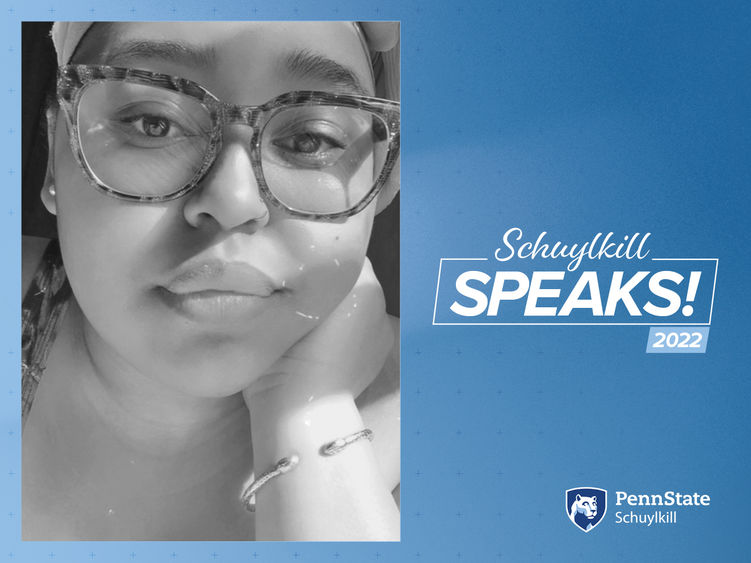 Editor's note: This story is part of a series profiling exceptional members of Penn State Schuylkill's spring 2022 graduating class. For more stories like Sebro-McQueen's, visit schuylkill.psu.edu/2022-graduates.
SCHUYLKILL HAVEN, Pa. —  Saliyah Sebro-McQueen was raised with a penchant for volunteerism, a thirst for knowledge, and a hunger for exploration. This spring, Sebro-McQueen earned her degree in corporate communication with a minor in communication arts and sciences from Penn State Schuylkill. She intends to leverage her Penn State experience to help her earn a master's degree in an international program, blending her interests in exploration and a desire to know other people and cultures more deeply.
Sebro-McQueen has called many places home during her lifetime, including Brooklyn, New York; Atlanta, Georgia; Delaware; and currently, Philadelphia, Pennsylvania. Penn State Schuylkill is nestled in a rural part of the commonwealth, and earning her degree here has been quite the contrast for Sebro-McQueen. 
But she found a home at Penn State Schuylkill, able to pursue her passion for volunteering while also exploring new places, people and cultures. Sebro-McQueen grew up in a family that volunteered often, and for years, she worked in a community center that prepared backpacks with school supplies for underserved students in the Philadelphia area. At Penn State Schuylkill, she joined the campus' Habitat for Humanity chapter, traveling to Poland in 2019 for a build, and also volunteered her time at the Walk In Art Center, a local nonprofit supporting the arts in Schuylkill County. Sebro-McQueen also was an active member of the Black Student Union, supporting the student organization's programming schedule each semester.
Sebro-McQueen's passion for travel was first sparked when she was in high school, being one of only a few students invited to visit Costa Rica. Sebro-McQueen is close with her mother, and when her mother joined the group as a chaperone, this trip only solidified their bond as fellow travelers.
"Saliyah is a wonderful young lady who I have had the privilege of knowing since she arrived as a student years ago," said Bryan Valentine, director of student affairs and athletics at Penn State Schuylkill. Valentine also acts as the staff adviser for the campus' Habitat for Humanity chapter, and accompanied Sebro-McQueen when the group traveled to Poland. "She has left a lasting mark on this campus and she will be missed. I know that Saliyah can accomplish anything that she puts her mind to, as she has the necessary intelligence, personality and drive to be successful," he concluded.
Now that she has earned her degree, Sebro-McQueen is looking forward to taking some time off before considering her next steps. This summer, she will continue working for the community center near her home while looking into international master's degree programs. With a few moments of breathing room, Sebro-McQueen reflected on her experiences at Penn State Schuylkill.
Q: Outside of academics, what was the most valuable lesson you learned during your time in college?
Sebro-McQueen: I think trusting myself and spending time reflecting on who I am. I thought to myself, 'You only live one life, and you should live it for yourself. Why aren't you trusting yourself?' This mentality kicked in when I was a junior, and I look back and I don't regret anything. Also, instead of looking at what you haven't done, take inventory of all you have done and be proud of it. I want people to feel proud of themselves.
 
Q: Do you have a favorite Penn State Schuylkill memory?
Sebro-McQueen: I have to pick one? I feel like freshman year weekend, the adrenaline and genuine enthusiasm of being at college hit me. That, and being away from home. I felt so sick that weekend — nauseous. And I don't know why it's one of the best memories, because I felt terrible and I had to say goodbye to my mom — my partner in crime, my fellow nomad. But I was on the precipice of becoming an adult and my own person.
 
I also love planes so another one of my favorite memories was boarding the van to go to the airport when we went to Poland. It was the second time I was out of the country, and I wanted to be out in the world and I wanted to feel alive. I thought, 'Yes! This is the moment! I'm going to be a well-travelled machine by age 22,' having no idea what COVID held in store for us.
  
Q: What will you miss most about campus?
Sebro-McQueen: The people. The walking. If you really take your time on the right days to walk on campus, it's the greatest exhale. It's not like working in your room or the library. The reason I chose Schuylkill was because of how green it was. And Penn State Schuylkill provided me security in a small town in a homey place. A place where I can reflect. I've lived in Brooklyn, Philly, Atlanta, Delaware — that's why I called me and my mom nomads. But campus feels alive. And if you're going through it, Bryan [Valentine, director of student affairs and athletics] will really look out for you. You can have a real conversation with him. You form close relationships with the advisers, too. Kim Quinn [advising and retention specialist] was my girl for those first two years. Janelle Gruber [lecturer and program coordinator of corporate communication] helped me navigate times when I felt overwhelmed with my coursework. It is so refreshing.
 
Q: What advice would you give to an incoming student about college in general, and Penn State Schuylkill, specifically?
Sebro-McQueen: When you leave high school, everything feels so … now or never. But just chill, breathe. Get involved. It might seem hard sometimes because campus can seem quiet. But that quiet is deceptive, and there's so much fun to be had. There are so many walks of life on campus; people from all over the world. If you get involved, you'll get lost in activities. It's a necessity to get lost in the fun you have. Indulge in the luxuries of college. Throw yourself into your classes. Take every opportunity.
 
Q: What made you want to pursue a degree in corporate communication?
Sebro-McQueen: I had no idea who I wanted to be when I started college. But I did know I lacked in certain areas, and that's why I chose corporate comm. I don't think that's why most people choose a degree, but I wanted to be a better communicator. It's like marketing meets advertising meets internal and external communications. I try to relate real life and professional life, and I picked corporate communication because I felt like it helped me be a better human by being a better communicator. It helped me put my words into action.
 
Q: What are your post-graduation plans?
Sebro-McQueen: I know I want to get my master's, but not right away. COVID was so bad, and it really knocked me off my axis. So right now, I just want to live. I'm going to learn to paddle board. I'm learning American Sign Language, and I need to practice, so I'm going to enroll in classes. I'm going to continue work in the community center in West Philadelphia.
 
Q: Where do you see yourself in the next five years?
Sebro-McQueen: I want to get my master's in linguistics and anthropology. There's one particular program in Sweden I'm interested in. I'm also thinking about going to a program in Egypt because I want to learn Arabic. I like the idea of studying people. We don't take time to talk with one another when we pass each other on the street, so I want to dig deeper into that. I want to travel, meet more people. Live a little life!