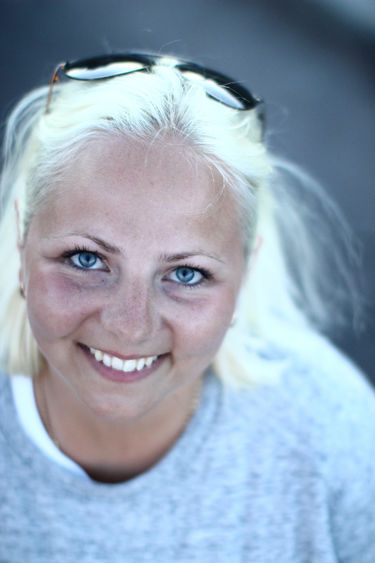 UNIVERSITY PARK, Pa. — Aleksandra Williams, a Penn State Ross and Carol Nese College of Nursing Bachelor of Science in Nursing (BSN) student at the Schuylkill campus, will represent the college as the student marshal for the fall 2021 semester.
Williams, the daughter of mother Tatiana and stepfather Evgenii Zhukova, of Kharkiv, Ukraine, has excelled academically, earning a 4.0 grade-point average, and qualifying for the dean's list since beginning her college career in 2017.
"I could not believe what I was reading, I had to re-read the email several times. For me to be selected as a student marshal is very important and I am beyond honored," said Williams, in response to learning she had been selected as the college's marshal.
Williams came to the United States by herself when she was only 19 years old with one suitcase and $500. She began working as a housekeeper, building her new life, and learning an entirely foreign language. As she progressed through her life in America, Williams knew she wanted to pursue a new and more meaningful career path.
"My mother is a nurse and used to work long shifts at the children's hospital in Ukraine. She had been raising me by herself and used to take me to work with her because there was nobody to watch after me," said Williams. "I saw how my mother took care of the children and I thought of her as my hero."
After meeting her husband in the U.S. and having a healthy baby boy together, Williams and her husband welcomed their second child. Unfortunately, their second child fell ill, and after many visits with nurses and doctors, recently died.
"My mother and son have inspired me to become a nurse, to advocate for people who cannot advocate for themselves and to help people when they are the most vulnerable. I am thankful for the amazing nurses who became a part of our family. They are my heroes and I wanted to become someone's hero too.

—Aleksandra Williams
Williams completed her one-year nursing clinicals at the Lehigh Valley Health Network Schuylkill; and completed her evidenced-based project titled "Strategies for Prevention of Pressure injuries."
She is the recipient of the SEDCO Scholarship for Workplace and Adult Education 2017, the 2018 President's Freshman Award, the Schuylkill Campus Award to the student having the highest average in their courses, and the recipient of the Lehigh Valley Hospital-Schuylkill Medical Staff Award to the Class of 2020 Valedictorian.
Williams also served as the treasurer and secretary, keeping financial records, collecting dues, and paying bills for the Student Association of Joseph F. McCloskey School of Nursing, was a former member of the Student Nurses Association of Pennsylvania (SNAP) and attended the SNAP state convention as a voting delegate, and is a current member of Sigma Theta Tau International Organization.
"Aleksandra is such a bright and caring student; she sets high standards for herself and her peers. She has successfully balanced academic, personal, and professional life while completing her BSN and we are so thrilled that she is exploring graduate program options. I sincerely look forward to watching Aleksandra grow as a nurse and her contributions to our profession." said Marianne Adam, Penn State Ross and Carol Nese College of Nursing program coordinator and professor at the Penn State Schuylkill and academic advisor to Williams.
Williams will accept her diploma on behalf of the college during the University-wide commencement on Dec. 18, in the Bryce Jordan Center. She will graduate with a bachelor's degree in nursing, and plans to obtain her master's of science in nursing and doctor of nursing practice at the Penn State Ross and Carol Nese College of Nursing.