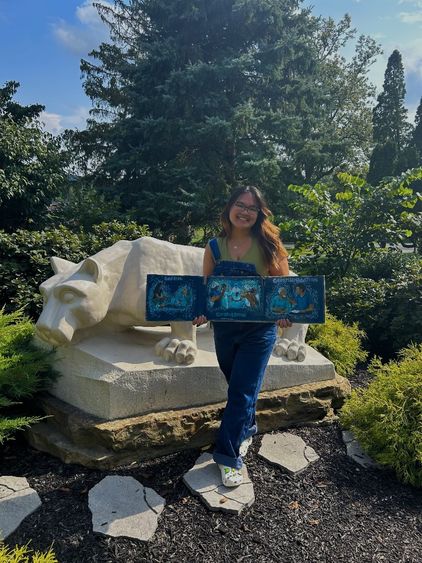 SCHUYLKILL HAVEN, Pa. — Aylah Campos, a second-year student pursuing a bachelor of science in nursing at the Penn State Ross and Carol Nese College of Nursing at Penn State Schuylkill, said she couldn't dream of turning down the opportunity to participate in a college-wide contest that asked students to use the "Three Cs" of nursing — caring, compassion and communication — as inspiration for art. She began sketching the first ideas that came to mind and ultimately won first place. 
According to organizers Associate Professor Nikki Hill and Assistant Professor Andrea Yevchak-Silner, both in nursing, integrating arts and humanities to address political, social and practical challenges in nursing care is part of the college's strategic plan and serves to inspire nurses across the commonwealth. 
"The arts and humanities are a natural fit within the college's strategic plan, now and in the future," Yevchak-Sillner said. "They leverage the care and compassion that is the essence of nursing at work."
Campos witnessed such care close-up in another source of inspiration: her mother. She is a nurse at Milton S. Hershey Medical Center, and her compassion for others rubbed off on Campos a young age.
Watching her mother begin her nursing career with the Philippines Air Force as a flight nurse and continue all the way to Hershey as a dialysis nurse, Campos has kept her family and culture at the heart of her art and education.
Now at school, she has been able to show her own passion for health care through her own career.
"Just being in that environment with them [family] and seeing the passion exhibited by the doctors and nurses," Campos said. "I just felt very inspired to do the same."
While she has been surrounded by health care her whole life, she said she has also nurtured her love of art through classes and creative expression.
"I just love everything related to art," Campos said. "I've grown up just making everything that I can."
Her first-place art was inspired by Vincent Van Gogh and his use of bright strokes surrounding the figures in the art. Once again, her family was by her side, reminding her that not every detail of her work has to be perfect, much like Van Gogh.
"Van Gogh's style is structureless and carefree, yet it still captures so much dimension despite lost detail," Campos said.
Campos also emphasized how she incorporates sustainability into her artwork, stressing that acts of sustainability are equally as important within health care networks. She utilized recycled materials such as cardboard and paper to form her canvas before she even began painting, demonstrating another priority of the college's strategic plan: its commitment to stewardship of the planet's resources as it relates to the health and wellness of individuals, communities and systems.
But Campos' art does not end with the competition. She also has pieces hanging in the Penn State Schuylkill cafeteria and around campus.
Campos said she enjoys adding to a space with creativity and being able to share her work with others to highlight anything from a café to diversity in health care. The competition and her studies highlight two parts of Campos' priorities, demonstrating, she said, just how important duality is in nursing.
"We build upon the foundation of caring, compassion and communication in nursing and used these words as the launching point for the content," Hill said. "By blending outreach activities such as this one, with the science of nursing, we can craft a better, brighter future and demonstrate all that nursing has to offer."