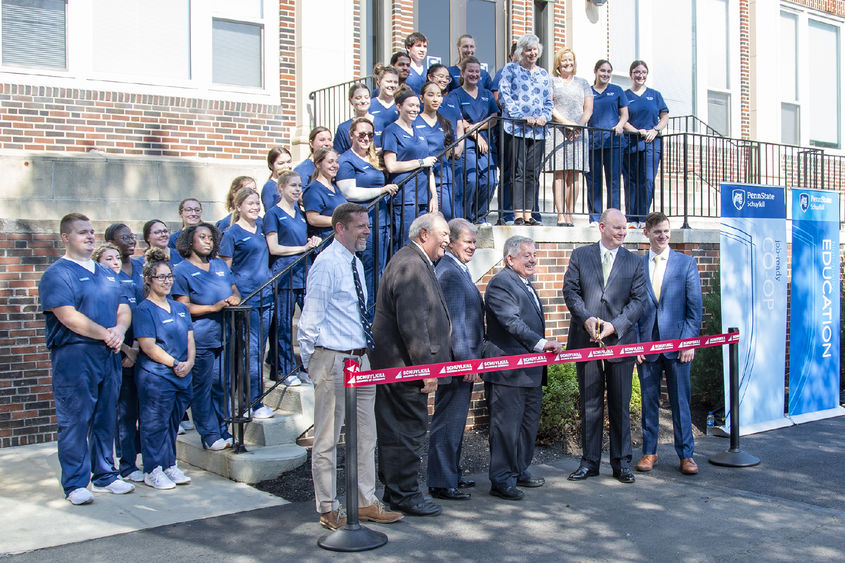 SCHUYLKILL HAVEN, Pa. — Penn State Schuylkill celebrated the opening of its new 4,000-square-foot nursing suite with a formal ribbon-cutting ceremony attended by more than 100 Penn Staters, local leaders and community members on Friday, Oct. 15.
The new facility will support students in the campus' new four-year Bachelor of Science in Nursing program and features:
A clinical skills lab set up as a four-bed hospital ward.
A state-of-the-art simulation lab set up as two hospital rooms with highly realistic and responsive patient simulator mannequins.
A conference room that will be used for debriefing students after simulation exercises.
Faculty offices.
A general classroom.
A student lounge.
"This nursing suite is for our first cohort of nursing students and the generations who will follow in their footsteps," Penn State Schuylkill Chancellor Patrick M. Jones said. "Working with our faculty in these modern facilities with the latest equipment, and on-site with our community partners in hospitals and health care centers throughout the region, they will prepare for a noble profession — taking care of others."
Meeting community health care needs
With more than 100 Penn Staters and community members in attendance, the ribbon-cutting ceremony kicked off with a welcome by Robert S. Carl Jr., president and chief executive officer of the Schuylkill Chamber of Commerce, which hosted the event in partnership with the campus.
"The new nursing suite is a great complimentary addition to Penn State Schuylkill's four-year Bachelor of Science in Nursing degree program," Carl said. "Both will prepare nurses to enter the workforce prepared to meet the needs of our health care systems' nursing staff shortages."
In a broad show of community support, additional speakers at the ceremony included:
Jim Ingram, co-chair of Penn State's current campaign — "A Greater Penn State for 21st Century Excellence," and president and chief operating officer of Bartlett Tree Experts.
Richard J. Wiest, president of Penn State Schuylkill's Advisory Board and managing  partner of Williamson, Friedberg & Jones.
Mark Wiederhold, chairman of the Schuylkill Chamber of Commerce, and chief financial officer of Cougle's Recycling.
State Sen. David Argall, Pennsylvania's 29th District.
State Rep. Joe Kerwin, 125th Legislative District.
Barron "Boots" Hetherington, chairman of the Schuylkill County Board of Commissioners.
Jeff Spotts, president of the Greater Schuylkill Haven Area Business Association and president and chief executive officer of Spotts Insurance Group.
Gabe Kamarousky, president of Geisinger St. Luke's Hospital.
William Reppy, president of Lehigh Valley Hospital-Schuylkill and vice president of operations for Lehigh Valley Health Network's Northwest Region.
Progress for Penn State Schuylkill, progress for Schuylkill County
Jones noted the nursing suite is just one of many improvements made to the Penn State Schuylkill campus in recent years, citing the upgraded STEM labs for chemistry, physics and radiological sciences that opened earlier in 2021, as well as an ongoing elevator and stairwell addition to the campus' Administration Building.
"The nursing suite and these recent projects represent more than $6.5 million in improvements to our campus, which are investments in our community because an investment in Penn State Schuylkill is an investment in Schuylkill County," Jones said. "I am grateful to Penn State's administration and our many generous donors for their support in making these projects possible."
Additional details about the new Bachelor of Science in Nursing program are available at schuylkill.psu.edu/nursing.