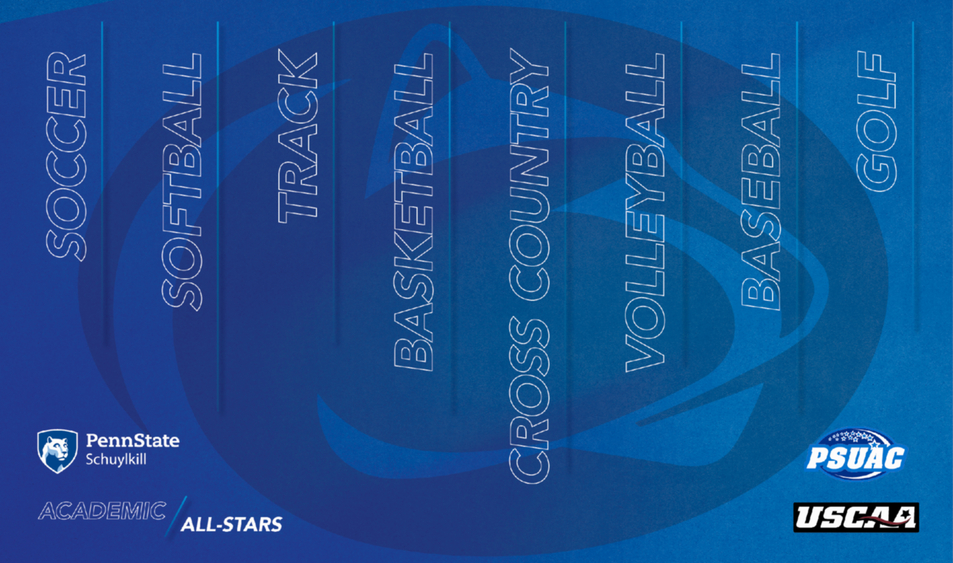 SCHUYLKILL HAVEN, Pa. — Throughout the spring 2021 semester, Penn State Schuylkill student-athletes continued the tradition of exceptional academic performances. The campus regularly holds top positions in the athletic conference academic rankings of which Penn State Schuylkill is a member institution.
USCAA names Penn State Schuylkill to President's Cup
Penn State Schuylkill earned a third-place finish in the United States Collegiate Athletic Association (USCAA) President's Cup 2020-21—an award to honor member colleges whose student-athletes excel in the classroom. The President's Cup committee awards points through ranking individual program GPAs, All-Academic award winners, and overall athletic department GPA. This designation marks the second year in the three-year history of the award that Penn State Schuylkill earned an impressive third-place finish.
The USCAA recognized the following individual spring 2021 athletes by naming them to its National All-Academic team. These student-athletes maintained an overall (cumulative) GPA of 3.5 or greater.
Baseball
Charles Buehler
Sean Duffy
Evan Kosar
Garrett Lehman
Jacob Leininger
Stephen Mellon
Patrick Ryan
Alex Witmer
Softball
Caitlyn Goggin
Emily Maher
Kristina McConnell
Sierra Santarsiero
Perfect 4.0 semester
Close to one in four students on the Penn State Schuylkill campus identify as participating on one or more intercollegiate teams, and 40% of these student-athletes earned a 3.5 GPA or higher for the spring 2021 semester.
Additionally, the following eight student-athletes earned a perfect 4.0.
Kelsey Atkinson, women's soccer
Charles Buehler, baseball
Chelsea Erkes, women's basketball and softball
Garrett Lehman, baseball
Jacob Leininger, baseball
Joahlana Najunas, cross country and track
Rachel Wiest, women's soccer
Alex Witmer, baseball
For spring 2021, the overall GPA for all Penn State Schuylkill student-athletes was 3.36, with men's baseball, co-ed cross country-track, and women's softball contributing the highest GPA totals. Seven of eight teams earned a 3.2 GPA or better.
Additionally, over 50 student-athletes were recognized by the Pennsylvania State University Athletic Conference (PSUAC) for their academic accomplishments, earning a 3.0 or higher GPA, and a spot on the PSUAC All-Academic Team.
Special acknowledgment: PSUAC All-Senior teams for fall 2021
The PSUAC has recognized that the COVID-19 pandemic has impacted hundreds of student-athletes and stripped them of the opportunity to compete for All-Conference, All-American, and National Championship recognition, prompting the PSUAC's Tournament and Awards Committee to name an All-Senior Team for fall 2021.
Additionally, the PSUAC recognized a John Fritz Sportsmanship Award honoree from each campus for outstanding leadership and actions during their time as a student-athlete.
Basketball, Men
Devin King, All-Senior Team
Lamonttea Brown, John Fritz Sportsmanship Award
Basketball, Women
Alyssa Gerber, All-Senior Team
Chelsea Erkes, John Fritz Sportsmanship Award
Soccer, Women
Alyssa Gerber, All-Senior Team
Rachel Wiest, John Fritz Sportsmanship Award
Volleyball
Noel Kaufman, All-Senior Team
Jontae Martin, John Fritz Sportsmanship Award
The Penn State Schuylkill athletic program produces complete student-athletes who succeed athletically, excel academically, and develop as engaged and thoughtful citizens. Many of these student-athletes balance academics, practice, work, family responsibilities, and civic engagement, making their achievements especially noteworthy.
If you are a student-athlete interested in learning more about the Penn State Schuylkill athletics program, including opportunities to compete nationally through campus membership in the NAIA, contact Kayla Felty, coordinator of athletic recruiting and eligibility, at [email protected].