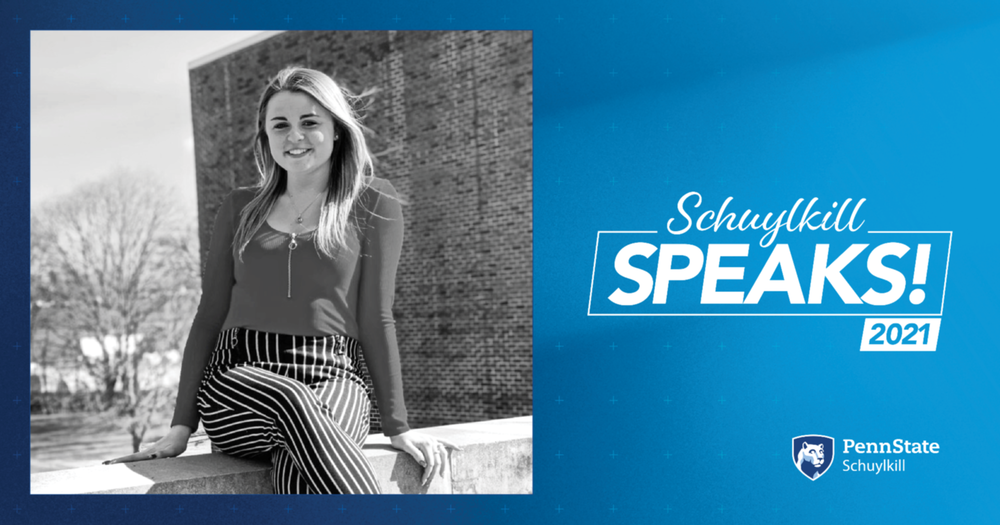 Editor's note: This story is part of a series profiling exceptional members of Penn State Schuylkill's spring 2021 graduating class. For more stories like Kaufman's, visit schuylkill.psu.edu/2021-graduates.
Barnesville, Pennsylvania, native Noel Kaufman walked across the Penn State Schuylkill commencement stage for the second time last Saturday, receiving her bachelor's degree in business-marketing/management option with a minor in project and supply chain management. She is also a fall 2017 graduate of the Radiological Sciences program.
Kaufman returned to Penn State Schuylkill to earn her bachelor's degree because she wanted to explore the additional opportunities that a business degree would provide.
"Initially, I decided to attend Penn State Schuylkill for the Radiological Sciences program and earn my associate degree. The program was super competitive, and when I received the offer of admission, it was a chance that I couldn't pass up," Kaufman explained. "However, I knew that if somewhere down the road, an opportunity for a management position came up, I'd want to try for it. But, without a bachelor's degree, I would never be able to move up the chain of command."
Kaufman is an accomplished student-athlete and has the athletic and academic accolades to prove it. She was named to the Penn State University Athletic Conference (PSUAC) All-Academic Team and the 2019 All-Conference East Division First Team for volleyball. She was also a PSUAC Offensive Player of the Week in September of the same year. She holds the distinction of being the first Penn State Schuylkill athlete whose athletic accomplishments were recognized by the Association of Independent Institutions (A.I.I.) when she was named to the Second Team All-Conference in women's volleyball for the 2019 season.
"Noel was a pleasure to coach — she was great to work with and a great leader," said Katie Malone, head coach women's volleyball. "Noel is extremely passionate about volleyball, and it showed during competition and at practice. As team captain, Noel used initiative and shined in the role. I am very proud of Noel and wish her nothing but the best in the future!"
While athletics has been an essential part of her time at Penn State Schuylkill, Kaufman is also an accomplished student, with multiple appearances, including the most recent in fall 2020, on the Dean's List. Her strong academic performance has earned her a place on the United States Collegiate Athletic Association's (USCAA) National All-Academic Team. And Kaufman was one of 11 Penn State Schuylkill students in the academic year 2019-20 to receive the Daktronics-NAIA (National Association of Intercollegiate Athletics) Scholar-Athlete Award for excellence in the classroom.
Patty Shoener, instructor of business and alumni relations and stewardship officer, speaks to Kaufman's accomplishments as a student-athlete: "Noel is an exceptional person. She is a natural leader in the classroom and on the court and has excelled academically and athletically at Penn State Schuylkill. It was a pleasure to have her in class."
Kaufman, a self-described go-getter, took a break from her busy schedule to talk to us about her time at Penn State Schuylkill and how volleyball continues to play a pivotal role in her life.
Q: How did athletics affect your time here on campus? What are some standout memories of your collegiate athletic career?
Kaufman: Athletics allowed me to meet some of my best friends — people that I might never have met if they weren't on my team. One standout memory is when we defeated our PSUAC rival Penn State Brandywine at home, 3-0. Another memory was when our team made it to the 2019 Final Four playoffs at University Park's Rec Hall.
Q: What keeps you busy outside of academics?
Kaufman: My life revolves around playing volleyball. When I was not playing in season, I worked a full-time job. I'm also a coach for an Amateur Athletic Union youth volleyball team in Schuylkill County.
Q: What are some accomplishments that you are particularly proud of?
Kaufman: I am proud of all my accomplishments—academics to athletics. I am particularly proud to have been the first Penn State Schuylkill athlete to receive recognition from the NAIA's Association of Interdependent Institutions, when I was named to the Second-Team All-Conference. And I am proud to have been named to the USCAA's Division II Honorable Mention All-American team in 2019.
Q: Outside of academics, what was something important that you learned? Kaufman: I went from being very hands-on in Rad Sci and completing clinicals while taking classes, to taking business courses and not completing an internship until my last semester—it was a dramatic difference. As a business management major, I could take all the courses offered, learn everything there possibly is to know about managing, and still need to get as much hands-on experience as possible. The more real-world experience you get early on, the better off you will be!
Q: Which class or instructor had the most influence on your academic career? Future career? Why?
Kaufman: There were three instructors that were most helpful while completing my degree: Patty Shoener; Gina Whalen, assistant teaching professor of business and business division coordinator; and Kathleen Fabrizi, lecturer and program coordinator, project and supply chain management. I was fortunate to have had these instructors early on in my education and I can thank them now for pushing me to be the best student that I could be. Each of these instructors go above and beyond for students who show initiative.
Q: Where do you see yourself next year? In five years?
Kaufman: In the next year, and five years from now, I see myself striving for more and continuing to be the go-getter that I am. I hope to be just as successful, if not more successful. I also hope to hold a head volleyball coaching position at a high school or collegiate level.