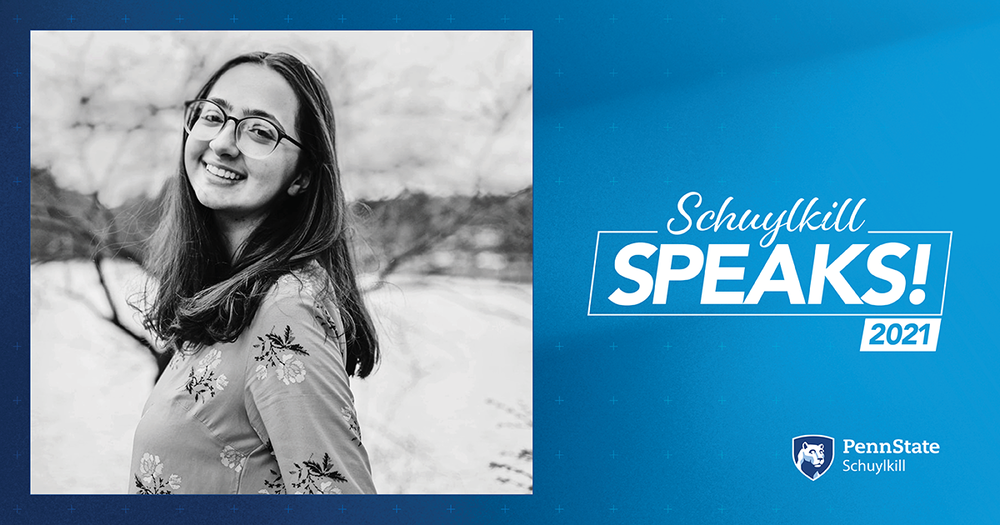 Editor's note: This story is part of a series profiling exceptional members of Penn State Schuylkill's spring 2021 graduating class. For more stories like Haag's, visit schuylkill.psu.edu/2021-graduates.
SCHUYLKILL, Pa. — This Saturday, Bethany Haag will graduate summa cum laude from Penn State Schuylkill with an associate's degree in Human Development and Family Studies (HDFS). Haag is from Bethel, Pennsylvania, where she continues to live and work. She explained that one of the reasons she chose Penn State Schuylkill was its close-to-home location that allowed her to earn her degree while continuing to work and save money. The other reason was the welcoming community she discovered here.
"What finalized my decision to attend Penn State Schuylkill is its small, close-knit community," said Haag. "The class size allows professors to get to know their students instead of being just another face in the classroom. You won't find this kind of personalized experience at many colleges."
Haag's associate's degree is just part of her overall academic plan to continue her studies at Penn State Schuylkill this fall in pursuit of a bachelor's degree in psychology. Initially enrolled in the psychology degree program at Penn State Schuylkill, Haag happened upon the HDFS tables at a "Meet the Majors" informational event in fall 2019, changing the course of her academic path.
Haag recalled: "After a few convincing talks with Mike Verhagen, campus registrar, and Anne Mercuri, Penn State Schuylkill's Human Development and Family Studies program coordinator, I decided to enroll in the program. I always knew I wanted to pursue a degree in psychology; the HDFS program just so happened to fit perfectly into that plan!"
In addition to her summa cum laude distinction, Haag was the recent recipient of the Human Development and Family Studies Award — recognizing undergraduate scholarship, research and service through community outreach in the HDFS program. She also received the President's Sparks Award — presented annually to students who have earned a 4.0 cumulative grade-point average and at least 36 graded Penn State credits — during the 2021 Academic Awards ceremony.
"Bethany is one of the most outstanding students I have ever had in the HDFS program," emphasized Mercuri. "She is a dedicated student, a scholar, and always goes above and beyond the classroom requirements. It has been my pleasure over the last year or so to get to know her. I am very proud of all she has accomplished thus far, and I have no doubt she is moving towards more academic success and a very bright future."
Haag also works as a library technician at the Bethel-Tulpehocken Public Library. Haag said that many of her days began early and ended late, but ultimately, her busy schedule helped her learn to balance work and school commitments.
Haag took a moment to talk about her Penn State Schuylkill experience so far and why she is looking forward to returning for the fall 2021 semester.
Q: What extracurricular/academic activities were you involved in, and how did they impact your time on campus?
Haag: I am currently a peer tutor. Not only has this opportunity allowed me to work one on one with my peers, but I also have had several positions as a learning assistant and embedded tutor. These positions allow me to be in the classroom working closely with professors, assisting the instructors and students when needed.
Q: Outside of academics, what was the most valuable lesson learned?
Haag: Always take time for yourself. I have found that it is extremely easy to become overwhelmed with schoolwork — yet taking a few minutes a day to reassure oneself that everything will work out truly makes a difference.
Q: What's one thing you are most proud of?
Haag: I was recently presented with the Human Development and Family Studies award at the academic awards ceremony. This award means a great deal to me, as I spent many hours working towards this degree.
Q: What surprised you most about your time at Penn State Schuylkill?
Haag: I was most surprised about the community I found. Making connections and networking with peers, faculty and staff on campus has created lifelong friendships, research opportunities and even job offers.
Q: Do you have a favorite Penn State Schuylkill memory?
Haag: In the early spring semester of 2020 (before COVID!) I entered a team into the annual faculty versus students "Chaos on the Court" volleyball game. Though my team lost in the first round, it was still a great experience to play with my friends, peers, and professors. In the upcoming years, I look forward to entering more teams in the tournament (COVID permitting)!
Q: As you near graduation, what advice would you give to an incoming student about college in general, and Penn State Schuylkill specifically?
Haag: The best advice I can offer incoming students is to reach out and get involved in campus life! There are many resources and opportunities on campus that allow people to explore their interests and make the most of their academic experience.