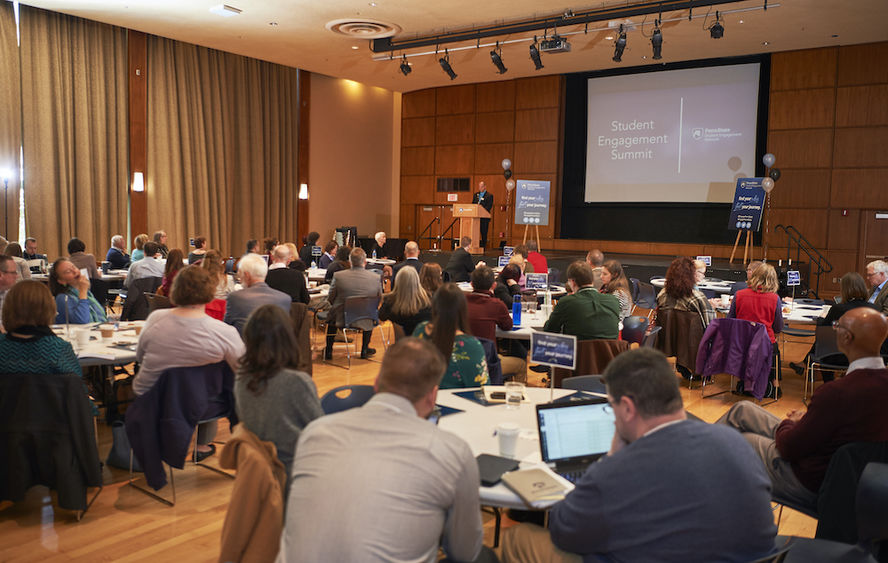 UNIVERSITY PARK, Pa. — Tom Hogan doesn't ask his students to take a final exam in his LER 460: Ethics in the Workplace class. Instead, he bases 20 percent of the grade on a semester-long project that connects students with campus and community partners for a real-life, hands-on experience.
Speaking during the 2019 SEN Summit keynote, Hogan, a professor of practice in Penn State's School of Labor Relations, said he sees better engagement, excitement and passion from students when certain conditions exist, and for many, working with a community partner provides those things. And, Hogan said, he needs students to be engaged in LER 460, because he can't teach them to anticipate every ethical scenario they will encounter in their lives — he can only give them the tools to be able to figure it out.
The Nov. 13 Student Engagement Network Summit drew attendees from a wide number of programs and positions at Penn State. It included faculty looking to incorporate more engagement experiences into the classroom, directors whose programs are already providing for rich engagement experiences, and other Penn State staff looking to further enrich the lives of students they interact with.
Halfway through the day, summit attendees heard four students — with very different engagement levels and experiences — relate how they view their engagement and how it's augmented their college experience.
Freddy Purnell told the audience his entry into Penn State as a first-year student came on the heels of involvement in numerous high school activities. It was his original intention when starting college, he said, to focus more on schoolwork and less on the extracurriculars. He didn't stick with that intention for long and started joining clubs and activities in his second semester. Four years later, as a senior, Purnell was able to recite a long list of clubs and activities he's involved with, such as the LGBTQA Roundtable, where he is president; outreach chair for the Penn State Democrats; and a peer educator at the Gender Equity Center, among others. These activities are in addition to his laboratory work with bumblebees as a biology student.
"I feel like I'm kind of prewired to be an engaged student," Purnell said.
Jarod Kutz said he wasn't as engaged in high school as he is at Penn State, but as he approaches his last years of school he has become more involved and has a new outlook on how he should be spending his time.
"It just made me realize that I'm starting my career — I'm not really going to school anymore," he said. "I mean, I'm doing my class work and that's extremely important, but I also need to do things that are going to separate me from other students and really going to enhance my personal development."
Vice President for Student Affairs Damon Sims, acting as moderator for the panel, asked the four if they thought their engagement had complemented their academic performance.
"A lot of my work that I've been engaged with outside of the classroom has also been really aligned with my studies and being able to do those has further my studies ... it's helped me discover more of what I want to do with my career and my major and how to expand upon that," said Jordyn Hinkle, an Earth science and policy major and sustainability leadership minor.
Sims then asked if they thought students were taking enough advantage of the opportunities at Penn State.
"I think that most students come in wanting to be engaged," said Janet Slay, who is majoring in psychology. "Whether it's an idea of what they think engagement looks like — so it could be fraternity or sorority life, it could be a dance club, or an academic club — or maybe they just know they want to do something but they don't know how or what."
It's the "why" that Student Engagement Director Michael Zeman said he hopes to be able to help students answer, along with other imperatives like starting their journey, completing an experience, and then being able to tell their individual story.
Practically speaking, student engagement is already happening for many students through involvement in a club, sport, artistic venture, or research. But Zeman said it's the ambition of SEN to be able to formalize the process students go through in their engagement experiences, aid them in finding the right engagement opportunities, and help them to reflect on what they've learned.
Zeman and other advisers to the Network have been working at building out the language of engagement and figuring out how to scale the models for engagement in a way that makes sense across a large university such as Penn State.
He said it was important to think of engagement as "challenging the status quo in higher education."
"If students get that, they feel like they're doing something completely novel and unique, and they can own it," Zeman said.
An engagement experience can come in many forms, and it doesn't have to be a years-long endeavor. During his breakout session, Penn State Schuylkill Director of Student Affairs Bryan Valentine talked about his trips with members of three of the Habitat for Humanity chapters at Penn State.
In her session, Jackie Bortiatynski discussed how she has helped students in a first-year seminar think critically about how to find a path to achieve their goals. Bortiatynski is the director for the Center for Excellence in Science Education and associate teaching professor in the Eberly College of Science. By the end of the course, students have a three-year plan that includes ideas for engaged scholarship.
Student Engagement Expo
The Engagement Expo, an event geared toward students as a celebration of engagement and inspiration to get involved, was held later in the day on Nov. 13.
This year's expo keynote speaker was Joe Battista, who coached Penn State hockey for 19 years and was instrumental in helping to negotiate the gift that led to the construction of the Pegula Ice Arena. The high-energy presenter is a big supporter of students learning the soft skills necessary to thrive in their careers, skills that are best learned by being engaged in the activities that are right for them.
One piece of practical advice Battista gave to the approximately 350 students in attendance was to get involved in at least two activities — one related to their field of study and one that is based on an interest or hobby.
The night also featured live performances during a poster session, where students could mingle and share their engagement experiences, and TED-style, lightning-round presentations.
Throughout the night student presenters hit on many of the same themes: putting yourself out there, taking risks, and collaborating with peers.
Zoe Cykosky, one of the lightning-round presenters, doesn't have a long list of clubs and activities to her name, but instead has taken a deep dive into one specific area: tennis at Penn State. The junior majoring in supply chain and information systems said during an earlier interview that her evolution through tennis-related activities has given her the opportunity to grow personally.
After trying many things in her first years at Penn State, Cykosky said she decided to narrow her focus.
"For my first two years I had been in other clubs and I had other leadership positions for them, too," she said. "But I realized I was being spread too thin throughout them so I just narrowed my focus on club sports. Just focusing on the one thing can really allow you to grow."
Cykosky said she had been playing tennis since third grade, but when she got to her senior year of high school she had a tough choice: to go to a division 2 school and play tennis on the school team, or attend Penn State, her dream school. But Cykosky realized that attending the University didn't have to be the end of her days around the court. She began her first year at Penn State as the women's tennis manager and a sports psychology intern, and joined the tennis club.
"I've been able to capture so many leadership experiences that I probably wouldn't have if I had gone to a D2 school," she said.
Now, as a junior, she is the vice president of the tennis club and the volunteer chair of the club sports council. She hopes to run for the tennis club presidency next year, and eventually coach tennis on the side in the future.
Zeman said the presenters did an excellent job of capturing the scope and aspect of engagement at Penn State.
"The students, faculty and staff who attended and presented at the Expo and Summit events beautifully captured the 'why,' 'what' and 'how' of student engagement," he said. "These events are an affirmation that there is a ton of great work happening across the Commonwealth!"
The Student Engagement Network is a joint initiative of Undergraduate Education, Student Affairs and Outreach and Online Education at Penn State. Its mission is to advance the power of participation by connecting students with experiences that empower them to make a positive impact as citizens and leaders of the world.
For more information about the Student Engagement Network, visit engage.psu.edu or email [email protected].