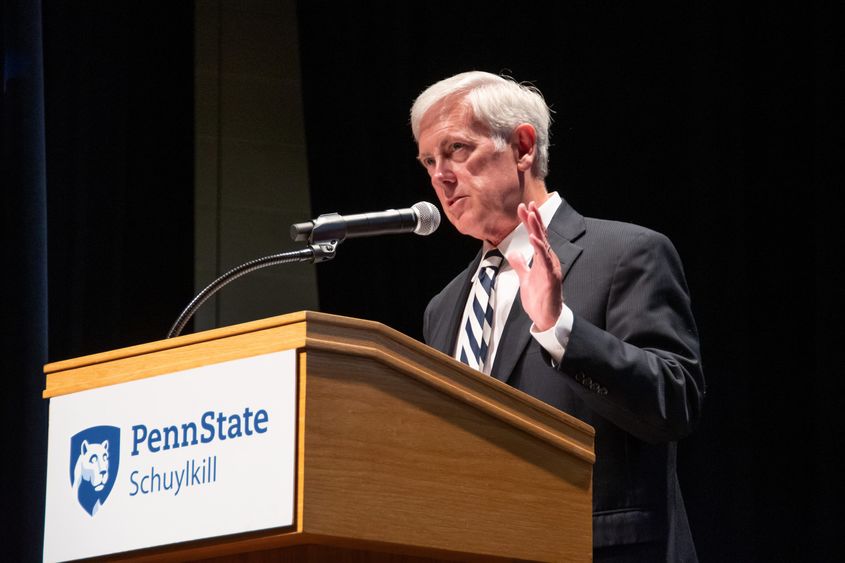 SCHUYLKILL HAVEN, Pa. — For its 85th anniversary celebration on Sept. 19, the Penn State Schuylkill campus was filled with the sound of beloved Penn State fight songs from the Alumni Chorale; the scent of cotton candy and popcorn from a Mall Walk carnival; and the spirit of the University's land-grant mission set in motion so many years ago by its founding fathers.
This well-attended event kicked off a semester-long celebration of Penn State Schuylkill's 85th anniversary, which will continue with a series of talks that examine the land-grant mission, as well as presentations on timely topics such as cyberbullying and sustainability.
The celebration featured a carnival on the Mall Walk, an art exhibit by the Allied Artists of Schuylkill County, a reunion performance by the Penn State Schuylkill Alumni Chorale, and a special presentation by Roger L. Williams, an expert in the history of higher education and land-grant institutions, and a three-time Penn State alumnus and former executive director of the Penn State Alumni Association.
Students, staff and faculty started the day by enjoying a carnival at the heart of campus featuring traditional games such as a beanbag toss, as well as a bounce-house obstacle course that spurred on a series of student and faculty challenges.
Later, the Hidden Stream Café opened its doors for an evening meal that celebrated food from the 1930s. Diners participated in a lively game of Penn State Schuylkill trivia sponsored by the Ciletti Memorial Library and Student Affairs. These community dinners will continue throughout the semester on Thursday evenings from 5 to 6 p.m., and the general public is invited to attend.
After dinner, the Alumni Chorale joined together for a reunion concert, filling the Morgan Auditorium with lively renditions of Penn State fight songs and traditional chorale numbers such as "Hi, Neighbor."
The evening's main event was Williams' special presentation "Forging Penn State's Land-Grant Mission, 1855 - 1906: Presidents Evan Pugh and George Atherton." Williams spun a compelling narrative about the founding of Penn State, originally known as Pennsylvania's Farmers' High School, and the primary movers of that founding, including Evan Pugh and George Atherton.
Williams recounted how a young Pugh transformed a simple one-building property into a premier, scientifically based agricultural college, and the ensuing fight to ensure that it would remain Pennsylvania's only land-grant institution. Pugh's untimely death at the age of 36 left the fledgling university in freefall, but the 1882 arrival of Penn State's "second founder" George Atherton saved the university from failure and helped to set the course for unprecedented success into the 20th century.
At the conclusion of Williams' presentation, Penn State Schuylkill Chancellor Patrick Jones introduced Schuylkill County commissioners Gary J. Hess, Frank J. Staudenmeier and George F. Halcovage Jr., who issued an official proclamation congratulating Penn State Schuylkill on its 85th anniversary and acknowledging the pivotal role of the campus within the county.
The evening closed with a reception in the Student Community Center featuring blue and white cupcakes, ice cream from the Penn State Berkey Creamery, and a spontaneous, crowd-led rendition of the "Happy Birthday" song.
To learn more about the founding of Penn State, read Roger Williams' book, "Evan Pugh's Penn State: America's Model Agricultural College," available from Penn State University Press.
For the full schedule of upcoming 85th anniversary events, visit sl.psu.edu/85.