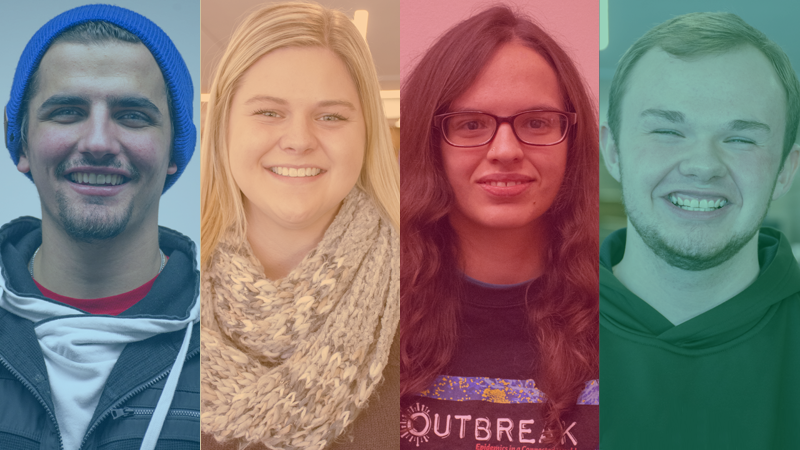 Their motivation is simple: save the children. Their task? Not so much. Every year, a troop of nearly 60 Penn State Schuylkill students collaborate and ask themselves, "What events can we host this year to hit our $20,000 fundraising goal for the Four Diamonds Fund?" These students are members of Schuylkill Benefiting THON, and their fundraising efforts have contributed thousands of dollars to the fight against pediatric cancer.
Fundraising began in fall 2018. The students orchestrated a "Friendly's Give Back Night," where the local Friendly's restaurant donated a portion of their dinner service's proceeds to Schuylkill Benefiting THON. Just a few days later, the group organized a "Halloween Paint and Sip," evening, whose registration fee directly supported Schuylkill Benefitting THON while giving participants their own take-home canvas.
But this year ushered in a new fundraiser that the students were excited to introduce: the first-ever line dancing event at the Good Will Hose Company. "Everyone told me that they thought it was the perfect family fun night," said Ron Kelly, THON faculty adviser and assistant teaching professor of administration of justice. "More than 50 people came out, but we think hosting the event so close to Thanksgiving affected turnout," he continued.
One Schuylkill Benefiting THON event has become iconic at Penn State Schuylkill, with the student group and the Office of Alumni Relations teaming up to host the fourth annual Bingo Benefiting THON. This event sells out every year, featuring prizes such as gift cards and gift baskets donated by local restaurants and retailers. This year, the troupe raised over $6,000 in this one event alone. "Over the past four years, $23,281.22 was raised for THON," said Patty Shoener, alumni relations and stewardship officer. "This would not have been possible without the help of the campus community."
The group continued with many tried-and-true fundraisers, as well, including a car wash, canvassing at Schuylkill Haven Borough Day, and Spin-4-THON, a spin class whose registration fee supports the student group. When they are not soliciting donations through service, the students seek donations from local businesses to be awarded as prizes for various fundraisers. Their annual calendar sale, for instance, offers participants the opportunity to win a prize every day, and all of those prizes are solicited and collected by Schuylkill Benefiting THON students.
THON, the largest student-run philanthropy in the world, is a unique year-long fundraising effort where Penn State students across the commonwealth raise money for children and families battling childhood cancer. Each year, the students' fundraising efforts are punctuated by a 46-hour dance marathon, celebrating both the success of some THON beneficiaries and the lives of others. THON 2019 begins Friday, Feb. 15 and ends on Sunday, Feb. 17.
This year, Penn State Schuylkill will send off four student dancers, who will neither sit nor sleep for the entire 46 hours of the event. Those dancers include Nico Granito, business major; Abigayle Kaiser, business major; Tianna Klinger, biology major; and Stephen Shalamanda, biology major. On Thursday, Feb. 14, the student group will not only send off their dancers, but also announce the amount they have raised for THON since fall 2018.
Once THON weekend begins at University Park, fundraising continues until the final moments of the event. Some attendees pay to have their heads shaved, others pay for stage time. The organization also sells tons of swag, which is all designed by Penn Staters. Each year, a Penn State student designs a new logo and theme for THON, and the group sells all sorts of gear bearing logos of the current year as well as years past.
Schuylkill Benefiting THON's final fundraiser is their Pick-a-Ticket Auction, which they hope will push them over their $20,000 goal. Last year, Penn State Schuylkill ranked as the eighth Penn State campus out of more than 20 for the amount raised for the Four Diamonds Fund, and the crew hopes to rank even higher this year.
To find out if the group reached (or exceeded!) their goal, join Schuylkill Benefiting THON at their dancer sendoff at 12:20 p.m. Thursday, Feb. 14, in room 201 of the Health & Wellness Building. And while you're there, don't forget who this is all about: for the kids!