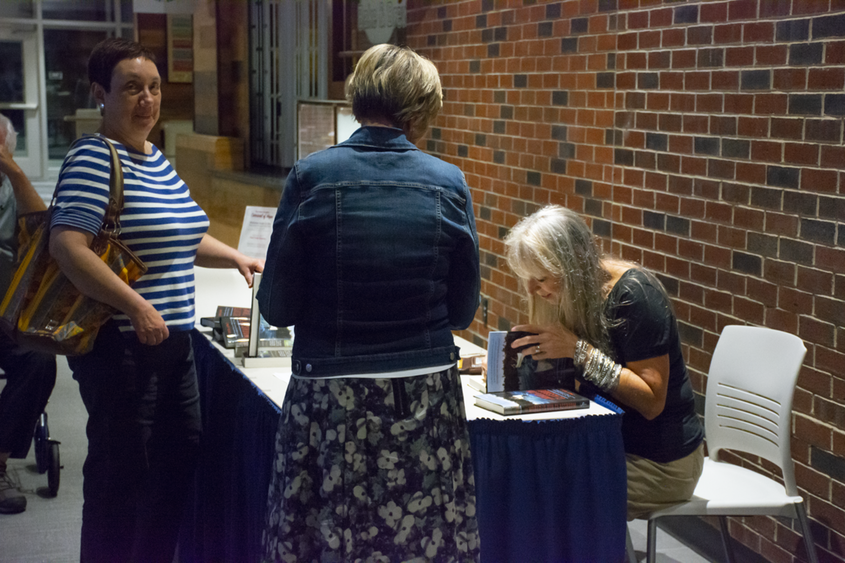 Each year, a committed contingency of Penn State Schuylkill faculty and staff collaborate to host a Sustainability Symposium on campus. This year's Sustainability Symposium, held in late September, featured keynote speaker Cindy Ross, a local author who advocates for experiential learning and embracing the natural world as an instructor.
Before the keynote speaker delivered her speech, the Sustainability Symposium began with an information fair. This year's fair featured representatives from Schuylkill Headwaters, a Schuylkill County nonprofit devoted to maintaining the environmental integrity of the Schuylkill River and its tributaries and watershed within the county; the Schuylkill Conservation District, a county agency dedicated to protecting the county's natural resources for present and future generations; and the Schuylkill County Conservancy, a nonprofit organization committed to conserving land and various natural resources within the county. "Porcupine Pat," a local star and environmental educator for the Schuylkill Conservation District, also attended the symposium, delighting audiences with his unique brand of fun tutelage.
Community members throughout Schuylkill County visited campus for the symposium. While they enjoyed the information fair, they really came to hear from Cindy Ross, who is currently touring to promote her new book, "The World is Our Classroom: How One Family Used Nature & Travel to Shape an Extraordinary Education."
Ross began her adventuring life as a Triple Crown Hiker, completing the Appalachian Trail, Pacific Crest, and Continental Divide Trails. Along with her husband Todd Gladfelter, they led their young children, Sierra and Bryce, 3,100 miles across the Rocky Mountain wilderness on the backs of llamas, and Ross discovered how experiences can generate extraordinary learning. She created a whole new way of nurturing and supplementing her children's education, focusing on two major arenas for learning: the natural world and travel.
Throughout her presentation, Ross discussed her children and the unique way she and her husband, Todd, raised them: they allowed them to teach themselves. When Sierra was in eighth grade and Bryce in sixth, the pair abandoned traditional school and began earning an experience-based education. "We own about 100 elk that thrive in reclaimed mine lands," Ross says, "and there, my children had learning experiences that they just couldn't get in a traditional school setting." The natural world taught Sierra and Bryce a wide variety of lessons beyond their parents' elk farm, beginning with life lessons learned hiking the Continental Divide, which begins in Canada and ending in Mexico.
Today, Sierra is a Fulbright scholar and student of Temple University while Bryce, who helped illustrate many of his mother's books, now illustrates labels for more than 20 microbreweries. Despite their unconventional schooling, Ross' method worked well for her children. After her presentation, an audience member commented on her own children's lack of engagement in the natural world, questioning, "How do we put value in the world around us?" Ross had a simple answer: "Build in fun." When fun is built in to learning experiences and the world surrounding us, Ross explains, children are more likely to become invested in not only the natural world, but also the learning experience itself. This educational method, Ross argues, instills values such as compassion, self-reliance, and appreciation in children.
Ross and her husband, Todd, live in a home they built themselves at the base of Hawk Mountain. In their free time, they run a nonprofit benefiting Coatseville, Pennsylvania veterans, called River House.
To learn more about Cindy Ross and her books, visit her website by clicking here. To learn more about sustainability initiatives at Penn State Schuylkill, contact Julie Meyer at [email protected] or 570-385-5054.