Certified Pollinator-Friendly Gardens on the rise in Schuylkill County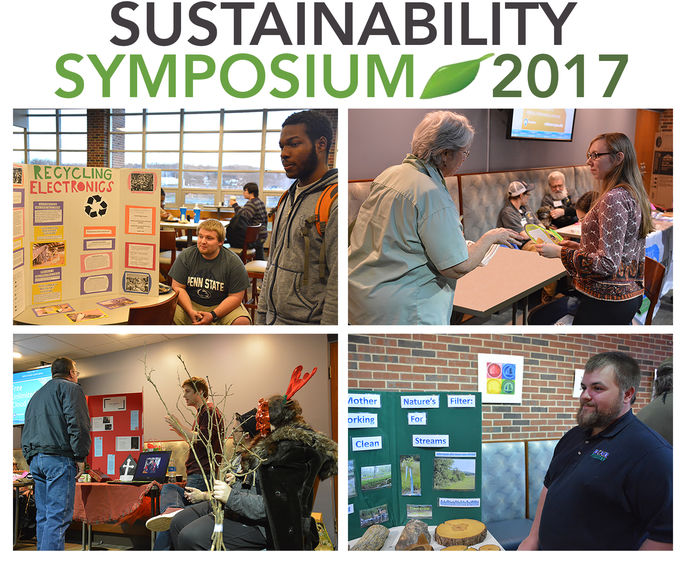 SCHUYLKILL HAVEN, Pa. — On March 2, members of the Penn State Schuylkill community gathered at the annual Sustainability Symposium to hear environmental experts, learn more about student green projects and visit vendor booths for environmental information.
Student projects on display covered a wide range of topics, including electronics recycling, geothermal energy production, going green at Penn State and the Wassail, a musical winter begging procession to bless apple trees and seek abundance for the next spring. This winter, students in Nicole Andel's Introduction to International Arts course participated in a wassail on campus led by Brady Siegfried, who planned the event as part of an honors project. Penn State Schuylkill Sustainability funded Seigfried's project.
Keynote speaker Kae Anderson, a passionate advocate of pollinator-friendly gardens and manager of a retailer that sells native plants in Northeastern America, opened her segment by addressing reasons why people and the planet depend on pollinators. What would the world be like without them, she asked? "The end result," she said, "would be nothing, there would be no food, no us — nothing."
Anderson said 30 years ago in Europe, there was no landscaping and the fields were abused. "Europeans wised up and started to bring pollinators back and we are now trying to catch up," she said, emphasizing that the sole purpose of pollination is to produce seeds.
"No bees, no honey, no food and no humans — people don't realize the importance of this," she said. Throughout her presentation, she discussed the significance of planting native plants as they will thrive in their natural habitat.
Event speaker Susan Hyland of Penn State Extension also is devoted to sustainability. Her background and expertise in consumer horticulture is useful as she manages the Master Gardener program throughout Schuylkill County. She is making a difference; the people of Schuylkill County are making a difference.
Hyland told an audience at the Penn State Schuylkill campus that, for her, sustainability is about balance. "It's the balance between gardening techniques and the environment and what you put in and take out of the garden area that could be your lawn, 150 acres of forest or a 4-foot by 4-foot vegetable raised bed," she said.
Pollinators are needed to enhance fruit and flower seed development. According to Hyland, pollinator populations' eight-year decline is due to heavy pesticide use and an environment fragmented by development, not cellular power or microwaves as some erroneously believed.
To combat that population decline, Penn State received a grant from Haagen-Dazs, an ice cream company that uses natural products, for honey bee-related programs. A portion of the grant was designated as a gift to establish the Master Gardener program in 2010 with the aim of developing citizen science programs in Pennsylvania. The program reaches out to homeowners and local communities, providing information about the importance of pollinating. Program volunteers are required to have 10 plants, observe their gardens, identify and count insects in the gardens, and collect data from their own environment to determine the acceptability of available floral resources.
Forty-nine gardens were developed in the first year of the Master Gardener program including 10 gardens in Schuylkill County. Currently, there are 800 certified pollinator gardens in Pennsylvania, including the Schuylkill campus garden, certified in October 2016.
An application is easy to fill out and costs only $10. The application fee provides support to Penn State educators to expand and deepen the program. Visit the Penn State Schuylkill Extension website at extension.psu.edu/schuylkill, or contact Hyland at [email protected] or (570) 622-4225.