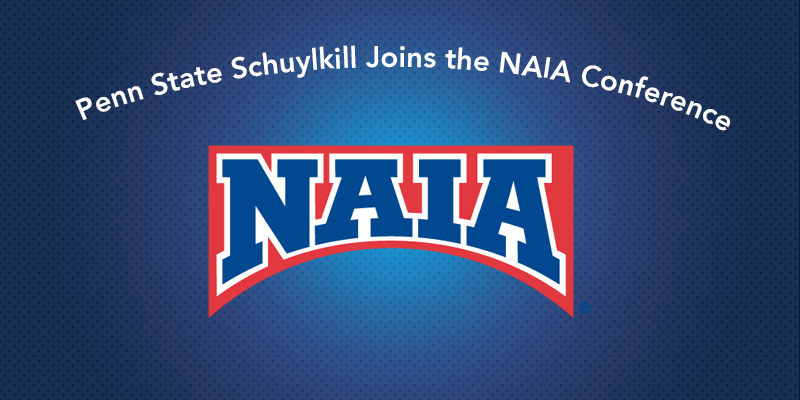 SCHUYLKILL HAVEN, Pa. — Penn State Schuylkill was among eight institutions approved for association membership by the National Association of Intercollegiate Athletics (NAIA). Formal approval by the NAIA Council of Presidents took place April 15 during the annual NAIA National Convention.
"We're excited to welcome Penn State Schuylkill into the NAIA," said Jim Carr, NAIA president and CEO. "This institution shares the NAIA's commitment to high standards and to the principle that participation in athletics serves as an integral part of the student experience."
Penn State Schuylkill places a high level of importance on college athletics because of the role they play in a student's overall development, which includes learning the value of healthy competition, teamwork, goal setting, respect and hard work.
"Competitive and club sports are an integral part of the well-rounded student experience on our campus," said Darcy Medica, interim chancellor at Penn State Schuylkill. "We are pleased to join the NAIA and take our thriving athletics program to the next level."
Penn State Schuylkill is the first of Penn State's Commonwealth Campuses to join the NAIA and one of five newly approved schools that will join the conference. Schuylkill's membership will go into effect July 1, 2018.
"Schuylkill's acceptance into the NAIA is a testament to the significant growth of the PSUAC (Penn State University Athletic Conference) over the past decade," said Maureen Cooper, director of Commonwealth Campus athletics at Penn State. "Our transition from two-year to four-year eligibility and increased competitiveness along the way has allowed our campuses to pursue these types of opportunities to enhance the student-athlete experience."
Seven men's and seven women's teams compete in intercollegiate athletics at the Schuylkill campus. Men's teams include baseball, basketball, bowling, cross-country, golf, soccer and track. Women's teams include basketball, bowling, cross-country, softball, soccer, track and volleyball.
"The news of acceptance to the NAIA for fall 2018 is a game-changer for the Penn State Schuylkill Athletic Department and programs," said Joe Godri, athletic director at Penn State Schuylkill. "Joining this prestigious organization will create tremendous opportunities for our student-athletes to develop and enhance their overall college experience."
According to the NAIA, schools must meet membership criteria that include financial stability, sports sponsorship, accreditation, and a commitment to character-driven athletics. Enrollment numbers, graduation percentages, retention rates, and overall athletics budgets also are taken into consideration.
In addition to competing in the NAIA conference, Penn State Schuylkill will remain in the PSUAC and the United States Collegiate Athletic Association.