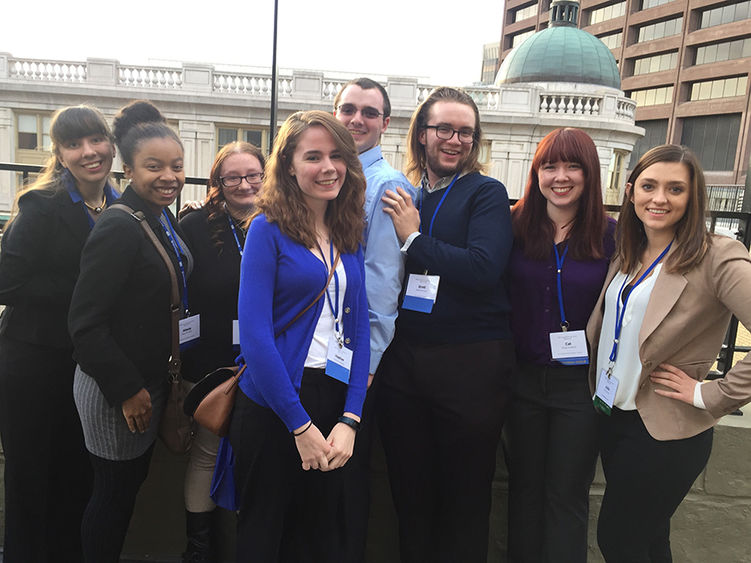 SCHUYLKILL,Pa — Eight Penn State Schuylkill students brought their "A" game to the Eastern Communication Association's James C. McCroskey and Virginia P. Richmond Undergraduate Scholars Conference (ECA-USC) in Boston, Massachusetts.
The Schuylkill campus students tied SUNY-Geneseo for the designation as Top School at the ECA-USC. ECA is the oldest professional communication association in the U.S.
Building on their amazing finish as Top School, two students took home awards for their stellar papers: Julia Schuller's paper was ranked No. 1 in the competition and Joshua Bachert's paper ranked No. 3. They presented 10- to 12-minute oral presentations on their work and were recognized at a business meeting and luncheon, with Schuller receiving a trophy that the Schuylkill campus will have custody of for the year. The trophy will be returned next year at which time Schuller's name will be engraved to commemorate her achievement.
Schuller's paper, titled "Broadcasting the Backstage: Essena O'Neill's Facework as an Instagram Model," offers a rhetorical analysis to help illustrate how the late Erving Goffman's theoretical concept of facework can be used to study social media and other internet texts. Schuller wrote, "Online features such as editing software, a lack of time constraint, and the physical barrier of a computer screen can give users the ability and courage to greatly extend the gap between their front and back stage."
Bachert's paper titled "Journey On: Relational Dialectics, Rhetorical Criticism, and the Musical 'Ragtime,'" looks at the dynamic nature of relationships that make them an area of interest for scholars to study. Bachert wrote, "Through the respective successes and failures of the fictional relationships in the musical, applicable lessons for real-life relationships are communicated to audience members."

"It is a testament to our amazing, hardworking students at Penn State Schuylkill that we excelled, considering we were a small campus going up against schools with larger programs and more faculty," said Valerie Schrader, associate professor of communications and coordinator of the campus' Corporate Communications program.
Both students give high praise to Schrader and the benefits of attending a school the size of Penn State Schuylkill. Schuller said, "Receiving the award for the overall top paper at the undergraduate portion of the Eastern Communication Association's annual conference is a huge honor. The ability to work one-on-one with Dr. Schrader, an amazing communications professor, and to be recognized for my work by receiving this award have been the highlight of my four years as an undergraduate student."
Bachert felt that it was truly a great honor to have his paper chosen as one of the top five pieces in the USC. "To be recognized by top scholars in the field for my hard work, especially given the conference's high level of competition, was extraordinary," he said. "It brings me pride in knowing that this accomplishment brings recognition to our school and its hardworking faculty, which made this opportunity possible for both myself and my fellow classmates."
In addition to Schuller and Bachert, Schuylkill campus conference attendees include Brenna Baker, Heather Bradley, Alexis Collins, Claire Freeman, Brett Kimsel and Catherine Mahon. Several students are in the process of submitting their papers for possible publication. This is the fourth year that Schuylkill campus students' papers have been accepted by the conference.
According to the ECA's First Vice President's report, the highest-sending institutions for number of students were Northeastern University, Penn State Schuylkill and SUNY-Geneseo. Students from 32 schools were invited to participate and 165 papers were submitted for consideration at this year's conference.