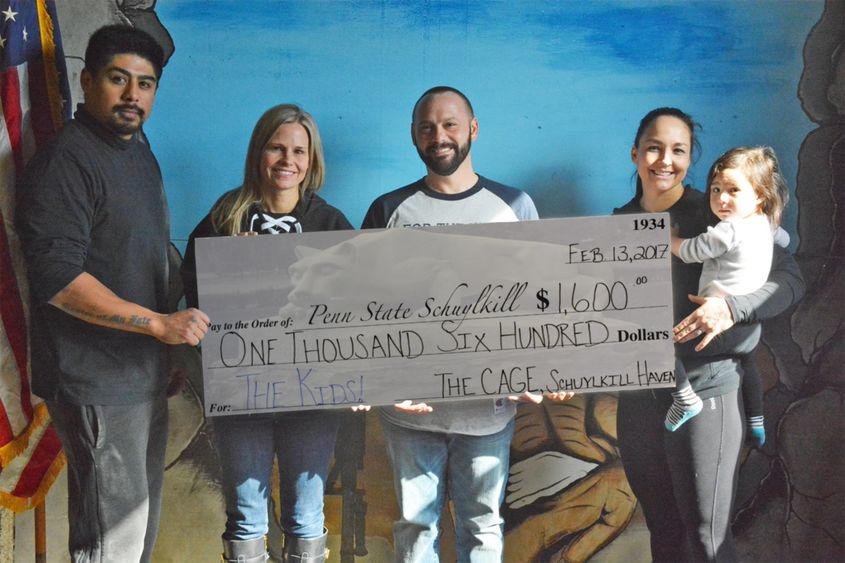 SCHUYLKILL HAVEN, Pa. — THON weekend is quickly approaching, and Schuylkill Benefiting THON, the student-run group representing THON at Penn State Schuylkill, has been busy.
THON — the IFC/Panehellenic Dance Marathon — is a year-round fundraising and awareness campaign for the fight against childhood cancer. These efforts culminate every February in a 46-hour, no-sitting, no-sleeping dance marathon on the University Park campus. THON's sole beneficiary, the Four Diamonds Fund, not only covers treatment costs for pediatric cancer patients at Penn State Children's Hospital, but also benefits children everywhere by supporting cutting-edge research to find improved treatments and a cure. Since 1977, Penn State students have raised more than $136 million "For The Kids," and last year, THON donated 96 cents of every dollar raised directly to Four Diamonds at Penn State Children's Hospital.
This upcoming THON Weekend falls on Feb. 17-19, and the Schuylkill Benefiting THON team has put in a year of incredible efforts. From canning events to sporting competitions and so much in between, the students and advisers have hardly stopped moving since last year's weekend, and their contributions are tangible.
One of the most common THON fundraising efforts across the Commonwealth are the canning events. Canning consist of students canvassing the area with large, #10 cans, asking their local community members for donations to combat pediatric cancer. Part of what makes these events so effective is the students' strategic positioning throughout the county. The campus group has raised an impressive total of more than $11,000 at these events.
Health and fitness is an important part of the daily life of families impacted by pediatric cancer. The members of Schuylkill Benefiting THON coordinated several successful physical challenges to benefit the kids this year. On Oct. 15, 2016, the group hosted a 5K Run/Walk in Schuylkill Haven during the campus's Homecoming Week celebration. Approximately 80 participants enjoyed the early morning run across the Island at Schuylkill Haven while raising funds for pediatric cancer. Runners and the local community were invited to carbo-load the night before the event at a spaghetti dinner hosted by Schuylkill Haven's First United Church of Christ, which was an enjoyable evening of great food and fellowship.
In cooperation with Re-Cycle Sports, a local boutique fitness studio in Schuylkill Haven, Penn State Schuylkill students and advisers were able to raise roughly $2,300 in a stationary-bicycle spinning event. Over the course of a week, participants donated $25 for one hour of spin time. There were also many who made straight donations to THON through Re-Cycle Sports.
In addition to the cycling event, coordinators Ron Kelly and Tina Rose were able to lead their THON students in a fruitful "Push and Pull Competition." The competition, held Feb. 4, was made possible by The CAGE, a Schuylkill Haven gym that offered their facilities during their one-year anniversary celebration to assist with the promotion of the THON event. Participants were challenged to bench press (push) or lift (pull) as much as they could while spectators watched from a safe distance. Coordinators also collected donations from vendors to build gift baskets, which were then offered as raffle prizes. The participants' registration and spectators' fees, as well as the raffle ticket proceeds, all went to Schuylkill Benefiting THON, ultimately raising almost $1,600 for the cause.
While Schuylkill Benefiting THON called several fitness fanatics to action, the team also hosted miscellaneous fun, community-oriented events, like the second annual THON Bingo that took place Dec. 11, 2016, in collaboration with the Penn State Schuylkill Alumni Society. An assortment of donations were collected, ranging anywhere from gift cards to gift baskets, all used as Bingo prizes. Participants donated $20-$25 to play 20 regular games and four special games of Bingo for their chance to win one of those great prizes. This fundraiser brought in more than $6,000 for the kids.
Perhaps the most symbolic community-oriented event that took place for THON was Schuylkill Benefiting THON's "No Hair Don't Care" event. This event took place Jan. 24, featuring two local stylists that shaved heads for $10 per person. Also, participants that had at least eight inches of hair to lose were able to donate their tresses to Locks of Love for only $10. The event culminated in a photo featuring all participants that dove in for the full head shave, adorned with the message, "Bald is Beautiful," a sign of solidarity with children experiencing chemotherapy.
Each event listed throughout this article stretched from Oct. 2016 until present, and the Penn State Schuylkill community is proud of each student and THON adviser that managed to do so much good for the kids while juggling academics, work, and a social life. In addition, the campus is honored to be a part of an amazing, supportive community.
For those that have been keeping track, Schuylkill Benefiting THON has raised more than $20,000 for the kids, but the team is keeping the grand total a secret until their final THON kickoff event next week, 4 p.m. Thursday, Feb. 16, in room 201A of the Health and Wellness Building. Be sure to stop by to watch the big reveal and wish our campus dancers good luck as they leave for THON 2017.
If you are interested in donating to Schuylkill Benefiting THON, please contact Tina Rose at 570-385-6253 or Ron Kelly at 570-385-6075.