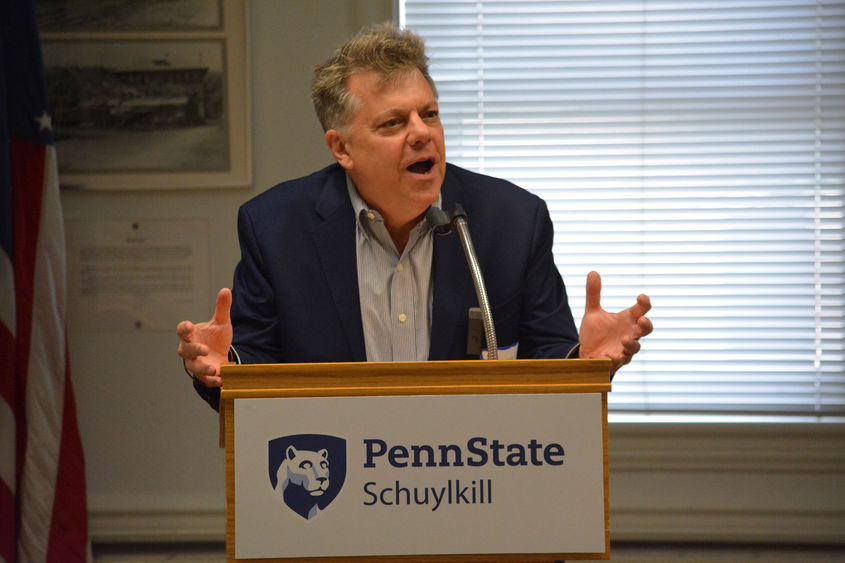 SCHUYLKILL HAVEN, Pa. — A reception was held Sept. 9 for students enrolled in the Penn State Schuylkill honors program. This elite campus academic program affords participants the opportunity to enrich their education by taking honors courses, working closely with honors faculty on special projects, and participating in extra-curricular activities and service projects.
According to Darcy Medica, director of Academic Affairs, since the revitalization of the program in 2013, the program has grown from less than 10 students to more than 70 students. In order to be enrolled in the program, students must take seven credits of honors courses each academic year. There are currently two Schreyer Scholars attending Schuylkill campus, and they are required to complete nine credits of honors courses. Medica encouraged the students to take full advantage of all of the unique opportunities that are available to them, including research opportunities with honors faculty.
Kelly Austin, campus chancellor, addressed the group on how to overcome adversity throughout their education, careers and personal lives. He pointed out that many of them may have already been challenged by obstacles, and conquered them, to get to where they are now. "Penn State Schuylkill honors students represent the high ideals that we in the academy hold dear," said Austin. "The experiences gained through their involvement in the honors program will help prepare them for a bright future, to not only flourish in their professional lives, but to shape the future!"
Charles Cantalupo, Distinguished Professor of English, comparative literature and African studies, and chairman of the Honors Council, spoke on the scholarship of research and creative accomplishments. He challenged honors students and honors faculty alike to recognize that, "Research and creativity go together. Scholarly accomplishments require both. They are honors values, Penn State values and lifelong learning values."
Co-coordinators for the 2016-17 program, Michael Gallis, associate professor of physics, and Valerie Schrader, associate professor of communications, introduced the members of the group's executive committee of the Honors Society student organization.
For additional information about the Penn State Schuylkill honors program, contact Cantalupo at 570-385-6055 or [email protected], Gallis at 570-385-6053 or [email protected], or Schrader at 570-385-6072 or [email protected].