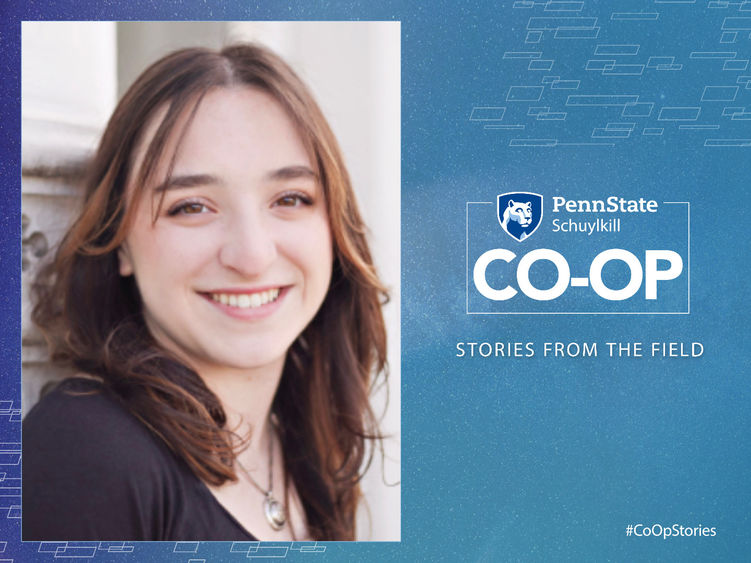 Editor's note: This story is part of a series profiling internship experiences of undergraduate students participating in Penn State Schuylkill Co-Op. For more stories like Carestia's, visit schuylkill.psu.edu/co-op-stories. 
SCHUYLKILL HAVEN, Pa. — Julia Carestia has had an interest in communications since high school. Before starting her academic career at Penn State Schuylkill, Carestia participated in elective courses in business and visual arts, where she discovered a passion for graphic design and business communications. Upon arriving at Penn State Schuylkill last fall, Carestia knew that the communication field was the right path for her. Now a second-year student in the telecommunications and media industries program and member of Penn State Schuylkill Co-Op, Carestia recently concluded a marketing internship with D. G. Yuengling & Son in Pottsville.
Carestia earned the opportunity to intern with Yuengling after completing an "informational interview" assignment for Co-Op that required students to network with employers in their desired career path, and interview one of the company's employees about their career experiences. Following an impactful conversation with an employee in the marketing department at Yuengling, Carestia was offered the opportunity to apply for the company's marketing internship over the summer and secured the role.
Although Carestia has always been sure of her interest in marketing, learning ways to improve her networking skills and build her résumé is part of what inspired her to join Penn State Schuylkill Co-Op. After spending some time in Co-Op, she felt re-affirmed that it was a no-brainer to join the program. Carestia found that her public speaking skills greatly improved throughout interactive assignments in class, and her ability to effectively share her creative ideas blossomed both in and out of the classroom.
In addition to positive classroom experience with Co-Op, Carestia was selected for an opportunity to earn a dual certification in PCM Digital Marketing and Certified Digital Marketing Professional through the Digital Marketing Institute at no cost to her. After being recommended to complete the program by her instructor, Kate Zimmerman, director of cooperative and continuing education at Penn State Schuylkill, Carestia worked through the modules and passed her certification exam over the summer, gaining a globally recognized dual certification that will help set her apart from her peers.
At her internship with Yuengling, Carestia felt she was able to work on practical skills for the marketing field like considering audience, brand representation, and the use of tools like Adobe Creative Cloud for designing marketing materials. With the help of Co-Op, Carestia has real-world experience and a strong foundation to build upon in her next steps.
Q: Describe a specific experience you had that made this internship memorable.
Carestia: Learning the ins and outs of social media content management has been really eye opening, especially during peak season for Yuengling. The insights I learned from the social media manager — like how and what to post, ethics, and audience engagement, were extremely helpful to my development as a marketer.
Another aspect of this internship that was memorable was being able to plan events and marketing campaigns in relation to Musikfest!, an annual summer music festival held in Bethlehem, Pennsylvania. Although it was really busy, it was so cool to be involved with such a fun event.
Q: How will this internship help prepare for your future career?
Carestia: This internship has helped me prepare for my future career in ways I didn't expect. Not only did I learn practical skills in marketing and how to use tools like Adobe Creative Cloud and Microsoft, but I also learned how to improve my public speaking skills and learn how to become hands-on in the workplace. Another important thing I learned was the importance of interacting with co-workers professionally as well as time management.
Q: How did you hear about Penn State Schuylkill Co-Op? Why did you decide to join?
Carestia: I learned of Penn State Schuylkill Co-Op at my New Student Orientation. After learning about it at the information fair, I knew it was a great opportunity to improve upon my networking skills and build out my résumé. I have learned so much while participating in Co-Op and feel like it was the easiest decision I've made while in college.