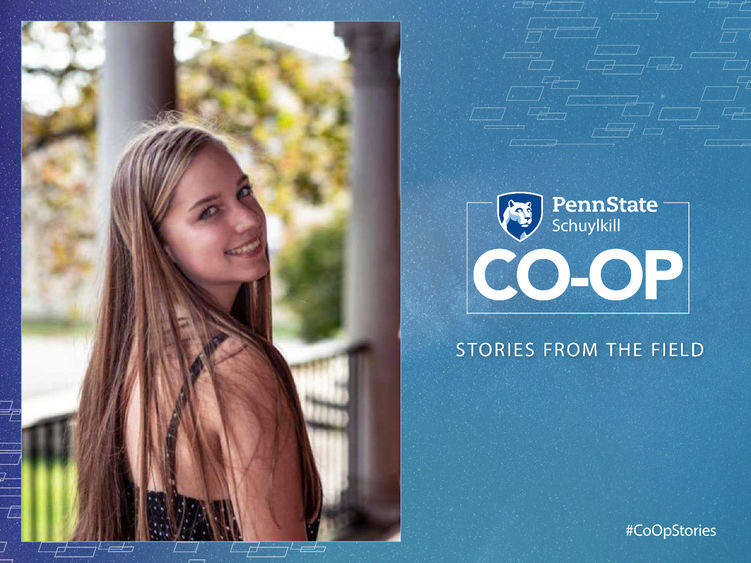 Editor's note: This story is part of a series profiling internship experiences of undergraduate students participating in Penn State Schuylkill Co-Op. For more stories like Barkus's, visit schuylkill.psu.edu/co-op-stories. This series is written by Kacey Harper, a second-year Penn State Schuylkill student majoring in corporate communication.
SCHUYLKILL HAVEN, Pa. — An advocate for justice who is passionate about providing all people with a voice, Rhiannon Barkus hopes to pursue a career in the legal field as a paralegal or lawyer following her undergraduate career at Penn State Schuylkill. Barkus has dreamed of this as her career since childhood and felt largely inspired by her mother, who has a background in criminal justice.
Now a third-year criminal justice student at Penn State Schuylkill, Barkus spent the summer working in the field through an internship at the Law Office of Shane Hobbs in Pottsville. A hands-on and immersive internship, Barkus has experienced the civil and criminal sides to the legal field, which will help guide her when making decisions about the direction of her career.
Although Penn State Schuylkill Co-Op was not part of Barkus's initial plan, it helped her establish a direction for her studies in alignment with her career goals — a necessary step that helped her land her summer internship. Barkus joined Co-Op to receive assistance on creating and building a resume, but as she continued through the program, she realized she gained so much more than a refined resume. Barkus's confidence in her academic and personal journey's significantly improved, and she opened herself up to the realm of opportunity — building meaningful connections by networking and pursuing professional development experiences that allow her to grow.
Of her experience, Barkus said, "Before I knew how impactful Co-Op truly was, I joined to gain experience for my resume and to help fulfill the credits I needed to graduate. What I didn't realize, was just how much I've learned about the workforce and prepared myself for my future."
Not only does Co-Op present students with resources to build themselves professionally, but it also provides a safe space for growth. Barkus expressed that working with Katharina Stuerzl, coordinator of career services and instructor of counselor education, has been beneficial to her success in her internship. In working with Stuerzl, Barkus honed her interpersonal skills and made room for redirection after experiencing rejection from employers she thought were the best fit for her.
"Rhiannon has come such a long way in taking ownership in her career journey," said Stuerzl. "She has learned to turn hurdles and rejection into learning opportunities and has begun to see that confidence builds through taking action."
With these newfound tools in her arsenal, Barkus is ready to continue making headway in her goal of obtaining a full-time position in the legal field and hopes to continue her professional relationship with the Law Office of Shane Hobbs as she continues her studies.
Q: What inspired you to pursue a career in the legal field?
Barkus: Ever since I was a kid, I've dreamed of being a lawyer. I believe in being an advocate for all people. Everyone deserves to have a voice. I was also inspired by my mom, who has a background in criminal justice.
Q: There are so many opportunities in the legal field. How did you decide on your current internship?
Barkus: I knew that the Law Office of Shane Hobbs was the best fit for me because of how I envision my career when I graduate. This experience has been very hands-on and informational and has allowed me to see a spectrum of the field with both civil and criminal cases. Typically, I assist with processing paperwork and reaching out to clients who need assistance, which has helped me build upon my skills.
Q: What do you feel is the most important thing you've learned in Co-Op that has helped you succeed?
Barkus: One of the most important things I've learned is that first impressions and professional communication are key skills in the workforce. I've also learned to break out of my shell more and not dwell on my "what ifs." It's helped me realize that sometimes rejection from an employer you thought was the best fit for you, opens doors to the path you were meant to take.
Q: Describe a project or task that has made this internship memorable.
Barkus: I was able to go to the courthouse! As an intern, I was nervous about not being taken seriously upon entering the field, but I've found that everyone I've encountered in the field is so kind and open to helping me when I need it. It's comforting to have a good support system. Shane has also taught me so much about the field throughout this internship, and I feel prepared for my next steps.