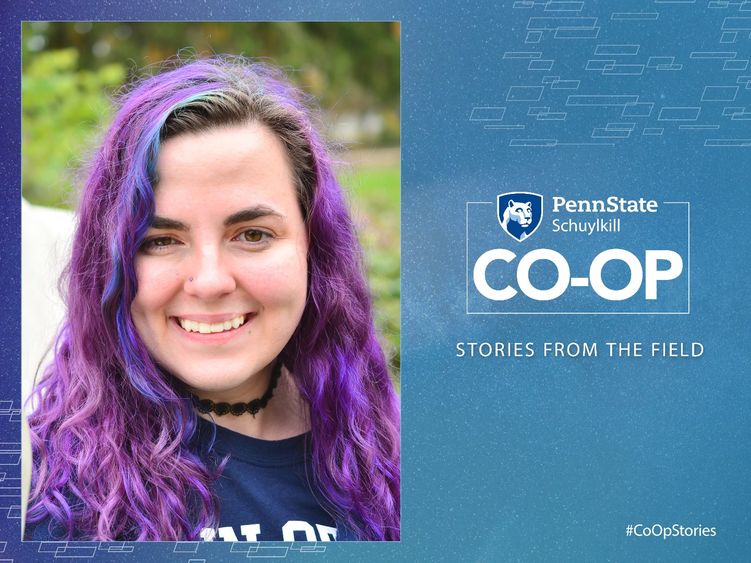 Editor's note: This story is part of a series profiling internship experiences of undergraduate students participating in Penn State Schuylkill Co-Op. For more stories like Moyer's, visit schuylkill.psu.edu/co-op-stories. This series is written by Kacey Harper, a second-year Penn State Schuylkill student majoring in corporate communication.
SCHUYLKILL HAVEN, Pa. — This summer, one Penn Stater found herself in an internship surrounded by colleagues of a different sort: opossums, deer, squirrels, cottontails, owls and many more species of native Pennsylvania wildlife.
"Ever since I was a little girl, I have been inspired to save our planet's creatures," said Amanda Moyer, third-year business student at Penn State Schuylkill.
She's been living out that dream through an internship at Red Creek Wildlife Center, a wildlife rehabilitation organization in Schuylkill Haven. Moyer spends her days preparing special diets to feed a variety of species, making formula and feeding baby birds and wildlife as frequently as every half hour, and cleaning up after her charges.
Co-Op gives Moyer an advantage
Moyer connected to the opportunity through participation in Penn State Schuylkill Co-Op. Throughout the program's coursework, Moyer perfected her elevator pitch and participated in mock interviews that solidified her confidence prior to her in-person interview with Red Creek, which ultimately helped her land the role, she said.
Of Co-Op, Moyer added, "Learning how to prepare myself for the future was a no-brainer to me. I feel that my verbal communication skills improved greatly through Co-Op. I'm able to enter workplace situations confidently, where I maybe wouldn't have prior to participating in Co-Op."
Q: Can you describe Red Creek Wildlife Center and what they do?
Moyer: Red Creek Wildlife Center rehabilitates wildlife that has been harmed and releases the animals back into their natural habitat when they're healed and able to survive on their own again. Red Creek provides care for wounds and feeds the wildlife around the clock with a team of staff assigned to each species. They all have different diets and need to receive the proper medication to help them heal. The staff are very well trained and knowledgeable about many different species of wildlife and are wonderful to learn from. Anyone can drop off wildlife they find harmed at the center's drop-off shed. Many of the center's patients are brought in by the community.
Q: Describe a specific project/event/experience you had that made this internship memorable.
Moyer: The construction and new buildings make this internship experience especially memorable! They are currently working on a new building and training center. Watching the progress has been amazing, and I am excited for the building to officially be done. One of my other favorite experiences has been my first release! I rehabilitated four opossums and was able to release them back into their habitat on June 18! One of the best feelings in the world was watching them all run free back into nature, where they belong.
Q: What has surprised you on the job?
Moyer: Every day I'm surprised that I'm able to live out one of my dream jobs! I adore working with the animals and feel satisfied knowing that I'm not only helping the wildlife, but our environment, too. Another surprise was how kind and patient all the staff at Red Creek are. It's been so easy to fit in and become part of the team!
Q: What comes next?
Moyer: I plan to continue to donate my help through holidays, then apply for their Level 2 Internship position for next summer. I truly love it there!