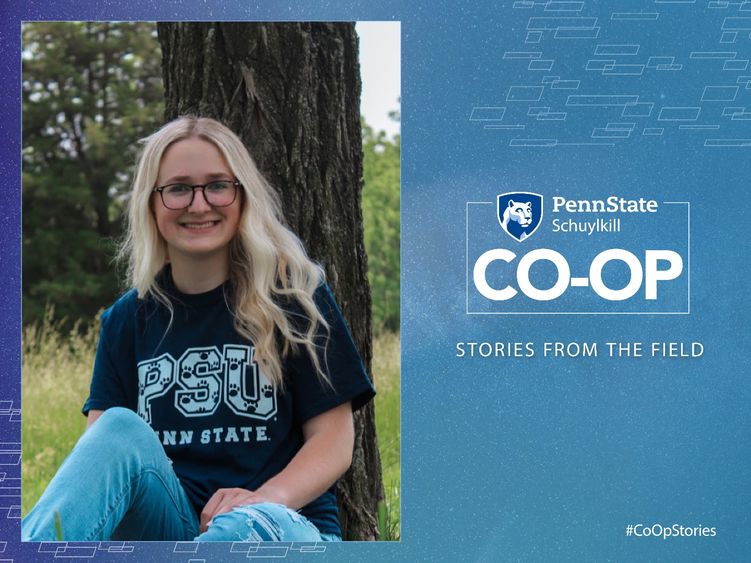 Editor's note: This story is part of a series profiling internship experiences of undergraduate students participating in Penn State Schuylkill Co-Op. For more stories like Schnovel's, visit schuylkill.psu.edu/co-op-stories. The series is written by Kacey Harper, a second-year Penn State Schuylkill student majoring in corporate communication.
SCHUYLKILL HAVEN, Pa. — Tori Schnovel is a second-year Penn State Schuylkill student majoring in psychology who is also earning an associate degree in human development and family studies (HDFS). A participant in Penn State Schuylkill Co-Op, Schnovel is spending her summer interning at the Sexual Assault Resource and Counseling Center (SARCC) in Schuylkill County and hopes to focus her career on providing supportive services to survivors of sexual assault. Following her summer internship, Schnovel has been offered a part-time position on SARCC's team, in a role that will include outreach activities and education services.
Gaining an edge with Penn State Schuylkill Co-Op
Schnovel said she heard about Penn State Schuylkill Co-Op during her new student orientation, and after learning about how Co-Op sets students up for success in their careers and provides them with helpful resources, she decided to join. Now that she has secured her first internship, Schnovel said, she feels she has real-world experience that helps her expand her knowledge and stand apart from her peers.
With the help of her internship, Schnovel is learning more about diverse areas of psychology and the varying role of a counselor. Her typical day includes assisting with prevention education programs, answering phone calls, completing paperwork, and sitting in on counseling and therapy sessions, she explained. Penn State Schuylkill Co-Op has also opened the opportunity for collaboration with SARCC, so Schnovel is able to represent SARCC at campus events in addition to participating in career development trainings and certification events with SARCC.
Q: Can you explain more about the organization where you're interning?
Schnovel: SARCC is the Sexual Assault Resources and Counseling Center in Schuylkill County. They offer no-cost, confidential supportive services to all genders and ages. Programs they offer include prevention education, counseling, medical and legal advocacy, and trauma therapy.
Q: What has surprised you on the job?
Schnovel: The most surprising part was how different every client is and how their needs vary. By this, I mean that you cannot help every person in the exact same way, but instead must learn how to adapt to meet what they need to achieve their goals.
Q: What have you learned in the Co-Op classes that has helped you succeed in your internship?
Schnovel: Through Co-Op classes I learned how to approach potential employers, proper business etiquette, how to prepare for a job interview, and how to build a résumé. With the support of our instructors, I was able to meet with professionals in the psychology field, expand my network and attend job fairs. 
Q: Describe a specific project that you had that made this internship memorable.
Schnovel: My most memorable project at SARCC is our Care for Kids program. Through this program I can meet with our younger clients to read books and complete educational activities that teach them about saying "no," healthy relationships, and many other prevention education skills that can help them tackle tough situations. This program has given me so many skills that I can use in my future career.