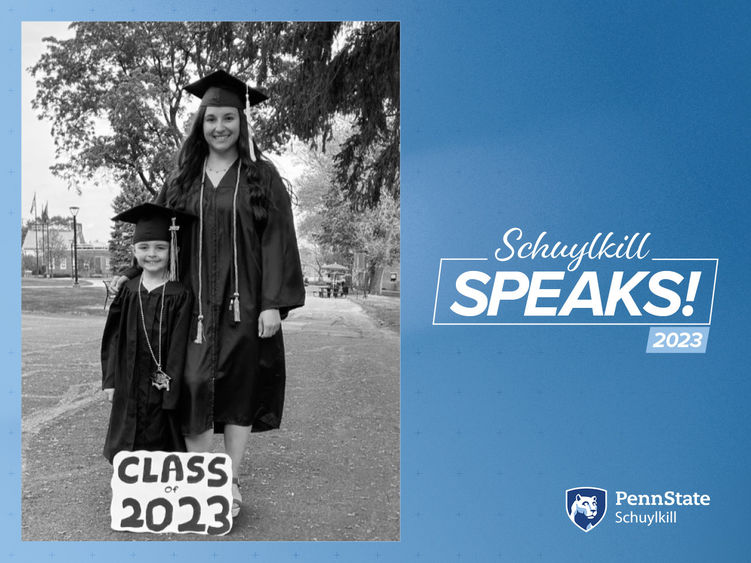 Editor's note: This story is part of a series profiling exceptional members of Penn State Schuylkill's graduating class. For more stories like Riegel's, visit schuylkill.psu.edu/schuylkill-speaks.
SCHUYLKILL HAVEN, Pa. ­— Desiree Riegel is passionate about shaping the minds of the future. She's always dreamed of working with children to help them succeed in early education. Prior to her graduation this spring at Penn State Schuylkill, Riegel started her career at Bumblebee Academy Early Learning Center, a preschool in Schuylkill Haven, that focuses on providing children with experiential learning opportunities to help them excel in their schooling early on. With her bachelor's degree in psychology in hand, Riegel is ready for her next steps.
A Schuylkill County native, Riegel attended Penn State Schuylkill for its proximity to home. At the start of her academic career, Riegel intended to pursue an associate degree in radiological sciences. But as she began to complete her coursework, she decided to switch her major to psychology, a field that serves many disciplines and industries, especially within early education and development. Her psychology courses allowed Riegel to build a foundation of knowledge for her next steps. This foundation provided the tools to understand people's thinking patterns and gave her an arsenal of techniques to help people of all ages.
After becoming a mother, Riegel felt even more inspired to succeed in her undergraduate career — not only for herself, but for her five-year-old son. Riegel balanced motherhood, a full-time course load, as well as employment at Jerusalem Lutheran Child Care and Learning Center. Determined to create the best future for herself, Riegel worked hard to ensure her academic success at Penn State Schuylkill, despite her many responsibilities outside her studies.
Riegel flourished in Penn State Schuylkill Co-Op, a program that provided her with the practical skills needed to shine in her future career. Riegel learned how to craft the best résumé, practiced her interview skills in mock interviews, and applied the expertise she learned from Co-Op to an internship with Gym-Jam Therapeutics in Pottsville. Riegel remains grateful for her time at Gym-Jam, as it opened the doors for her to gain valuable experience in a field she loves.
Kate Zimmerman, director of cooperative and continuing education at Penn State Schuylkill, has watched Riegel master her experience in Co-Op, while dedicating her time outside her studies to her son.
"Desiree is a highly motivated student who is engaged with her coursework and is eager to make a difference in the world," said Zimmerman. "She's balanced her academic work, internships, and jobs seamlessly all while being an amazing mother. She makes it all look easy. I'm very lucky to know Desiree through Penn State Schuylkill Co-Op. She and I have had wonderful conversations about her future, and I know she will go far!"
Commencement holds a special place in Riegel's heart: both Riegel and her son are embarking on their next journey together. As she received her bachelor's degree, her son graduated from preschool. After gaining a few years of valuable industry experience, Riegel hopes to go back to school to earn a master's degree in a field that helps her obtain a career in the elementary school setting.
Following Riegel's graduation, we caught up with her to talk about her time at Penn State Schuylkill:
Q: What will you miss most about campus?
Riegel: I will greatly miss having mentors and trusted professors to turn to for advice and guidance. Penn State Schuylkill faculty and staff go above and beyond for their students, and I felt truly cared for throughout my experience on campus. It felt nice to know that I had a community of support, no matter what I needed.
Q: Outside of academics, what's the most valuable lesson you learned?
Riegel: The most valuable lesson I learned was how important mental health is and how it affects your everyday life. It's so important to take care of yourself and take a step back when you become overwhelmed. There's nothing wrong with needing a break, and we should honor our needs for rest.
Another important lesson I learned was that it's perfectly OK to change your mind throughout your studies. If you want to change something about your undergraduate experience, do it! Don't pursue a path you don't genuinely love. Put yourself and what makes you happy first.
Q: Do you have a favorite Penn State Schuylkill memory?
Riegel: My favorite Penn State Schuylkill memory is meeting my best friends in one of my classes. They're such an integral part of my life and my son's life, which means more to me than anyone could know.
Q: As a new graduate, what advice would you give to incoming Penn State Schuylkill students?
Riegel: Take advantage of every opportunity you can! This campus is tight-knit and allows you to create extremely meaningful connections. These connections can help you on your path to success outside of college. Don't be afraid to take risks. Change your mind, try something new. Use the experience as a time to discover who you are and what you want.