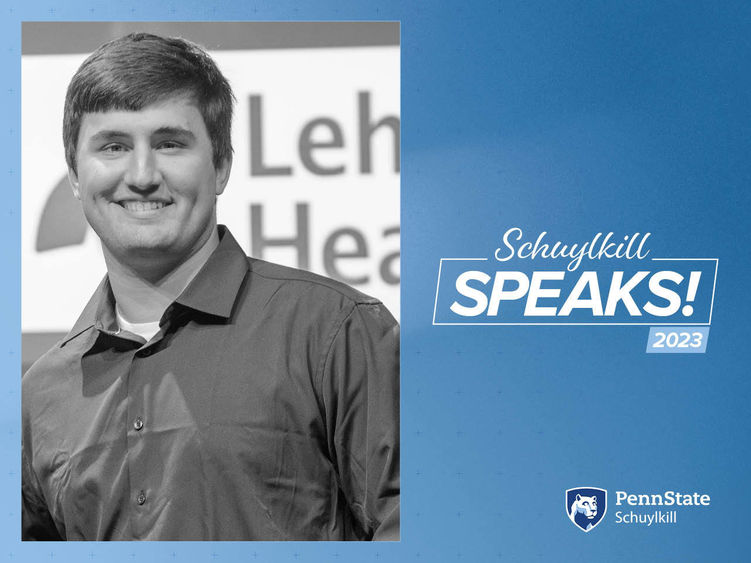 Editor's note: This story is part of a series profiling exceptional members of Penn State Schuylkill's graduating class. For more stories like Leininger's, visit schuylkill.psu.edu/schuylkill-speaks.
SCHUYLKILL HAVEN, Pa. ­— For accomplished student-athlete Jake Leininger, attending Penn State Schuylkill opened a world of possibilities in his studies and allowed him to continue mastering his favorite sport — baseball. A Schuylkill County native, Leininger grew up playing the sport and was honored to have the opportunity to continue it in college — a special experience for him that he'd always dreamt of having throughout his undergraduate career. Through athletics, he created a community on campus to help support him throughout his time at Penn State Schuylkill. This campus community helped Leininger excel and reach important goals and milestones both academically and athletically.
A successful student, Leininger received Dean's List honors every semester throughout his undergraduate studies and graduated summa cum laude, in the top two% of his class, in May with a bachelor's degree in criminal justice. An aspiring law enforcement officer, Leininger said he hopes to get his start as a probation officer, earning valuable experience that will allow him to progress to becoming a Pennsylvania State Police Officer and eventually a U.S. Marshal.
Leininger began his academic career knowing that he wanted to pursue criminal justice, he said. Intrigued by criminal law and the justice system in the United States, Leininger found himself engaged in his courses. Eventually, he developed a research interest and began conducting undergraduate research alongside research alongside Hakan Can, professor of criminal justice at Penn State Schuylkill where Leininger assessed policy issues in the U.S. criminal justice system, and also conducted research on the frequency, location, dimensions and levels of hate crimes that occur within Schuylkill County.
His academic achievements led to him receiving the 2023 Penn State Schuylkill Criminal Justice Research Award, which recognizes a student with a high-quality undergraduate research project related to criminal justice, criminology, law or a related field. The awardee must have performed the undergraduate research alongside a criminal justice faculty member and must have presented the project at an undergraduate research symposium on campus.
An equally successful athlete, Leininger commanded the field as a shortstop and pitcher on the Penn State Schuylkill baseball team. A decorated player, Leininger has received a multitude of awards and honors from the Pennsylvania State University Athletic Conference (PSUAC), the United States Collegiate Athletics Association (USCAA), the National Association of Intercollegiate Athletics (NAIA), and Penn State Schuylkill's own athletic awards. And in spring 2023, Leininger achieved his 100th career hit.
Recently, Leininger received the Penn State Schuylkill Most Valuable Player and Male Scholar-Athlete of the Year awards at the 2023 Athletics Recognition Ceremony, as well as the PSUAC Baseball Pitcher of the Week, All-Conference East Second Team and Player of the Week. He's also received honors from the USCAA on the All-Conference Second Team, and the NAIA on the All-Conference Team.
Bryan Valentine, director of student affairs and athletics at Penn State Schuylkill, has had the privilege of watching Leininger advance academically and as an athlete throughout his time at Penn State Schuylkill. "I am so proud of Jake as he consistently embodied what it meant to be an exemplary student athlete on campus," said Valentine. "He's excelled both on the field and in the classroom and has been a role model and leader since his arrival. Jake will be missed dearly by his teammates, coaches, faculty and anyone who had the pleasure of getting to know him throughout his undergraduate journey."
Leininger has had an outstanding run on the baseball team throughout all four years of his undergraduate career. He was an integral part of the team when they won their very first PSUAC Eastern Division Title and he helped get the team to the 2023 PSUAC playoffs, where Penn State Schuylkill was the third seed.
Following his graduation, we caught up with Jake to discuss his time at Penn State Schuylkill:
Q: Why did you chose Penn State Schuylkill?
Leininger: I'm local to the area, so I've always known about the impact of a Penn State education. I wanted to stay close to home but still be able to create my own community, and Penn State Schuylkill was the perfect place for me to do that. I was able to stay connected to my hometown while pursuing a world-class education and making my own name.
Q: As a student athlete, what was the most important lesson you learned? What was it like being a student athlete?
Leininger: I think one of the most important things I learned was how to effectively manage my time. There is a high demand in your undergraduate studies to complete your coursework successfully and maintain a balance to be successful in extracurriculars. Managing time well and putting in the hard work necessary to achieve your goals will take you a long way — so will building connections and creating a meaningful network of people around you.
My experience as a student athlete was special and rewarding. Through working hard and the support of my coaches and teammates, I was able to accomplish many of my personal goals and create memories and friendships to last a lifetime.
Q: Why did you want to pursue a criminal justice degree? What was the most memorable part of the program for you?
Leininger: I've always been interested in the field of criminal justice. I researched opportunities in the field before deciding it was the right path for me and eventually developed a keen interest in the law enforcement field. I could see myself as an officer truly enjoying every day on the job!
The best part of the program was gaining the knowledge I need to build a strong foundation and understanding of the criminal justice system in the United States. I also enjoyed creating meaningful connections with my professors on campus because they helped inspire me to chase my dreams of becoming a Pennsylvania State Police Officer and eventually a U.S. Marshal.
Q: What advice would you give to an incoming student at Penn State Schuylkill?
Leininger: Take advantage of the opportunities that are presented to you! This campus has a lot to offer, and with the support of others, you will be able to take the time to develop your interests and create meaningful friendships. If you are considering participating in a sport on campus — do it! It's such a great way to get involved on campus and create memories to last a lifetime. I'm so glad I continued playing baseball throughout my undergraduate studies for so many reasons, but one of the main ones is because of the family you create with your teammates.