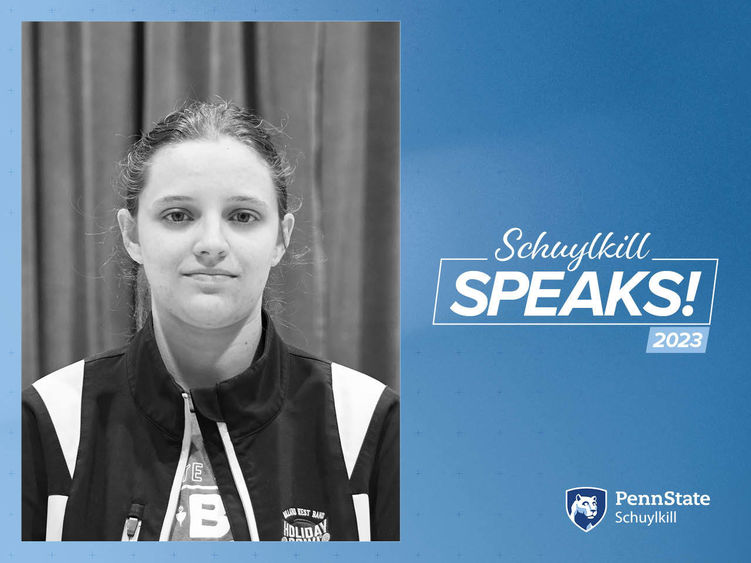 Editor's note: This story is part of a series profiling exceptional members of Penn State Schuylkill's graduating class. For more stories like Goggin's, visit schuylkill.psu.edu/schuylkill-speaks.
SCHUYLKILL HAVEN, Pa. — Originally from Alexandria, Virginia, student-athlete Caitlyn Goggin found herself at Penn State Schuylkill after being recruited as an outfielder for the softball team. Goggin says she chose to enroll not just for the University's renowned reputation in athletics, but for its world-class education, and specifically, the opportunities offered in the biology program at Penn State Schuylkill.
When Goggin arrived on campus, she intended to participate in Penn State's 2+2 program, where undergraduate students can begin their first two years of study at any campus, then transfer to University Park or another campus to finish their degree. However, as Goggin became involved in her academics and extracurriculars at Penn State Schuylkill, she realized that the support she received from peers, faculty and staff helped her grow, and created a community for her on campus.
This support was especially instrumental in helping Goggin secure an internship with the U.S. Department of Justice (DoJ). Faculty members jumped in to provide references for Goggin, speaking to her character and her academic success. This support landed her the internship and helped solidify Goggin's decision to stay at Penn State Schuylkill all four years.
Goggin earned her bachelor's degree in biology this month and will stay in the region to start her full-time career with the DoJ. She hopes to move toward a role in their laboratory division, supporting law enforcement at the federal level.
A well-rounded student at Penn State Schuylkill, Goggin's expertise on the softball field expanded to her academic career. As a peer tutor in the Learning Center on campus, she instructed fellow tutors on how to be confident and welcoming to students coming into the center for assistance. Outside of her academic capabilities, Goggin also was a mentor on the softball field — helping teammates sharpen their technical skills and assisting them with analyzing plays on the field.
Goggin made the most of her time in the biology program and created positive relationships with faculty throughout her time on campus. Associate professor of biology Brenna Traver pushed Goggin to put her best effort into every single course. Traver also served as Goggin's faculty adviser, helping Goggin navigate the program overall and providing support throughout her academic career.
"Caitlyn exhibits all of the qualities of a leader: the ability to listen and remain nonbiased, the ability to relate to others, communication and organizational skills, and above all her wish for everyone to succeed," said Traver. "She shows a maturity and professionalism beyond her age while being approachable. Everything Caitlyn takes on is with a 'conquer the world' attitude and a sincere desire to do well. She will be greatly missed at Penn State Schuylkill."
Goggin's dedication to her learning led her to receiving the Penn State Schuylkill Biology Award in 2023, which is awarded to an exceptional student who successfully completed core biology courses and displays strong promise in the biological field.
Goggin was a member of the Theta Chi Theta chapter of Beta Beta Beta (TriBeta), the national biological honor society, where she served as secretary, vice president, and president. Goggin also played softball for four years and recently helped lead the team to the Pennsylvania State University Athletic Conference playoffs.
Following Goggin's recent graduation, we caught up with her to talk about her time at Penn State Schuylkill:
Q: What made you choose Penn State Schuylkill?
Goggin: Originally, I was recruited to play softball, which is what made me aware of Penn State Schuylkill. I did some research and it turned out that the biology program on campus is top-notch and offered me flexibility if I wanted to participate in the 2+2 program. Eventually, I discovered that the community I'd made at Penn State Schuylkill helped me grow and succeed, so I decided not to transfer and finish my studies at another campus.
Q: With your involvement in the biology program — is there a class or instructor that had the most impact, and why?
Goggin: The biology faculty as a whole made a great impact on me, but Dr. Brenna Traver specifically impacted me throughout my time in the program. She always pushed me to be my best, especially in her courses. She was also my faculty adviser, so we spent a lot of time together and I knew I could rely on her for whatever I needed.
Q: What are you most proud of from your time at Penn State Schuylkill?
Goggin: I'm most proud of the mentorship opportunities that I participated in, as well as my extracurricular activities. I was heavily involved in TriBeta and the biology department, and I'm so proud of my time mentoring other students — whether it was in biology, softball, or helping peer-tutors coach other students effectively. These experiences really helped me grow as a person and as a leader!
Q: As a Penn State Schuylkill graduate, what advice would you give to an incoming student?
Goggin: Penn State Schuylkill is a small campus; use that to your advantage! Work on your networking and mentoring skills in this setting because I can guarantee those skills will help you excel after college. Take advantage of every research opportunity and go find the path that's best for you. Put it all out there — you won't regret choosing Penn State Schuylkill.