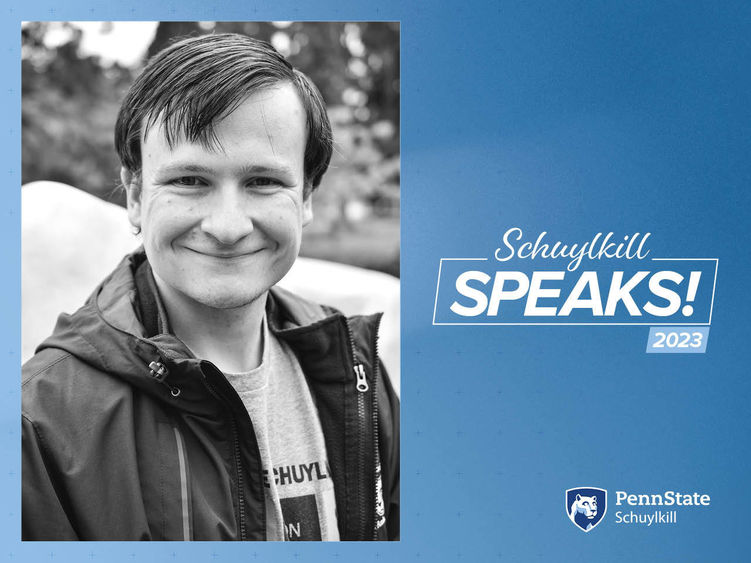 Editor's note: This story is part of a series profiling exceptional members of Penn State Schuylkill's graduating class. For more stories like Gantz's, visit schuylkill.psu.edu/schuylkill-speaks.
SCHUYLKILL, Pa. — Josh Gantz is looking forward to creating his future. An aspiring business owner, Gantz is making strides toward his goals. Earlier this month, he earned his bachelor's degree in business with the accounting option and will start a full-time role in finance and accounting at Evans Network of Companies, the nation's leading logistics and transportation provider, while simultaneously developing a plan for a business of his own.
Gantz envisions creating a business that affects and develops the way science, technology and the arts operate. He wants to show the connections between those fields, and how each branch can impact one another in positive ways.
Gantz started his journey on campus in the Pathway to Success: Summer Start (PaSSS) program, which was designed to help first-year students acclimate to the college experience with immersive learning activities and a peer support system. The program helped Gantz flourish academically and personally.
When he first came to campus, Gantz was a more reserved student, but he transformed throughout his undergraduate studies. As he navigated his way through the PaSSS program, he became increasingly involved in the campus community and found his voice. Gantz became an advocate for himself and others, setting out to make positive changes for himself, the campus, and beyond.
Gantz made his mark on campus in several ways, including founding the Math Club, participating as a member of the Lion Ambassadors and the Penn State Schuylkill Honors Program, and being recognized as an honorary member of the Theta Chi Theta chapter of Beta Beta Beta, the national biological honor society. Gantz also was a peer academic coach and a peer tutor in the Learning Center. He also served as a peer mentor for the PaSSS program. He felt inspired to re-join the program in this role to not only make lasting, positive connections with incoming students, but to give back to a program that provided him with the foundation to succeed.
Katie Avis, enrollment services specialist and co-adviser of the Lion Ambassadors at Penn State Schuylkill, has had the opportunity to watch Gantz thrive throughout his time on campus.
"On the outside you see an extremely kind and focused student, someone who is always willing to listen and ready to jump in and offer a helping hand," said Avis. "When you get to know Josh even better, you see a hard-working young adult who consistently pushes himself out of his comfort zone to be the best version of himself. I'm so proud of the growth he's demonstrated during his time at Penn State Schuylkill, and I know he's capable of incredible things in his future."
With his career goals in mind, Gantz knew he wanted to pursue a business degree early on in his education. In his courses, he had the opportunity to learn about various business strategies and their potential application to his future business. Coupled with internships he held at local companies, Gantz feels ready to continue building upon his knowledge as he begins his full-time role with the Evans Network of Companies after graduation.
Before Gantz embarks on his next chapter, we talked with him about his experience at Penn State Schuylkill:
Q: As an aspiring business owner, how did Penn State Schuylkill help prepare you for your next steps?
Gantz: My courses in the business program helped me significantly when it comes to my next steps. The business faculty on campus all have such diverse experience in the field and provide not only current best practices in business, but their unique perspectives. I felt encouraged to dig deeper in my coursework and form my own ideas about the field based off the foundational knowledge I learned. I feel well-prepared to start my next chapter and work toward creating my own business.
Q: How did your extracurricular activities impact your college experience?
Gantz: Becoming active in clubs and organizations helped me forge my own path on campus. It allowed me to connect with my peers and further my own development throughout my studies. Getting involved was such a great supplement to my education.
Q: Do you have a favorite Penn State Schuylkill memory? What will you miss most about the campus?
Gantz: It's hard for me to pick just one favorite memory — I have so many great memories here on campus. I think my favorite time on campus was spent with the Lion Ambassadors! That organization became like a family to me, and we participated in so many events on and off campus that were really fun.
I'm really going to miss the community I've created on campus. I've really enjoyed spending time with my close friends and the independence I've gained from living on my own for the first time.
Q: Outside of your academics, what is the most important lesson you've learned?
Gantz: I've learned how important it is to speak up and do the right thing. Advocating for yourself is the most important thing you can do, not only in your undergraduate studies, but in your life! If I hadn't spoken up when I needed help, or when I wanted to try something new, I wouldn't have experienced some of the best times of my life.
Q: Where do you see yourself in one year? Five years?
Gantz: In one year, I'll be completing my first year of full-time employment at Evans Network of Companies. Hopefully, I'll have started moving forward with firm plans for my own business.
In five years, I hope to be running my business full time, with support from my network and the community.