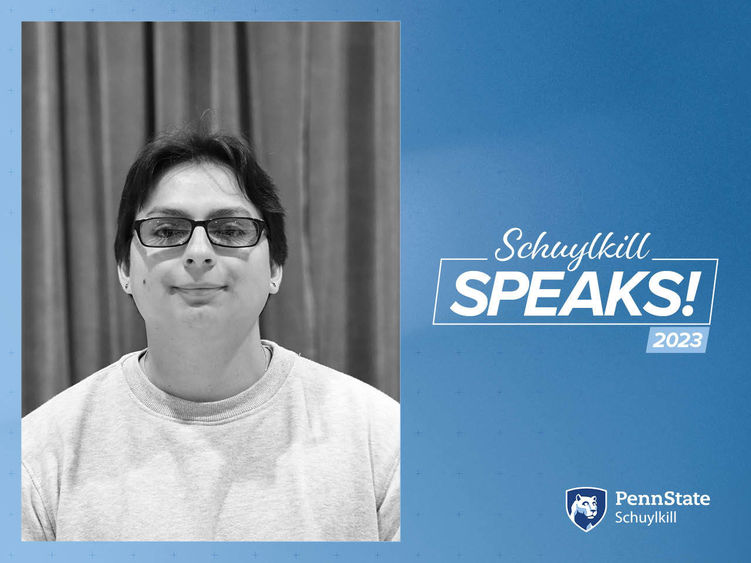 Editor's note: This story is part of a series profiling exceptional members of Penn State Schuylkill's graduating class. For more stories like Rivas', visit schuylkill.psu.edu/schuylkill-speaks.
Schuylkill Haven, Pa. – Antonio Rivas took the opportunity to further his education at Penn State Schuylkill with a goal in mind—to advance his career within the military. Rivas will earn his bachelor's degree in project and supply chain management in May at Penn State Schuylkill. Following graduation, Rivas plans to re-enlist in the in military and move toward a role as a commissioned officer.
With the education benefit from his service in the U.S. Army, Rivas decided to attain a bachelor's degree in project and supply chain management after discussing the endless possibilities of a business degree with a family member. When he began his academic career, Rivas was amazed at the amount of valuable experience business faculty at Penn State Schuylkill brought to the table within their courses. For Rivas, the knowledge imparted to him from classroom lectures coupled with real-world scenarios from faculty gave him the perfect blend of expertise as he prepares to graduate.
As part of his curriculum, Rivas participated in an experiential learning trip abroad where he was able to travel to Germany and tour the headquarters of MAE-Eitel, a member of the Penn State Schuylkill Consortium of Co-Op Employers. There, Rivas learned about best practices in international business and was able to expand his network by creating meaningful connections.
"Antonio is the type of individual that embraces new experiences and readily steps outside of his comfort zone, which is an important part of personal growth and development," said Gina Whalen, assistant teaching professor of business at Penn State Schuylkill. "Participating in our European travel abroad experience during spring break provided him with the perfect opportunity to exercise his skills ­– he excelled during the trip and demonstrated that he's curious, capable, and open-minded, which are all qualities that will serve him well in his next professional endeavors."
A lifelong learner, Rivas hopes that with his degree in-hand, he'll be able to commence his next journey: applying to U.S. Army Officer Candidate School. The fundamental knowledge Rivas gained during his education at Penn State Schuylkill will undoubtedly help him succeed in his next steps.
Prior to Rivas's graduation, we chatted with him about his time at Penn State Schuylkill:
Q: What moved you towards pursuing a bachelor's degree at Penn State Schuylkill?
Rivas: I've always had a goal of becoming an officer in the military. To get there, I need to not only be physically able, but knowledgeable enough to handle whatever is thrown at me while in the field. Pursuing my bachelor's gave me the opportunity to sharpen my critical thinking skills and broaden my scope in a field that can serve almost any industry. Penn State Schuylkill's smaller class sizes really helped me excel in the classroom because I was able to make connections with my professors and ask for support when I needed it – plus, I was really grateful to be able to utilize my education benefit from my service in the U.S. Army.
Q: As a commuter, what advice do you have on getting involved on campus? Do you have a favorite Penn State Schuylkill memory?
Rivas: Getting involved on campus is a really worthwhile way to meet other people and create meaningful friendships. It was a vital way for me to communicate with my peers and get to know the campus outside of my experience in the classroom. During my time here, I was a member of the community service club and the Penn State Schuylkill Habitat for Humanity chapter.
Some of my favorite Penn State Schuylkill memories take place outside of class—like the Krampus presentation that was put on by faculty members and the Veterans Day ceremonies where the campus took the time to honor veterans on campus, and all over the world, for their service.
Q: What is the most valuable lesson you've learned throughout your time on campus?
Rivas: I've learned that the best way to learn and grow is to simply try. If you don't try, you'll never know whether or not you'll succeed. If you don't get it right the first time, it just provides you with the opportunity to learn what you can do better, whether that's academically or personally.
Q: Where do you envision yourself in one year? In five years?
Rivas: In one year, I hope to be enlisted in the military so I can apply to Officer Candidate School. If all goes well, in five years I hope to have completed my officer candidate schooling, and officially move forward in my rank.