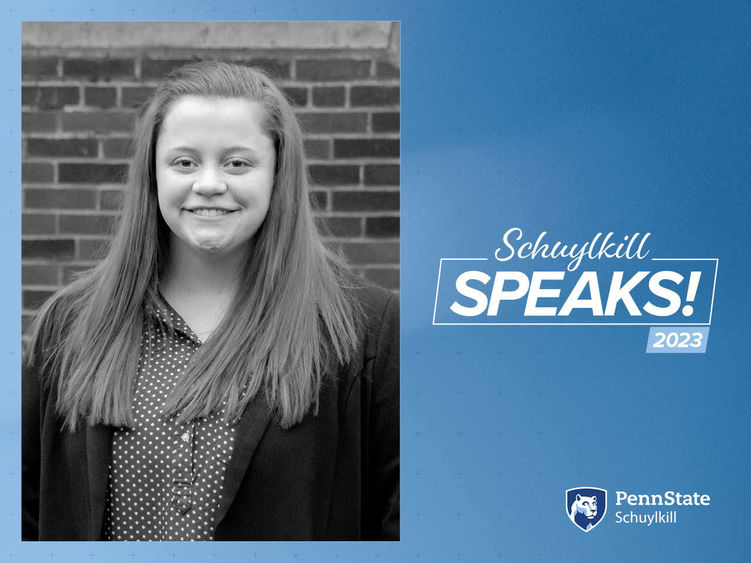 Editor's note: This story is part of a series profiling exceptional members of Penn State Schuylkill's graduating class. For more stories like Bates, visit schuylkill.psu.edu/schuylkill-speaks.
SCHUYLKILL HAVEN, Pa. — Sophia Bates began her time at Penn State Schuylkill with a plan in mind. She intended to pursue a degree in biology with aspirations of becoming a health care professional. After starting her academic career, Bates found herself deeply interested in her communication arts and sciences courses and decided to pursue a minor in the subject. As Bates continued her studies, her talent in writing and newfound passion for health care communication inspired her to switch her major to corporate communication and pursue minors in both biology and communication arts and sciences.
This spring Bates will earn her bachelor's degree and dual minors and is set to begin a master's program in communication and advocacy with a concentration in health communication at James Madison University in fall 2023.
An accomplished student, Bates' aptitude for communications extended to undergraduate research. Bates began conducting original research in her second year of studies alongside Valerie Schrader, professor of communication arts and sciences at Penn State Schuylkill. Bates' research focuses on health communication and rhetoric, with strong interest in mental and physical health. She has presented her original research at five communication conferences at the national and regional levels. An award-winning student researcher, Bates earned the recognition of top student paper at the National Communication Association in 2021 and 2022, and received another top student paper award at the Eastern Communication Association's James C. McCroskey and Virginia P. Richmond Undergraduate Scholars Conference (ECA-USC) in April 2023.
In addition to presenting her original research at communication conferences, Bates has also co-authored three papers with Schrader in peer-reviewed communication journals: the Kentucky Journal of Communication, the Northwest Journal of Communication, and the Communication and Theatre Association of Minnesota Journal.
Schrader has worked closely with Bates since her first year of studies and recognized her talent for writing early on in an honors first-year seminar course, where Bates had one of the best literature reviews in the class. An integral part of her decision to switch majors, Schrader helped Bates discover her research passion and encouraged her to challenge herself academically.
"Sophia is one of the most talented undergraduate researchers I've ever worked with," said Schrader. "She's received many accolades and has presented her work in Baltimore, Philadelphia and New Orleans, as well as virtually throughout the pandemic. Sophia knew early on that she wanted to attend graduate school, and I'm thrilled that she was accepted to her top choice. I'm not sure what Sophia's future holds after she obtains her master's — whether she decides to pursue a doctoral program, or if she begins a career designing and analyzing health care campaigns, she's going to make her mark in the health communication field. I'm honored to have played a small role in her getting her start, and she will very much be missed at Penn State Schuylkill."
Bates was the recipient of the Communication Research Award at Penn State Schuylkill in 2022 and 2023. The award recognizes an exceptional student who produces high-quality undergraduate research in the communication discipline.
Beyond her academic triumphs, Bates participated in several clubs and organizations on campus. Bates was a member of the Penn State Schuylkill Honors Program for all four years of her studies and was the program's secretary this academic year. She was also a member and co-president of the Alpha Epsilon Lambda chapter of Lambda Pi Eta, the national communication honor society, a member of the Theta Chi Theta chapter of Beta Beta Beta, the national biology honor society, and an Undergraduate Research Ambassador for two years.
Before Bates starts her next chapter, we caught up with her to talk about her time at Penn State Schuylkill:
Q: What made you want to pursue a degree in corporate communication? What's the most memorable part of the program?
Bates: When I started my journey at Penn State Schuylkill, I was a biology major. After taking communication arts and sciences courses and receiving direction from my faculty mentor, Valerie Schrader, I developed a keen interest in health communication research. She challenged me to step outside of my comfort zone and consider the possibilities of working in the communications field and how I could use my degree to research, analyze, and confront contemporary issues in the medical field. I recognized my strengths and my interests and decided to switch my major to corporate communication. I never looked back!
The most memorable part of the program for me was completing an internship at Jewel Women's Center. It was such an eye-opening experience for me, and it provided me with an outlet to apply what I'd learned in the classroom to real-life marketing and promotional efforts in a health care organization. It helped me know for sure that I had picked the right path for myself.
Q: What was your favorite part of being involved in undergraduate research?
Bates: Participating in undergraduate research helped shape me and my interests throughout my studies. It was a great supplement to the knowledge I was already gaining in my courses, and it allowed me to push the boundaries for myself of what I'm capable of. I truly enjoyed being able to pursue my research interests of mental and physical health and analyze how the two are portrayed in various medias. Presenting my work at regional and national conferences allowed me to become vocal about my passions and helped me create a community for myself on campus of fellow student researchers.
Q: Outside of academics, what's the most valuable lesson you've learned?
Bates: The most valuable lesson that my time at Penn State Schuylkill has taught me is that the path to success does not always follow a linear trajectory. I came to campus with an idea of my future and will be leaving with a completely different plan. I learned to embrace the challenges I encountered and turn them into opportunities to grow and become a better person. That really helped me become more successful not only in my studies, but personally, too.
Q: Where do you see yourself in the next year? In five years?
Bates: This fall, I'll be continuing my journey in higher education and will begin my graduate program at James Madison University. In one year, I'll be halfway through the program. In five years, I envision myself as a strategic communications professional for a health care organization that conducts research in the field of health communication and creates campaigns about mental health advocacy and awareness.