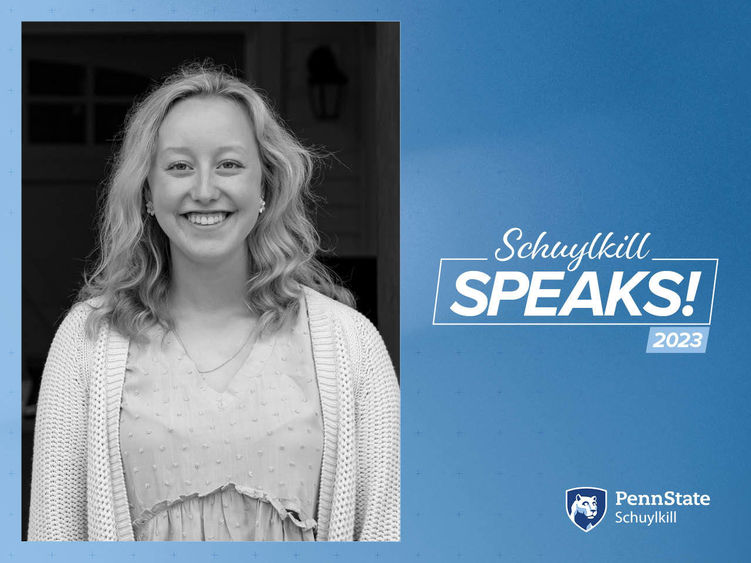 Editor's note: This story is part of a series profiling exceptional members of Penn State Schuylkill's graduating class. For more stories like Hughes, visit schuylkill.psu.edu/schuylkill-speaks.
Schuylkill Haven, Pa. – Dominique Hughes started her college experience at a different university, on the precipice of the COVID-19 pandemic. The difficulty of being a first-year student taking online courses and the unprecedented times that would follow influenced Hughes's decision to return home and attend Penn State Schuylkill at the conclusion of her first year of studies.
A Schuylkill County native, Hughes had heard about the incredible opportunities available to Penn State Schuylkill students, as well as the impact a Penn State education makes. Her transition from a larger campus to one where students can foster one-on-one relationships with faculty was the right move for her. Upon her arrival to Penn State Schuylkill, Hughes found the support she received from faculty and staff helped her excel and propelled her toward self-discovery, both academically and personally.
As a first-generation college student, Hughes set out to create the student experience she had searched for. She became highly involved on campus in several clubs and organizations, joined Penn State Schuylkill Co-Op, and challenged herself academically by diving into communication research.
Working alongside faculty mentor Valerie Schrader, professor of communications arts and sciences at Penn State Schuylkill, Hughes discovered a research interest in African American history and pop culture portrayals of Black stories. During her time on campus, Hughes presented her original research at three of the Eastern Communication Association's James C. McCroskey and Virginia P. Richmond Undergraduate Scholars Conference (ECA-USC), and the National Communication Conference, where her paper was second-ranked on the Theatre, Film and New Multimedia Top Student Paper Panel in 2022.
Schrader, who has worked closely with Hughes over the last two years, believes that Hughes's passion for helping other people empower themselves, whether through her research or her establishment of the Women in Leadership Club on campus, shows her dedication and willingness to be an advocate. "Dominique is an amazing research student and campus leader," said Schrader. "She goes the extra mile in everything she sets out to do, and her accomplishments reflect this. I'm very proud of Dominique and everything she's accomplished in her time at Penn State Schuylkill."
Hughes's academic success extends beyond her research, as she recently received the campus's Corporate Communication Award, which recognizes outstanding scholarship in communication, and a demonstration of exemplary work in the field of communication.
Hughes's impact on Penn State Schuylkill will extend long after her graduation. As the founder of the Penn State Schuylkill Women in Leadership Club, family relations chair of Schuylkill Benefitting THON, vice president of the Future Business Leaders of America (FBLA) Collegiate Club and the Student Advisory Council, and president of the Penn State Schuylkill Honor Society, Hughes is passionate about community engagement and hopes to break barriers throughout her career.
Graduating with her bachelor's degree in corporate communication and minor in communication arts and sciences this May, Hughes will be relocating to Maryland and has accepted a full-time role with Customer Value Partners where she will work alongside the Veterans Health Administration for an annual event that highlights veterans' stories. She was well positioned for this role in part due to multiple internship experiences completed as part of Penn State Schuylkill Co-Op, including positions with Independent Dock & Door and a multi-semester internship with the Schuylkill Chamber of Commerce.
We caught up with Hughes before her impending graduation to hear about her time at Penn State Schuylkill:
Q: When you decided to transfer to Penn State Schuylkill, how did you know you made the right decision?
Hughes: After a few weeks of being on campus, I realized how much truly happier I was here. It wasn't so much one "a-ha" moment, but more of a gradual feeling. Participating in Co-Op really sealed the deal for me my first fall semester here because it provided me with an amazing network of connections not only with my peers, but in the community, that I hope to keep well after graduation.
Q: What made you decide to pursue a degree in corporate communication?
Hughes: Originally, I had my heart set on becoming a speech-language pathologist. I love to help others! However, once I found myself taking communications courses, I was surprised at how passionate I became about my education. I love the field I've decided to go into for so many reasons—my passion for writing, and studying film and literature, led me to discover that I can take what I've learned in my degree and apply it to any career path.
Q: What influenced your decision to participate in undergraduate research?
Hughes: My love for film and social justice inspired me to research African American history and the telling of Black stories in the media. I'm dedicated to understanding and reflecting upon history and being part of the movement to challenge the status quo. Here, I was able to begin researching my interests early on, and really put my heart into my research. I worked with some really amazing professors, especially Valerie Schrader, who became a sounding board of mine throughout my research journey.
Q: Outside of academics and extracurriculars, what is the most important lesson you learned?
Hughes: When I started reflecting on my college career, I realized that college is the time for self-discovery. Through my studies and extracurriculars, I learned so much about myself and what I'm capable of. After going through what felt like an awakening, I wanted to try my hardest to impart the same message to my peers—getting involved on campus, whether it be academically or in clubs and organizations, gives you a space to figure out who you want to be. Always be willing to try something new, and if it's not for you, that's okay, because you gave it your best.
Q: What is your favorite Penn State Schuylkill memory? What will you miss most about campus?
Hughes: My favorite Penn State Schuylkill memory was meeting my best friends! I met the people I'm closest with early on here, and I value having such a strong circle of people surrounding me. It helped me get through my studies. As for campus, I will miss all of the clubs and organizations I participated in, as well as my amazing professors!