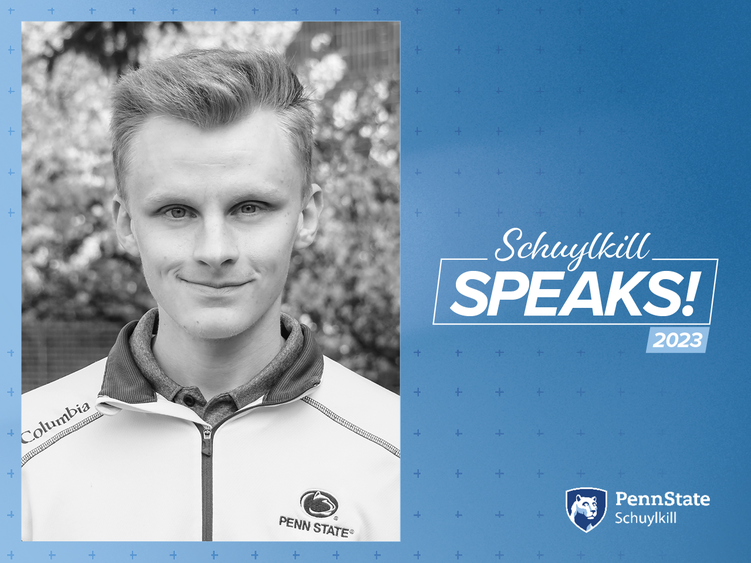 Editor's note: This story is part of a series profiling exceptional members of Penn State Schuylkill's graduating class. For more stories like Hubler's, visit schuylkill.psu.edu/schuylkill-speaks.
SCHUYKILL HAVEN, Pa. ­– Schuylkill County native Seth Hubler is inspired to give back to the region that has given so much to him. Destined to be a Penn Stater, Hubler set his sights on Penn State Schuylkill for its world-class education right here in his community.
Before starting his academic career at Penn State Schuylkill, Hubler's passion for service to the community inspired him to pursue a career path in politics. Growing up, Hubler participated in a local Boy Scout troop, which allowed him to hone in his passion for volunteerism by working on numerous community projects. Eventually, Hubler found himself in a leadership role within the Boy Scouts and knew that a career in public service was his future.
When Hubler came to campus, he decided on pursuing a bachelor's degree in business in the marketing/management option. He knew that a degree in business would open opportunities for him in the public and private sectors, and in whatever industry he might choose to pursue.
"Seth is one of the most conscientious, hard-working students I have ever encountered," said Gina Whalen, assistant teaching professor of business at Penn State Schuylkill and program director of the B.S. in Business Inter Campus (BSBIC) for World Campus. "Behind his academic success, however, is something much more significant that should be commended. Seth has an altruistic nature that I've witnessed in a variety of settings, which allows him to selflessly be a resource to others. Whether it's giving his all in a group project in the classroom, volunteering in the community, or helping peers in an international environment, he exhibits true leadership qualities that garner the respect of others. I'm honored to have been a part of his Penn State Schuylkill story."
Recently, Hubler received the campus's Bachelor's Degree in Business Award, which is given to an exceptional graduating student who has best excelled in the business program, as demonstrated by academic excellence and integrity in the classroom, as well as leadership in the student's community, campus and/or workplace.
In addition to his academic prowess, Hubler made an impact on various clubs and organizations on campus. He served as the communications director for the Future Business Leaders of America Collegiate Club and as the student body president and government affairs chairperson within the student government. He also has been part of the Penn State Schuylkill Honors Program since 2020.
Even before his graduation in May, Seth began a full-time role as constituent relations specialist with the Pennsylvania State Senate. He hopes to make an impact wherever his career takes him and dreams of one day running for office at home in Schuylkill County, to fulfill a promise of a better life for its residents.
Before Hubler embarks on his next chapter, we caught up with him to talk about his time at Penn State Schuylkill:
Q: You always knew you wanted to be a Penn Stater. What made Penn State Schuylkill stand out?
Hubler: As a Pennsylvania native, Penn State has always held a special place in my heart. People from all over the world know what a Penn State student has to offer. Penn State Schuylkill was my top option because of its reputation of being a dynamic educational institution, and as an added bonus, it's only ten minutes from my home! I'll always be proud of my choice to enroll here.
Q: What made you want to pursue a business degree? What was the most memorable part of the program for you?
Hubler: I wanted to earn my business degree because of the doors it will open for me in my future. The skills I learned in the program could be applied to almost any role. As a student very interested in government, what I've learned in my courses easily translated to my internships and now full-time position in state government. The most memorable part of the program was the ability to participate in experiential learning courses rooted in business leadership. I've been able to travel abroad to Belgium, Germany and the Netherlands, where I learned all about best business practices and created a network of connections.
Q: What extracurricular activities were you involved in? How did they impact your time on campus?
Hubler: I was involved in multiple clubs and organizations during my time on campus. These activities helped me expand on my current passions, but also find new passions, and in turn assisted me in creating a plan and setting intentions related to what I want to do in my life. I learned that I really do enjoy leadership roles. I also learned that I like having the ability to affect positive change through my work, both in the workplace and the world. My involvement in all these organizations undoubtedly shaped me into who I am today.  
Q: Where do you see yourself next year? In five years?
Hubler: In the next year, I see myself finishing up my first year of full-time employment with the Pennsylvania State Senate, looking for more opportunities to grow personally and professionally. I also see myself graduating with my master's degree in leadership, which I will begin one week after graduating from Penn State. Additionally, I see myself continuing my work with the various civic and community organizations that I am involved with, including the Boy Scouts of America. 
While it's hard to predict, in five years I see myself working in some type of leadership capacity, whether it is public or private sector. I would like to be employed in a role that allows me to make an impact and lead innovative teams that are looking to turn the standard things in life into something much more effective and riveting. Additionally, I am hopeful that I have the chance to pursue elected office here at home, and in turn advocate for the people of my community in an elected, governmental capacity. I loved the opportunity to represent others in my capacities on campus and would love to do the same for my neighbors one day.