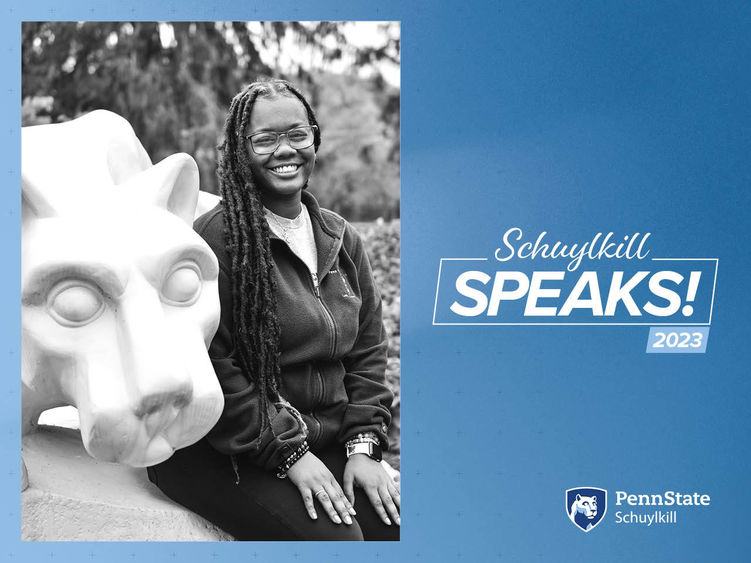 Editor's note: This story is part of a series profiling exceptional members of Penn State Schuylkill's graduating class. For more stories like Williams', visit schuylkill.psu.edu/schuylkill-speaks.
SCHUYLKILL HAVEN, Pa. — For Ni'Kiyah Williams, enrolling at Penn State Schuylkill provided her with the opportunity to build a foundation for her future. Originally from Philadelphia, Williams chose Penn State Schuylkill for its world-class education in an intimate, community setting. For as long as Williams can remember, she's aspired to make an impact on the lives of at-risk children, specifically those in the foster care system. Williams believes that everyone deserves to have someone in their corner — someone who believes in them and supports their best interests. She hopes to be that someone for children in foster care as she pursues her dream of becoming a social worker.
Williams will receive her associate degree in human development and family studies at Penn State Schuylkill this May and plans to continue her education at Penn State's World Campus to earn her bachelor's degree in human development and family studies, while working in the health care field to gain valuable experience.
A first-generation college student, Williams' journey in higher education has allowed her to grow and set herself up for success. Participating in Penn State Schuylkill Co-Op gave Williams the tools needed to flourish academically and professionally in a variety of settings.
Kate Zimmerman, director of cooperative and continuing education at Penn State Schuylkill, has had the privilege of watching Williams evolve over the last two years.
"Ni'Kiyah has been a pleasure to work with through Co-Op," said Zimmerman. "She's dedicated and eager to learn and contribute to her field of study. Her kindness and determination will take her far in life. Being the first in her family to graduate from college is a huge accomplishment, and I'm so proud to have been a small part of her Penn State Schuylkill story."
Additionally, Williams was a member of Schuylkill Benefiting THON, the Blue and White Society, and the Lion Ambassadors. Her involvement on campus and her passion for success have made her known as a true embodiment of what it means to be a Penn Stater.
Before Williams graduates from Penn State Schuylkill, we caught up with her to ask her about her experience on campus:
Q: Why did you choose to attend Penn State Schuylkill?
Williams: I decided to attend Penn State Schuylkill because of the personal, community-feel. I felt like I could come here and succeed in my courses due to the smaller class sizes. Professors here are able to take the time to get to know you, and they are invested in your success in and out of the classroom. The faculty and staff here on campus are really supportive and understanding of their students.
Q: What made you want to pursue a degree in human development and family studies?
Williams: The reason I chose to pursue an associate degree in human development and family studies is because I want to positively change the lives of children in foster care. I truly believe all children deserve to have someone who has their best interest in mind throughout their time in the foster care system, and I hope to be a positive and helpful piece of their story.
Q: Outside of academics, what was the most important lesson you learned?
Williams: The most valuable lesson I've learned outside academics is how to appropriately manage my time. Juggling a course load, working and extracurricular activities made me learn how to effectively manage my time so that I could complete my studies. I greatly improved my ability to manage my time throughout my studies.
Q: How did your extracurricular activities impact your time on campus?
Williams: I enjoyed keeping myself active and building my own community on campus. Some of the favorite memories I've made on campus were in clubs and organizations, especially the Lion Ambassadors. I loved giving tours to prospective students and talking about all of the benefits of attending Penn State Schuylkill.
Q: After completing your bachelor's degree, where do you see yourself?
Williams: I see myself working as a child and family social worker, while also working in the health care field as a clinician. I'm really excited to expand on the future I've started building, and helping people access a better life is a core piece to the foundation of my next steps.