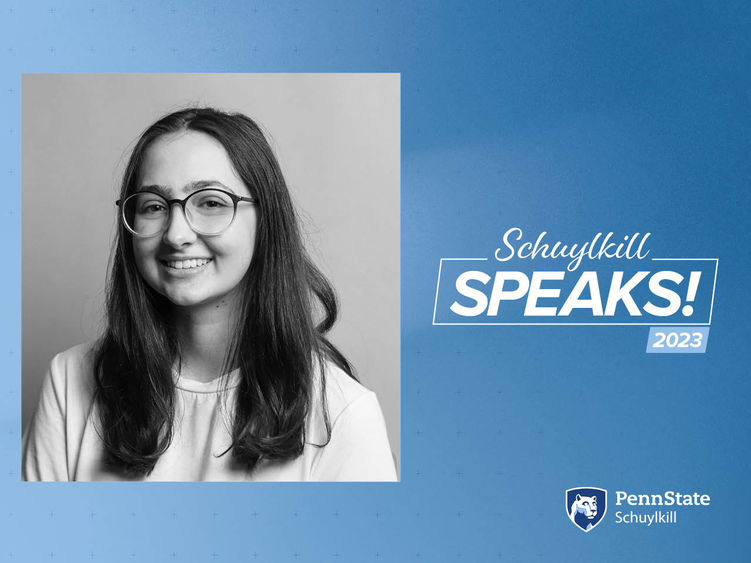 Editor's note: This story is part of a series profiling exceptional members of Penn State Schuylkill's graduating class. For more stories like Haag's, visit schuylkill.psu.edu/schuylkill-speaks.
SCHUYLKILL HAVEN, Pa. — Bethany Haag always knew she had a passion for helping others. She's driven to make a positive impact by conducting life-changing research on addiction, to better understand and assist those who suffer from substance use disorders. Before Haag discovered her research interest, she earned her associate degree in human development and family studies from Penn State Schuylkill in spring 2021, but that was just the beginning of her academic career. She'd always wanted to pursue a bachelor's degree in psychology, and starting the program with a background in human development and family studies was the perfect fit.
What Haag wasn't expecting was to discover a deep interest in addictions research early on in the psychology program. This research put her on a life-changing trajectory. Haag jumped into undergraduate research as a third-year student, primarily focusing on substance use disorders and substance use habits among various age groups, geographical subsets, and across college campuses, alongside faculty mentor Jessica Saalfield, assistant professor of psychology at Penn State Schuylkill.
That research paved the way for Haag's next chapter. Following graduation, Haag will begin a five-year doctoral program in biobehavioral health in fall 2023 at Penn State's University Park campus, with a research focus in neural and behavioral mechanisms in relapse rates among individuals with alcohol use disorders. She will have a teaching assistantship throughout the duration of the program.
"Bethany is an exceptional student," said Saalfield. "She's bright, motivated and curious. She's driven to be the very best she can be at every task she takes on, and has excellent critical-thinking and problem-solving skills, which will undoubtedly help her succeed in all her endeavors. She's been instrumental in helping my research get off the ground and was involved in the foundational work on addictions research I'm producing. I truly cannot say enough good things about Bethany."
Recently, Haag and Saalfield co-presented their study, "Substance Use Amongst Geographically Diverse 12th Grade Students," at the national Collaborative Perspectives on Addiction Conference in Albuquerque, New Mexico.
Haag will graduate summa cum laude in the top 2% of her class this May, and she recently received two prestigious academic awards: the Penn State Schuylkill Psychology Research Award, which is given to an exceptional student who has presented original research at a regional or national psychology conference, and the Penn State Schuylkill Tutor Award, which is given to a model student and peer tutor with an outstanding ability to provide academic assistance to students while adhering to the high standards of integrity, fairness, commitment, respect for others, and professionalism.
Haag also was integral in assisting with the launch of the Zuber-Slocum Academic Success Program, which focuses on new students in their first-year seminar courses, and she served as one of the program's first course-embedded peer academic coaches.
Beyond her academic success, Haag was highly involved on campus. She served as the president of the Blue and White Society, a member of Schuylkill Benefiting THON, and participated on the Penn State Schuylkill Student Advisory Council.
As graduation nears, we caught up with Haag to talk about her time at Penn State Schuylkill.
Q: What made you want you to pursue a degree in psychology, and what was the most memorable part of the program for you?
Haag: I wanted to pursue a degree in psychology to understand others, and the way people think and behave. When I first started in the program, I wasn't sure where I wanted to go with my degree path, but I knew that it was the right choice. Eventually, I started conducting addictions research and I just knew it was something I could see myself doing for the rest of my life. The most memorable part of the program was conducting research and building upon my knowledge with my faculty mentor, Jessica Saalfield. I've had the honor of working with her and learning from her over the last two years.
Q: Outside of academics, what was the most valuable lesson you learned?
Haag: The most important thing I've learned outside of my academics is to become involved on campus and explore what interests you. The people I've met from clubs and organizations have become my dearest friends who will be by my side for a lifetime. Extracurricular activities allowed me to give back to the community that gave so much to me, and really helped develop my skills as a leader.
Q: What will you miss most about campus?
Haag: I'll miss the community on campus. I've made so many friends that turned into family, and have had so many faculty and staff members in my corner, it's turned them into mentors and role models.
Q: Where do you see yourself in the next year? In five years?
Haag: Next year, I'll be attending the Penn State biobehavioral health doctoral program to continue my addictions research. In five years, I'll hope to have completed the program and begin establishing my own line of independent research in academia.