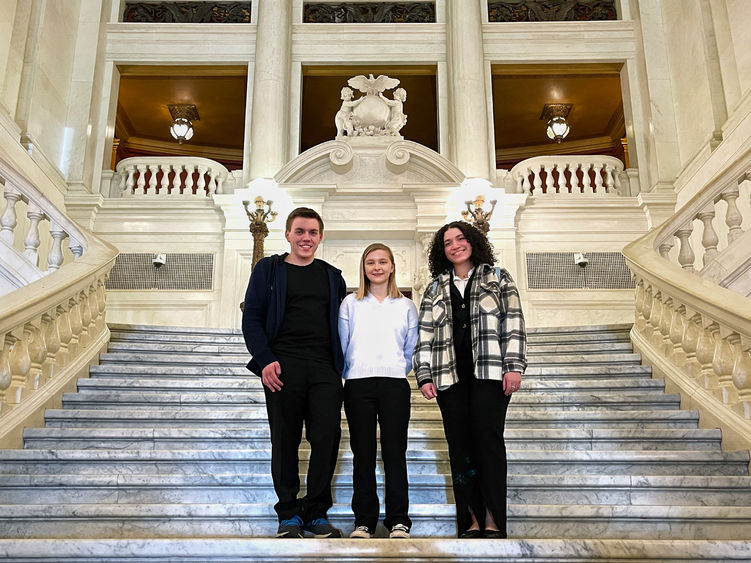 SCHUYLKILL HAVEN, Pa. — Three Penn State Schuylkill students presented two of the eight total research posters representing Penn State at the prestigious Undergraduate Research at the Capitol – Pennsylvania event in Harrisburg on March 7.
Justice Cappella, a third-year business major, and Zakkary Hozella, a fourth-year cybersecurity analytics and operations major, presented their research, titled, "Reducing the Climate Crisis by Decreasing Computer eWaste: Introducing an Efficient User Behavioral Model Based on a Set of Safe Computing Processes," which aimed to raise awareness on how a single user's technology habits impacts the climate crisis overall. Cappella and Hozella worked with faculty mentor Joseph Squillace, assistant teaching professor, cybersecurity. 
Second-year nursing student Scarlet Tejada Rodriguez, who worked with faculty mentor Mary Ann Smith, lecturer of biology, presented her research, titled, "The World Underground: Phage Discovery," which focuses on the prevalence of antimicrobial resistance in recent years and how it renders certain antibiotics ineffective. By sampling and testing soil, Tejada Rodriguez joined worldwide efforts to isolate new types of phages, which are viruses that infect bacteria. According to Tejada Rodriguez, this research could be helpful in finding new ways to fight bacterial infections in humans.
During the event, students and their faculty mentors had the opportunity to meet with legislators, including David G. Argall, Pennsylvania state senator and chair of the senate education committee, and Tim Twardzik, Pennsylvania state representative for the 123rd legislative district.
"The Penn State Schuylkill students who attended the Research at the Capitol Pennsylvania event and presented their research represented our campus well," said Darcy Medica, Penn State Schuylkill's director of academic affairs. "They had an incredible opportunity to network with students and faculty from institutions across the commonwealth. I want to thank the faculty who provided these opportunities to the students, and I would also like to thank our local representatives who met with the students to learn about the great things happening at Penn State Schuylkill."
Penn State Schuylkill offers a robust community of research on campus, where students are committed to exploring their passions and curiosities across a wide breadth of disciplines, alongside peers and faculty, as early as their first year of studies. Innovative research students pursue has the potential to impact the commonwealth and the nation.
Learn more about research at Penn State Schuylkill on the campus website.