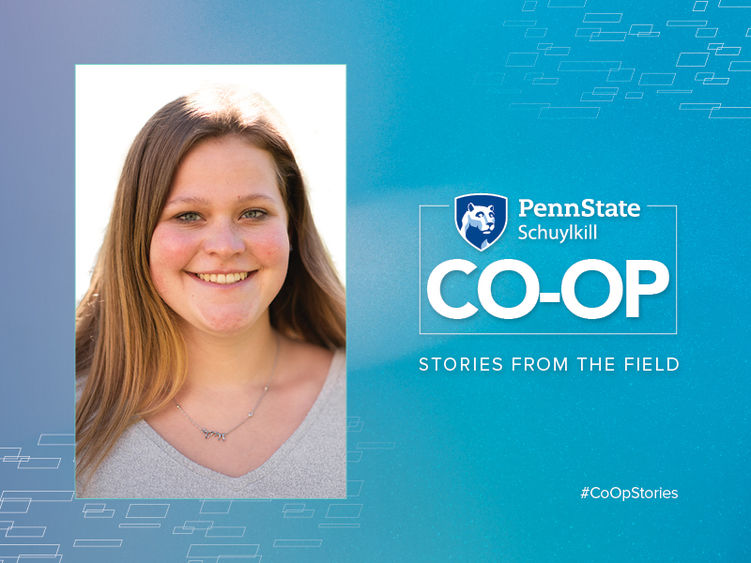 Editor's note: This story is part of a series profiling internship experiences of undergraduate students participating in Penn State Schuylkill Co-Op. For more stories like Clauser's, visit schuylkill.psu.edu/co-op-stories. The series is written by Jontae Martin, a fourth-year Penn State Schuylkill student majoring in corporate communication. 
SCHUYLKILL HAVEN, Pa. — Ava Clauser is a second-year Penn State Schuylkill student from Schuylkill Haven, who spent this past summer interning with Cardinal Systems Inc., a manufacturer of swimming pool and spa systems serving the United States and Canada. As a business major in the accounting option with a minor in corporate communication, Clauser plans to leverage her Penn State Schuylkill Co-Op experience to explore career opportunities through job shadowing and internships. 
When Clauser first came to campus, she was unsure of her career options. But in working with Angela Brown, instructor of business, and Kate Zimmerman, director of cooperative and continuing education, Clauser found a clear path to the future she wants. Bolstered by faculty support, Clauser declared her major and began gaining workplace experiences through Co-Op. 
"Being on a small campus means that you will have a more one-on-one relationships with your faculty," Clauser explained. "They become an important resource and cheerleaders to help you excel in your college experience." 
By applying herself in the classroom and joining Penn State Schuylkill Co-Op, Clauser said her experiences have helped her improve her soft skills, communicating better with instructors, co-workers, bosses and peers. Her efforts show in her character professionally and personally as those soft skills support her roles on campus.  
Clauser is an involved student, participating in the Honors Program, working as a tutor, and participating as an active member of the Blue & White Society, the beekeeping club, and Schuylkill Benefitting THON.  
After graduation, Clauser said, she plans to earn the Certified Management Accountant (CMA) certification, followed by pursuing the Certified Public Accountant (CPA) certification, and ultimately returning to university life for graduate school. As she looks to the future, Clauser reflects on her first real-life work experience interning with Cardinal Systems Inc. this past summer. 
Q: How did you obtain your internship? 
Clauser: I obtained my internship through a job shadowing experience through Penn State Schuylkill Co-Op. Cardinal Systems reached out and said that I could come visit with them for a day, and I did job shadowing in the finance department. When the time came in class that we needed to start looking for internships, I thought of Cardinal Systems right away. They were open to the internship, and I was really excited about the opportunity. And it was all from an afternoon of job shadowing! 
Q: Describe Cardinal Systems Inc., and what they do. 
Clauser: Cardinal Systems Inc., is a third-generation, family-owned business. They manufacture custom pools and steps, custom vinyl liners, plastics, and aluminum. Part of Cardinal Systems is Fox Pool, with warehouse locations in the U.S. and Canada. Fox Pools & Spas Services, also part of Cardinal Systems, is a retail location that offers above ground pools, luxury hot tubs, outdoor living essentials, pool care, and services. 
Q: Why did you select this company for your first internship? 
Clauser: I selected this company because of my experience when I came to job shadow in November 2021. Also, Cardinal Systems has eight employees in its finance department, which has given me a lot of opportunities to see different parts of the company and accounting cycle. 
Q: What are some skills you have learned with Cardinal Systems? 
Clauser: One of the biggest skills I have learned is organization. In the accounts payable side of the business, they file all the invoices after they are entered, and they monitor them until paid. I also learned accounts receivable tasks like cash receipts and invoicing, and I worked on projects where I cleaned up and organized files. I also scanned and digitized these files, and that project was looking at fixed assets of the company. Working in the accounting field, I also learned a lot about Microsoft Excel and how to best utilize it. I also did data entry and a lot of double-checking work before it was finalized as the documents become unchangeable. 
Q: What has been your overall experience? 
Clauser: My overall experience has been so wonderful. Everyone that I have worked with is so helpful and wants to share what they are doing for me to learn. After being at Cardinal for three months, I really didn't know how big the company really was, so it has been interesting learning more about the company and doing tasks for different parts of the company. 
Learn more about Penn State Schuylkill Co-Op here.