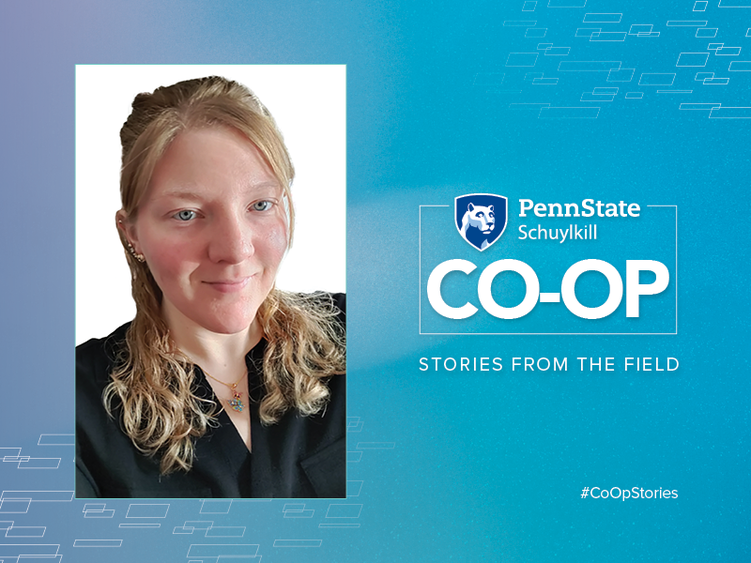 Editor's note: This story is part of a series profiling internship experiences of undergraduate students participating in Penn State Schuylkill Co-Op. For more stories like Paetzell's, visit schuylkill.psu.edu/co-op-stories. The series is written by Jontae Martin, a fourth-year Penn State Schuylkill student majoring in corporate communication.
SCHUYLKILL HAVEN, Pa. — Meet Renee Paetzell, a second-year business student at Penn State Schuylkill expanding her work experiences at Providence Place, a senior assisted-living facility located in Pottsville, Pennsylvania, where she interned this summer.
A role model and dedicated student, Paetzell is an adult learner who returned to school to better herself and prepare for her family's future. And though she is a wife, mother to two children, and a full-time worker, she still tries to be as involved as possible on campus. 
Allowing herself to commit to being a student again, Paetzell broadened her network to connect with Penn State Schuylkill Co-Op, a partnership between Penn State Schuylkill and local employers that allows students to gain real-life work experiences while providing a talent pipeline for regional businesses. As the program supports career growth, it also has fostered Paetzell's personal growth.
"In co-op classes, we talk about the importance of using internships as a learning experience because internships can solidify decisions for majors and career paths," said Kate Zimmerman, director of cooperative and continuing education at Penn State Schuylkill. "Renee was able to determine that she wanted to change her major from health policy and administration to business after her summer internship," Zimmerman commented. "We learn something from every experience, and the goal of co-op is to help students gain this insight early on so that they can set themselves up for success after graduation."
"I feel co-op helped me grow as a person with finding my way through my career," Paetzell commented. "I never knew how important it is to network with people and get noticed. Co-Op has helped me get more comfortable with talking to people in general."
By participating in an internship at her current place of employment, Paetzell says the experience supported her ambition to work in a hospital, as her internship responsibilities extended her typical duties, allowing her to gain hands-on patient experience. 
Q: What were some of the daily tasks you had to perform as part of your internship at Providence Place?
Paetzell: Some of the daily tasks involve getting residents up and dressed for the day, bathing, and taking them to and from meals, activities, and their doctors' appointments. Out of all of this, always making sure they are happy and safe is also important.
Q: How do you feel Penn State Schuylkill Co-Op promotes inclusion on campus?
Paetzell: I have met amazing people through my experience. I know that I can always go to them with any questions, and I can talk to them in confidence about anything that I have a problem with, with no judgement. 
Q: How has your internship complemented your experience at Penn State Schuylkill?
Paetzell: Co-op has helped me open my shell a little more. I have come to be more open to people, as networking was a big part of that. I was afraid to get a conversation started, but now with the help of co-op, I feel more comfortable.
Q: Can you explain the benefits of Co-Op and why students should participate in internships?
Paetzell: I recommend everyone to do an internship. I learned a lot about what I want more in my career. The awesome part was that I got to do my internship where I work.
Q: What is some advice you would give to your younger self?
Paetzell: Take every opportunity you get. No matter how little or big the opportunity is, take it. You never know what it could lead into.