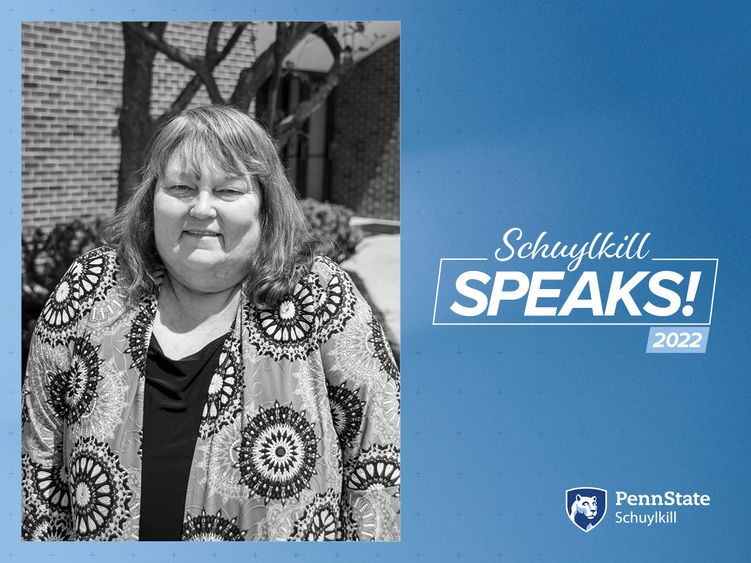 Editor's note: This story is part of a series profiling exceptional members of Penn State Schuylkill's spring 2022 graduating class. For more stories like Terraciano's, visit schuylkill.psu.edu/2022-graduates.
SCHUYLKILL HAVEN, Pa. — This spring, Debra Terraciano will earn her degree and embark on a career track she began in 1981. Terraciano is an adult learner earning her business degree in Penn State Schuylkill's accounting option — a major she first explored decades ago as a new high school graduate.
But Terraciano's college plans did not materialize for her then, and she instead established a career in child care. For over a decade, Terraciano operated a family day care from her home, describing it as her dream job. Terraciano always loved working with children, and even served as a foster parent for 13 years. When she began fostering children, she closed her family day care to concentrate on her family, ultimately being a stay-at-home mom to her four sons, who are now fully grown. Today, she is a grandmother to six.
Terraciano is a Schuylkill County native who grew up near Cressona, Pennsylvania, and now lives in Pottsville. She attended Blue Mountain High School, graduating in 1981.
In 2008, however, Terraciano received devastating news: she was diagnosed with transverse myelitis. Caused by inflammation of the spinal cord, transverse myelitis can affect motor function, sensory tracts, and cause severe pain in people afflicted by it. Many people with the disorder are rendered incapable of walking, but Terraciano's determination and faith have prevented her from reaching that point.
Transverse myelitis changed Terraciano's life, but she knew she did not want to leave the workforce. So she returned to college to finish what she began in the 1980s, and she will graduate with her degree this spring.
"I had the pleasure of having Deb as a student in several classes and can testify that she is an example of how perseverance pays dividends," said Gian Whalen, assistant teaching professor of business and business division coordinator at Penn State Schuylkill. "Withstanding several obstacles that may have deterred others from completing their degree, she continued to push forward with enthusiasm to the finish line."
Terraciano took a few moments to reflect on her time at Penn State Schuylkill as her undergraduate career comes to a close.
Q: Outside of academics, what was the most valuable lesson you learned during your time at Penn State Schuylkill?
Terraciano: For me personally it was that I could do it and I was not too old. I had been through some rough times and always doubted myself. While everyone else around me knew I could, I was nervous and scared that I might not be able to handle college. Attending Penn State Schuylkill has given me more confidence in my own ability. 
Also, that I just need to keep my faith and keep trusting in God to get me through whatever happens. My favorite Bible verse is Jeremiah 29:11: "For I know the plans I have for you says the Lord. Plans to prosper and not to harm you. Plans to give you a hope and a future." I have dealt with a lot of issues while I was here, including having to take a medical withdrawal last spring because I had health issues and ended up spending 66 days in the hospital. No matter what happened, God showed me what to do and got me through it. Anytime I struggled not knowing if I would get through a semester, I just had to remember that verse and know that God had not brought me this far to fail.
Q: Do you have a favorite Penn State Schuylkill memory? 
Terraciano: While I enjoyed my whole experience, I think being inducted into the Pi Sigma chapter of Alpha Sigma Lambda, the national honor society for adult learners, is one thing I will not forget. It was the first of several times that I was honored for my academic achievements and helped give me confidence that I did belong here.
 
After graduation, I am sure that graduation will be my favorite memory of Penn State Schuylkill, as I fulfill a lifelong dream that I never thought I would with family and friends cheering me on. I just wish my parents and sisters were still with us to be there.
Q: What will you miss most about campus?
Terraciano: The people. Having a mobility disability and needing a scooter to get around campus, I have found everyone has been so nice and helpful to me. My professors have all been so nice — I will miss interacting with them, even if I am older than most of them.
I will also miss the classes and the work. I love to learn and have enjoyed being challenged each semester. I will miss writing papers as I really like writing and had the opportunity to improve my skills by writing about things that were important to me, such as transverse myelitis and foster care. At one time I wanted to be a writer. I have been told by quite a few people I should write a book about my life, and I hope to do this one day.
Q: As you near graduation, what advice would you give to an adult learner who may be hesitant about coming back to earn a degree?
Terraciano: Go for it. Don't let your fear or doubt stop you. It may challenge you a little, but it's definitely worth it. I feel I appreciate getting an education more now than I would have if I went right after high school. When you do come back, ask for help if you need it. I have had many people help me along the way that I am thankful for.
Q: After spending so much of your life in child care, what made you want to pursue a business degree in the accounting option?
Terraciano: My situation had changed and after being a stay-at-home mom for many years I needed to get back in the workforce. I was unable to do what I had done previously due to my disabilities from transverse myelitis. I went through the Office of Vocational Rehabilitation (OVR) to try to get help getting a job. They had me do an evaluation and helped me decide that going to college was the best option for me. This was something I always wanted to do but never thought I would. When I had graduated high school, I had wanted to either teach little children or do something with math, which had been my favorite subject. Since I already had my dream job teaching little children in my day care, I decided to do something with math. Since I also needed something that I could physically do, business with accounting is what came up.
Q: What do you hope to do with your degree?
Terraciano: I hope to find a career in the accounting field that allows me to use the knowledge and skills I have acquired. I want to provide a financially stable environment for me and my son while practicing in the profession that I worked hard to attain. I have not had a job since 2000 and have not had a job outside of my home since 1988, so this is another new adventure I will be starting.
Q: Do you feel as though the challenges in operating a day care, being a foster parent, and managing your transverse myelitis has helped prepare you for college success?
Terraciano: Absolutely! Everything I have been through in my life has helped prepare me. I have been able to use my experiences in my life to apply to whatever we were learning about. In a way, I feel I had an advantage over younger students as I had so many more life experiences to pull from. Working with children in day care, foster care, and my own sons, I learned skills that were useful for school and business such as time management, patience, and negotiation skills. Many times, when we had to share an example of a business concept we were learning about, I was able to draw from these experiences and give a real-life example instead of having to make one up.