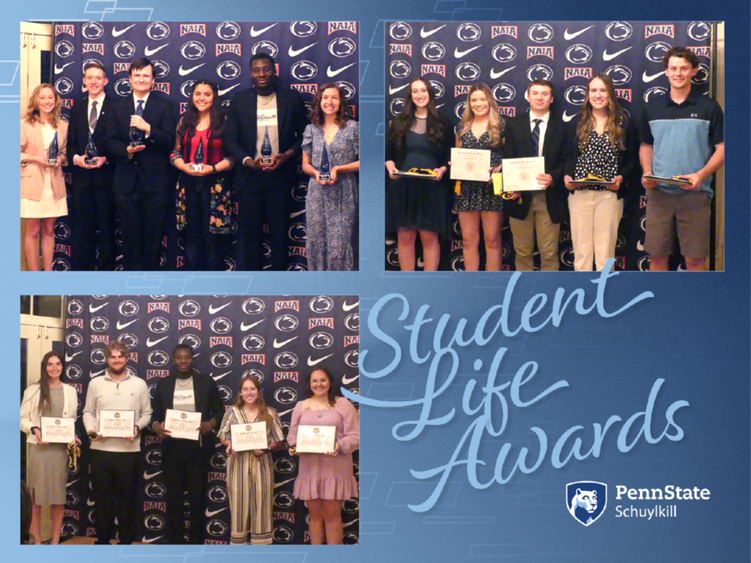 SCHUYLKILL HAVEN, Pa. — Each year, Penn State Schuylkill holds an awards ceremony to recognize inductees to Chi Alpha Sigma, a national honor society for student-athletes; Gamma Beta Sigma, a national honor society that recognizes scholarship, character, and service; and the Student Life Awards. For the first time this year, the awards ceremony also acknowledged graduating members of Penn State Schuylkill Co-Op.
Chi Alpha Sigma
Chi Alpha Sigma is a nonprofit organization established to recognize NCAA and NAIA college student-athletes who excel both on and off the field of competition. Founded in 1996, Chi Alpha Sigma provides outstanding student-athletes with an opportunity to connect with a fraternal association that aligns their educational and athletic successes for a lifetime. Chi Alpha Sigma inductees are third- and fourth-year student-athletes with a cumulative GPA of 3.4 or higher.
2022 Chi Alpha Sigma inductees:
Wilvens Fleurizard, Men's Basketball
Kristina McConnell, Softball
Samantha Palacz, Women's Soccer
Patrick Ryan, Baseball
Lucas Centola E Silva, Men's Basketball
Melanie Torrales, Softball
Owen Zimmerman, Baseball
Gamma Beta Phi
The Gamma Beta Phi Society is a national collegiate honor society, founded in 1964. Gamma Beta Phi focuses on the pillars from which it was established–promoting the highest levels of scholarship through academic success, serving as a catalyst for civic engagement through community service (locally, regionally, and nationally), and promoting character development through servant leadership. Eligible students are third or fourth year, with 50+ hours of service, and a cumulative GPA of 3.4 or higher.
2022 Gamma Beta Phi inductees:
Caitlyn Albitz, Schuylkill Benefitting THON
Sean Duffy, Schuylkill Benefitting THON
Dominique Hughes, Schuylkill Benefitting THON
Grace Muench, Schuylkill Benefitting THON Samantha Robbins, Schuylkill Benefitting THON
Willie Streisel, Schuylkill Benefitting THON
Penn State Schuylkill Co-Op
Penn State Schuylkill Co-Op is an elective program that provides students an opportunity to graduate with a diploma and a resume. Participants take advantage of career development coursework, three full-time working experiences (internships or co-ops), and ongoing support from Career Services and campus faculty and staff. Students gain real-world hands-on experience and a foundation that helps prepare them for the workforce from day one.
2022 Penn State Schuylkill Co-Op graduates:
Ciara Bainbridge, Psychology
Hannah Edmondson, Criminal Justice
Corinne Ellis, Corporate Communication
Courtney Weikel, Corporate Communication
Student Life Awards
Student Life Awards recognize Penn State Schuylkill students who have demonstrated a commitment to their fellow students, the University, and local, national, and international communities, giving both time and talent. They have worked on important community service projects, played on one or more of our NAIA athletic teams, or taken on other leadership roles all while balancing their many life responsibilities–work, family, and academics.
Outstanding Service and Leadership Award
Awarded to a Penn State Schuylkill student who has demonstrated excellence in service and leadership to the campus community or local, national, or global communities.
2022 awardee: Dominique Hughes
Outstanding Academic Achievement and Leadership Award
Recognizing a Penn State Schuylkill student who has demonstrated great achievement both academically (cumulative GPA of 3.0 or higher) and as a leader within the campus community.
2022 awardee: Michael Russell
Unsung Lion Award
Recognizing a Penn State Schuylkill student who, through their dedication and often behind-the-scenes involvement, has demonstrated a commitment to enhancing campus life.
2022 awardee: Joshua Gantz
Rising Lion Award
Recognizing an emerging student leader who has attended Penn State Schuylkill for less than two years and exemplifies dedicated involvement and commitment to enriching campus life.
2022 awardee: Arabi Chavira
Spirited Lion Award
Presented to a student who has demonstrated leadership in promoting campus spirit, pride, and loyalty at Penn State Schuylkill.
2022 awardee: Wilvens Fleurizard
Chancellor's Award for Student Leadership
The Chancellor's Award recognizes a Penn State Schuylkill student who has contributed to the advancement and improvement of student life through their leadership and campus involvement.
2022 awardee: Amy Laubenstine
Eric A. and Josephine S. Walker Award
This award recognizes a Penn State Schuylkill student whose outstanding qualities of character, scholarship, leadership, and citizenship have been directed into programs and services that have positively influenced their fellow students and have contributed to the prestige and well-being of the campus and, the reputation of the University as a whole.
2022 awardee: Samantha Robbins
Student Service and Leadership Award
These University-wide awards are granted to a select few students who demonstrate exceptional service and leadership qualities.
2022 Jane Wood Reno Memorial Scholarship: Michael Russell