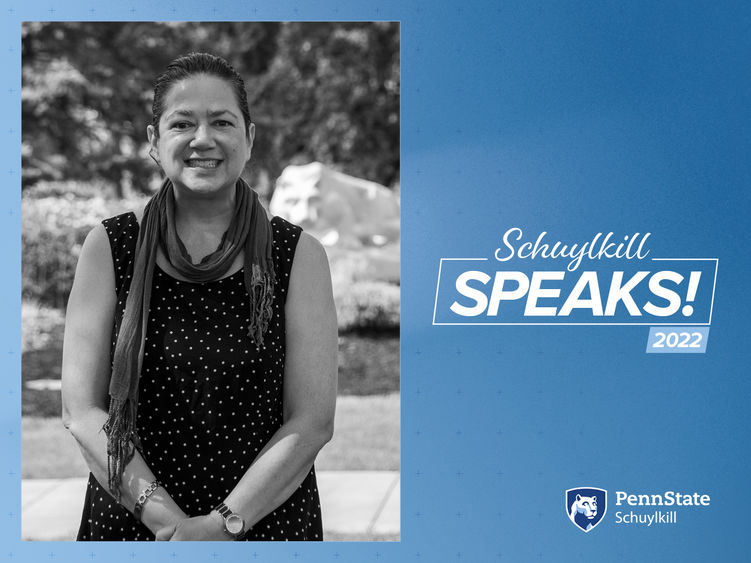 Editor's note: This story is part of a series profiling exceptional members of Penn State Schuylkill's spring 2022 graduating class. For more stories like Rayos', visit schuylkill.psu.edu/2022-graduates.
SCHUYLKILL HAVEN, Pa. — This summer, Carol Rayos will earn a bachelor's degree in criminal justice with a minor in sociology from Penn State Schuylkill. During her time on campus, she has conducted several research projects, working closely with faculty advisers; she has participated in the Honors Program and the Blue and White Society, and was also inducted into Alpha Sigma Lambda, the premier honor society for adult learners; and she has continued working throughout her time at Schuylkill.
And this is not her first degree.
Rayos was born in Rahway, New Jersey, and raised in a military family. Her father was in the Air Force, and her parents ultimately retired in Florida in the 1980s. When she graduated from high school, Rayos knew she wanted to help people and pursued her degree in nursing, later joining the Air Force herself to continue with more advanced training.
Her career with the Air Force and in health care lasted two decades, and Rayos found the work fulfilling and rewarding. Due to health reasons, she retired from this career, but she knew she still wanted to help people, and she did not want to leave the workforce. As she was always curious about law and the courts system, she decided to return to school to pursue a law degree.
Though she hails from New Jersey and earned her first degree from a Florida college, Rayos has family ties to Schuylkill County. Her grandparents were from Shenandoah, Pennsylvania, and she relocated to Minersville, Pennsylvania, just three years ago. When she moved to Schuylkill County, Rayos began working full time in a thermoformer production plant that produces eco-friendly recyclable plastic products. Once she was accepted to Penn State Schuylkill, her manager worked with her to create a schedule that allowed her to continue working there while also earning her criminal justice degree.
"Carol is a natural-born leader," said Ronald Kelly, assistant teaching professor and program coordinator of criminal justice at Penn State Schuylkill. Kelly has advised Rayos in some of her research, and he notes that she is, "a go-getter who always goes above and beyond my expectations. She truly produces high-quality work."
With extracurriculars, a full-time job, research projects, and graduation on the horizon, Rayos has been a busy student. But this veteran and adult learner took time to reflect on her experiences at Penn State Schuylkill and discuss her plans for the future.
Q: What do your post-graduation plans look like?
Rayos: I will graduate this summer and am excited to have an opportunity to work in pre-trial legal services in Berks County. One of my criminal justice instructors, Ron Kelly, advised me of this opening, and I will begin training after this semester. I will continue to work toward one of my goals of acceptance into a graduate law school program. 
 
Q: Outside of academics, what was the most valuable lesson you learned during your time in college? 
Rayos: If you do not know the answer, there is someone who can help. Penn State Schuylkill has a lot of talented professionals who can help you as a student. On campus, someone will have the knowledge to guide, find access or know someone else who can help. In a nutshell, never, ever, ever give up on yourself.  
 
Q: What is your favorite Penn State Schuylkill memory? 
Rayos: Of course, for me, it is the view and the walk. Penn State Schuylkill has a beautifully designed and landscaped, accessible campus. I enjoy hiking, and we have a friendly walking path beginning with the Lion Shrine on the mall walk, as well as the walk near the campus fountain, down to the tennis courts, around the open soccer-baseball field, and to the nearby Schuylkill Haven Veterans Memorial monument. It's a scenic loop.
 
Q: What will you miss most about campus?
Rayos: I will miss the genuine friendliness, the positivity, and the helpfulness of all the persons on campus that I met. These first include the IT department, then from the library staff to the bookstore staff, and law enforcement who gave me a band aid when I needed it. I would be remiss if I did not mention the cafeteria staff and their cool coffee barista skills at the Hidden Stream Café. It is the small, daily encounters that make this campus strong. 
 
Q: What kind of research have you conducted, and how has it impacted your education? 
Rayos: My areas of interest in social sciences research have led me to ask questions in criminal justice topics that focus on environment, ethics, and juvenile justice concerns. I think research is important because it benefits our lives. I had the opportunity to present my research in the campus' spring Student Research and Scholarship Conference, and then advanced to the 2022 Penn State Eastern Regional Research Symposium held here on campus. 
My first paper concentrated on ethics in just war policy and government whistleblower cases in our criminal justice ethics course, and Dr. Juyoung Song, associate professor of criminal justice, was my adviser for this study. 
The second paper focused on raising the juvenile life sentencing without parole age guidelines in our justice system for our juvenile justice course, advised by criminal justice instructor Ron Kelly. I recently shared my studies at the Undergraduate Research and Creative Accomplishment Symposium this semester.   
 
Q: What made you want to pursue a criminal justice degree, and what was the most memorable part of the program for you?
Rayos: I have always had a dual interest in health care and the legal field. I am interested in law. The faculty will be the most memorable part for me. In the classroom, they have been helpful to all students and want each of us to do well and succeed. My adviser, Dr. Hakan Can, professor of criminal justice, is very helpful and from day one told all his students to ask him, poke him, or bring any concerns to him so he can help each student stay engaged in their academic program. 
 
Q: As you near graduation, what advice would you give to other adult learners or transfer students about college in general, and Penn State Schuylkill, specifically? 
Rayos: Firstly, I encourage students to pick up another language if their studies allow it, because you just never know when it can be useful, and it helps because you start to see connections between the construction of the English language and other languages. I took German and plan to continue with that as well as Polish. 
Secondly, don't stress over small stuff. There are solutions to problems, no matter how big they may seem. There are always situations that will cross your path that you will have no control over, such as global pandemics, or personal health issues that may create handicaps that can set you back or seem insurmountable — but those issues don't have to be academically disabling or career ending. Finding a way to deal with the problem and cope is always helpful. Sometimes, a new door opens for you that you may not have seen before or had considered, and it will provide another opportunity and journey to pursue. Seek out and you shall find networks of support at Penn State Schuylkill.