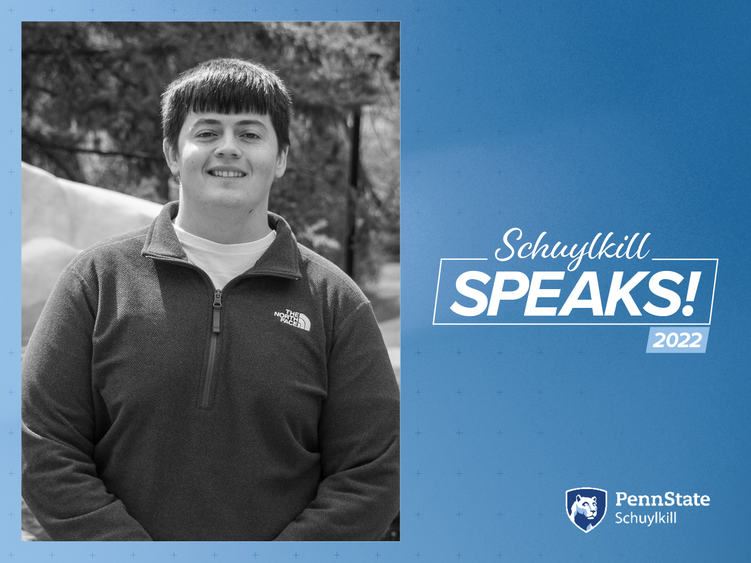 Editor's note: This story is part of a series profiling exceptional members of Penn State Schuylkill's spring 2022 graduating class. For more stories like Lindenmuth's, visit schuylkill.psu.edu/2022-graduates.
SCHUYLKILL HAVEN, Pa. — This spring, fourth-year business student John Lindenmuth will graduate from Penn State Schuylkill with his bachelor's degree. Lindenmuth chose to pursue the marketing/management option, having been inspired to pursue a career in marketing after watching Super Bowl advertisements year after year.
In his third year at Penn State Schuylkill, Lindenmuth took a filmmaking class where he was able to flex his videography skills. He has directed his own short films and also created a video reflecting on his time in Germany, a spring break trip he and other business students took this semester for their Cultural Intelligence in Leadership and Management course. These projects sparked a passion in him that he hopes to continue after graduation.
Lindenmuth is an Ashland, Pennsylvania, native who went to Tri Valley Jr./Sr. High School. During his time at Penn State Schuylkill, he was involved with Schuylkill Benefiting THON, as well as Phi Beta Lambda, the collegiate division of the Future Business Leaders of America, and acted as vice president of programming for the Blue & White Society. He also will graduate with a minor in communication arts and mass media.
"John has grown tremendously in many different ways (academically, professionally and personally) since I first met him a mere four years ago as a freshman when he was in my economics course," said Gina Whalen, assistant teaching professor of business at Penn State Schuylkill. "These experience will serve him well in his current role, which he will take on after graduation at Seltzer Insurance and in all his future career endeavors as a Penn State alum."
With graduation on the horizon, Lindenmuth is already planning his postgraduate career as an account manager with The Seltzer Group, an independent insurance agency located in Orwigsburg, Pennsylvania. He has interned there since his first year at Penn State Schuylkill.
"I hope to keep making movies, keep riding my skateboard, stay involved with Penn State Schuylkill, and live a happy life," he said, reflecting on his plans for the future.
While his college career and extracurricular activities have kept him busy for the past few years, he is happy to have a break. With this newfound down time, Lindenmuth took some time to comment on his experiences at Penn State Schuylkill.
Q: Outside of academics, what was the most valuable lesson you learned during your time in college?
Lindenmuth: It is OK to laugh at yourself. You're going to mess up plenty of times in life, and you will certainly learn from those mistakes. Laugh it off, learn from it, and move on! There is no sense dreading over a mistake.   
Q: Do you have a favorite Penn State Schuylkill memory?
Lindenmuth: It's not exactly a memory on the Schuylkill campus, but a memory due to attending the campus — the opportunity to travel to Germany. There is nothing like traveling to a different country to experience another culture, eat some awesome food, and witness the beauty of it. The friendships and memories I made there will be treasured for as long as I live, and I am forever grateful for that opportunity.
Q: What will you miss most about campus?
Lindenmuth: I will miss hanging out in the cafe with my friends, doing homework and talking about anything. Many laughs were shared, and many memories were made in that building between us.
Q: As you near graduation, what advice would you give to an incoming student about college in general, and Penn State Schuylkill, specifically?
Lindenmuth: The advice I would give to any incoming student is get involved on campus and don't stress about feeling like you don't have it all figured out. I'm graduating and still figuring things out! Getting involved on campus is an excellent way to meet new people and make your experience worth it. Some of my closest friends came from getting involved on campus.  
Q: What made you want to pursue a business degree in the marketing and management option?
Lindenmuth: Watching the Super Bowl commercials growing up. I told myself I wanted to do that every year. I just felt like I had a mind for storytelling, and marketing could help me bring that to life. 
Q: How did you get involved with The Seltzer Group? 
Lindenmuth: I used to work out at the gym with the senior vice president of the company because we had the same personal trainer. I mentioned that I was seeking a new job, and he told me they were hiring interns. I texted him that same night and told him I was interested. The rest is history. When I first started there my role was basic like attaching old documents into the system and creating client accounts, but now it is starting to turn into training for a full-time position. 
Q: Where do you see yourself next year? In five years?
Lindenmuth: I see myself working on my career and life next year. As for the next five years, I'm not sure. I like to take things one step at a time and will see where life takes me. Either way, I'm excited to see what my next chapter in life looks like!