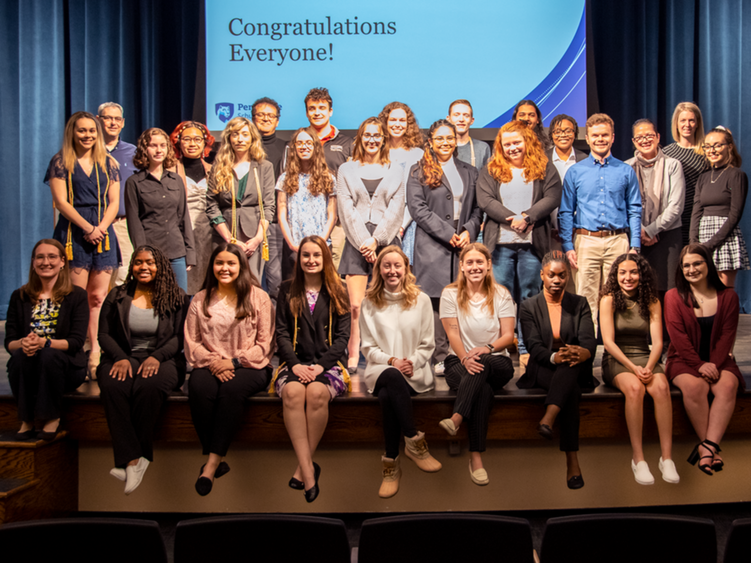 SCHUYLKILL HAVEN, Pa. — Penn State Schuylkill celebrated the achievements of its Honors Program students during an April 19 ceremony in the John E. Morgan Auditorium. This annual event recognizes the exemplary effort and dedication required of Penn State Schuylkill Honors Program students. Chancellor Patrick Jones provided opening remarks that challenged the students to not only pursue excellence in their studies and research endeavors but to maintain integrity in all they do.
The Honors Program offers opportunities for students to enrich their education through honors coursework and advising, research with faculty, and extracurricular activities — including visits to museums and historical sites, attendance at various live performances, travel opportunities, and more.
Incoming first-year students with a 3.5 GPA or higher may apply to the program, and eligibility is incumbent upon maintaining the minimum honors course load, a 3.3 GPA, and meeting all other program requirements, including upholding the Honors Code based on the Penn State Values. Honors courses and independent honors options are part of individualized academic plans developed collaboratively with students, academic advisers, and Honors Program coordinators.
As of March 2022, the program has new faculty leadership. Sarah Princiotta, assistant professor of biology, was named coordinator for the Honors Program, and Jessica Saalfield, assistant professor of psychology, is the program's new assistant coordinator.
"Dr. Saalfield and I are excited to start a new chapter of the Penn State Schuylkill Honors Program as coordinators and for the opportunity to work with these dedicated and high-achieving students," said Princiotta. "We also want to acknowledge Dr. Valerie Schrader, associate professor of communication arts and sciences, who has shaped the program into what it is today. We are incredibly grateful for her immense contributions to the Penn State Schuylkill Honors Program and its students."
Darcy Medica, director of academic affairs, closed the ceremony by extolling the merits of the program and the importance, now more than ever, of critical thinking.
The Honors Program awardees for spring 2022 are:
Honors cord recipients
Honors cord recipients are students who are graduating with a baccalaureate degree and have also achieved the required number of Honors credits for each year of membership.
Corinne Ellis
Lexi Johns
Saige Lowe
Michael Russell
Courtney Weikel
Honors Program graduating students
All graduating students who are members in good standing in the Honors Program.
Corinne Ellis (bachelor of arts in corporate communication, minor in communication arts and sciences)
Bethany Hollenbush (bachelor of science in biology)
Lexi Johns (bachelor of science in biology)
Saige Lowe (bachelor of science in psychology)
Michael Russell (bachelor of science in biology)
Courtney Weikel (bachelor of arts in corporate communication, minor in communication arts and sciences, minor in business, sports administration certificate)
Honors Program certificates
Students are awarded certificates based on the number of honors course credits completed. Each year signifies seven honors course credits earned, with some students earning certificates for multiple years. Those students who complete at least one honors course credit earn a certificate of participation.
First-year certificate
Aridayli Cespedes Beltre
Saidah Burke
Sarah Calsam
Isabela Caruso
Kaitlyn Cheng
Taylor Dombrosky
Erik Dubbs
Christopher Duffy
Benjamin Fowler
Joshua Gantz
Karsten Gray
Kyla Guillermo
Brianna Hall
Seth Hubler
Kevin Hutko
Jaclynn Johnson
Katherine Joyce
Richard Joyce
Storm Leymeister
Nicole Marion
Lily McDonald
Madison Meyer
Kassidy Milligan
Mackenzie Moser
Malak Mowafi
Aaron Polansky
Carol Rayos
Scarlet Tejada Rodrigues
Lucas Centola E Silva
Kathryn Silverberg
Christine Thompson
Morgan Tohill
Aiden Toomey
Sarah Tran
Kaely Walshaw
Jenna Walton
Brendan Welsh-Lowe
Elyssa Yeagley
Second-year certificate
Caitlyn Albitz
Saidah Burke
Emily Carestia
Brendan Dotter
Karandhir Flora
Seth Hubler
Dominique Hughes
Michael Johnson-Ponce
Hannah Meyer
Caleb Reedy
Hayley Salen
Logan Seddon
Poetic Session
Brendan Welsh-Lowe
Rachel Wiest
Third-year certificate
Sophia Bates
Grace Muench
Dylan Reber
Poetic Session
Cassandra Ward
Fourth-year certificate
Sophia Bates
Corinne Ellis
Saige Lowe
Michael Russell
Courtney Weikel
Honors participation certificate
Sachelle Alfred
Gordon Joseph Arnold, IV
James Bell
Abigaelle Bellevue
Shinaiya Benjamin
Tiffany Bohner
Ethan Carvajal
Amanda Charowsky
Aniya Childers
Arabi Chavira
Ava Clauser
Nikki Conville
Ivy Daniels
Kevin Devine
Sean Duffy
Aloura Gavalis
Ayanna Grant
Pingxu Hao
Bethany Hollenbush
Mackenzie Ilyes
Morgan Kleckner
Mikayla Kupstas
John Lindenmuth
Messiah Maddox
Logan Maurer
Cealinn McGroarty
Kathryn Muth
Joahlana Najunas
Juliana Ndjore
Liam Ortiz
Samantha Palacz
Jillian Phillips
Caleb Primeau
Imani Raven
Tiffany Reid
Saliyah Sebro-McQueen
Andrew Sepp
Nathan Shirk
Haily Showers
Sara Strouse
Carter Thompson
Morgan Timm
Marshaya Tucker
Carter Yeager
Learn more about the Penn State Schuylkill Honors Program or contact the Office of Admission to learn about all the academic opportunities available to students at Penn State Schuylkill.
"Dr. Saalfield and I are excited to start a new chapter of the Penn State Schuylkill Honors Program as coordinators and for the opportunity to work with these dedicated and high-achieving students. We also want to acknowledge Dr. Valerie Schrader, associate professor of communication arts and sciences, who has shaped the program into what it is today. We are incredibly grateful for her immense contributions to the Penn State Schuylkill Honors Program and its students."

—Sarah Princiotta , assistant professor of biology and Honors Program coordinator