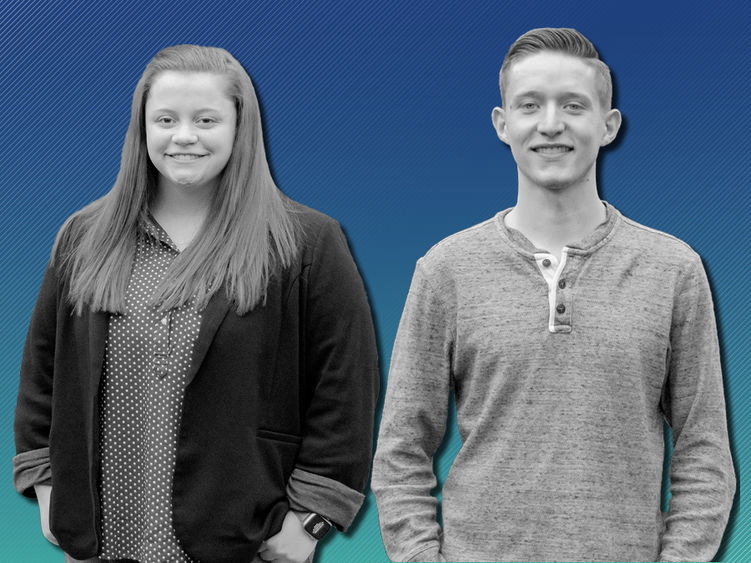 SCHUYLKILL HAVEN, Pa. — Penn State Schuylkill students Sophia Bates and Michael Russell are among 17 undergraduates comprising Penn State's Undergraduate Research Ambassadors Program, designed for students who are passionate about conducting research to promote undergraduate research and encourage participation among students throughout the University. Bates and Russell are two of only three students representing the Commonwealth Campuses and the sole ambassadors from any University College campus.
Penn State's Undergraduate Research Ambassadors are a team of students who participate in undergraduate research and creative activity in various academic fields throughout Penn State. Ambassadors study fields including humanities, social sciences, business, visual and performing arts, and STEM.
Though this is a relatively new program, Penn State Schuylkill has been involved in it from its early stages. Last year, now fourth-year corporate communication student Courtney Weikel and fourth-year biology student Michael Russell served as undergraduate research ambassadors, and Russell has decided to continue his work in the program.
The students have presented their research at regional and national conferences and have had papers accepted for competitions and publication. Each student also has taken a unique approach to their research depending on their major discipline.
Analyzing health care through a rhetorical lens
Bates is a third-year corporate communication major with minors in biology and communication arts and sciences, and her chosen area of research is health communication, blending her interests in biology and communication.
One of Bates' current research projects involves the rhetorical analysis of photographs that people posted on social media of themselves before attempting suicide. In this project, explained Valerie Schrader, associate professor of communication arts and sciences and Bates' research mentor, Bates explores how these images "relate to Erving Goffman's theory of facework and how, by understanding the different 'faces' of depression and suicidal thoughts and ideations, we can better learn how to reach out to those who may need our help and reduce the stigma associated with depression and suicide."
Bates has had work accepted to both the Eastern Communication Association's Undergraduate Scholars Conference (ECA-USC), where she was one of 11 Penn State Schuylkill students to present work at the virtual conference last spring, and the National Communication Association, where her paper was one of two Top Student Papers in the Theatre, Film, and New Multi-Media Division.
Bates' research extends to her interest in biology, as well. She recently had a paper accepted to the ECA-USC for the 2022 conference in Philadelphia that looks at how Burkean identification — a rhetorical theory proposed by Kenneth Burke wherein one party must "identify" with another when attempting to persuade — is used in direct-to-consumer pharmaceutical ads and how identification may be used in other health communication contexts to persuade people to get vaccinated, wear masks, and more. Schrader is working with Bates to submit this article for publication in a peer-reviewed communication journal. The two currently have an article in press with the Kentucky Journal of Communication that is based on Bates' 2021 NCA paper.
Following graduation, Bates plans to attend graduate school for health communication. "I'm so proud of Sophia and everything that she's accomplished," said Schrader, "and I know she's going to go on to do great things in the health communication subdiscipline."
"I am currently looking into different graduate degree programs that will allow me to explore health communication at all new heights," Bates commented. "Undergraduate research has allowed me to explore new and exciting areas of interest, has helped me find my niche in communication research, and has put me on a career path that I am eager to embark upon."
Blending sciences in research and experimentation
Russell is a fourth-year biology student who has conducted research in biology and chemistry, and he also sits on Penn State Schuylkill's Undergraduate Research Council.
In 2019, Brenna Traver, associate professor of biology, invited Russell to conduct research in her lab. The pair got to know one another through Theta Chi Theta, the campus chapter of Beta Beta Beta, the national biological honor society, where Traver serves as the organization's faculty adviser and Russell sits on the board.
"Sometimes you get a good read on a student and know they have an aptitude for research and working well as a team," Traver commented, noting she had never had Russell in class at that point. "I offered Mike a position in my lab for the 2019 summer, and it was one of the best personnel decisions I have made."
Traver's research examines honeybee colony decline, and she focuses her work on how pathogens — Nosema ceranae specifically — contribute to that decline. Russell joined her research team and later assisted Traver as a teaching assistant for a few of her lower-level courses. "Mike has continued working in my lab for the past few years, and I mean it when I say that I would not have made it through the past two years without him," Traver said. "I was very impressed with how quickly he mastered the techniques and the impressive results that he produced," she concluded.
And even though Russell is a biology major, his interest in the sciences stretches to chemistry, as well, with experiments and research conducted alongside Lee Silverberg, associate professor of chemistry at Penn State Schuylkill.
"Mike did about two years' worth of research with me," commented Silverberg. Russell and Silverberg have examined the syntheses of heterocyclic sulfoxides and sulfones, investigating their structure, chemistry, spectroscopic properties, and bioactivity. This research builds off a larger body of knowledge where the compound shows possible signs of antifungal properties, and their research and experiments have many potential real-life applications. "Most recently, he investigated a surprising chemical reaction we discovered, and through several experiments, he was able to find conditions under which the reaction became reasonably fast and reproduceable," Silverberg explained.
"Undergraduate research was instrumental in my education," Russell explained. "Being able to conduct research has heightened my critical thinking skills, allowed me to become familiar with common biological or chemical techniques, and provided me with an opportunity to speak and present at conferences," he continued.
Russell has presented his research at a number of conferences, including a virtual presentation at the American Chemical Society Middle Atlantic Regional Meeting in June 2021. As he prepares for graduation, he will present his work at his final Student Research and Scholarship Conference, hosted each semester by Penn State Schuylkill. And despite graduation on the horizon, Russell has not stopped encouraging his peers to get involved in research, most recently speaking with prospective students about his research experiences at an event for future Penn Staters.
Following graduation, Russell will continue to medical school. Currently, he is fielding offers from eight schools while weighing his options for the future. "During my medical school interviews, I was able to talk at length about my research experiences and express my interest in applying science to real-world situations and real-life patients," he said. "My research exposure will also prepare me for medical school since, at its core, the practice of medicine is truly an applied science."
Becoming an Undergraduate Research Ambassador
To follow in their footsteps and learn how you can become an Undergraduate Research Ambassador at Penn State, visit the Undergraduate Research and Fellowship Mentoring website.