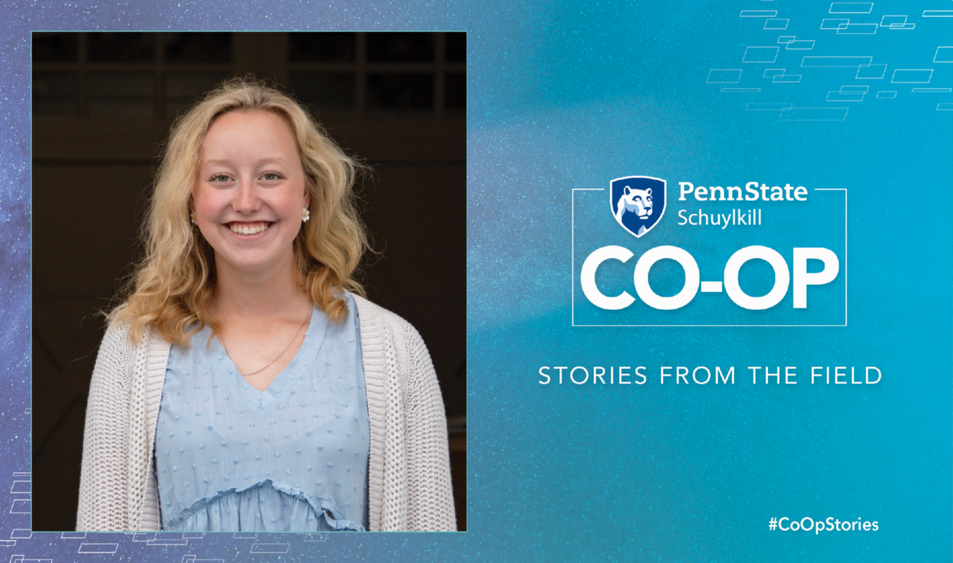 Editor's note: This story is part of a series profiling the summer 2021 internship experiences of undergraduate students participating in Penn State Schuylkill Co-Op. For more stories like Hughes', visit schuylkill.psu.edu/co-op-stories. The series is written by Courtney Weikel, a fourth-year Penn State Schuylkill student majoring in corporate communication and completing her summer internship in the campus's Office of Strategic Communications.
RINGTOWN, Pa. — Dominique Hughes, a third-year Penn State Schuylkill student, is furthering her understanding of internal communications with a summer internship at Independent Dock & Door, a Ringtown, Pennsylvania, company that specializes in residential and commercial garage door needs.
"I chose this internship because I believed it would better my understanding of internal communication within a business," said Hughes. "I actually reached out to the office manager of Independent Dock & Door about interning with their company. I was connected to the office manager through my dad, as he is one of their employees as well."
Hughes is from Gilberton, Pennsylvania, and is majoring in corporate communication with a minor in communication arts and sciences.
As part of her internship, Hughes developed a business-critical project intake form with smart fields that helped bridge communication between technicians in the field and personnel back in the office. Hughes' "Residential Measuring Worksheet" provides a mobile-friendly online form with dropdown options and allows technicians to efficiently input required data such as door measurement, ceiling construction, type of track, installation hardware, and more. The form then uploads the project parameters to Independent Dock & Door's service management system.
"When the form was implemented, technicians had peace of mind because the form provided common features of each detail of the garage door, making site checks simpler for them to complete," Hughes said. "The form provides a way for each employee at Independent Dock & Door, both in the office and out in the field, to view details recorded for a job all in one location and cut down on the office's paper use."
During her internship, Hughes also had the opportunity to plan an event to acknowledge the hard work of the company's technicians. "It's known as Super Tech Day, and I was able to plan gifts and activities to thank them and show that Independent Dock & Door, as a business, appreciates them," said Hughes. "It was a memorable experience as I got to see my work in action, and it was a success!"
On campus, she holds leadership positions as the primary chair of Schuylkill Benefitting THON, secretary of the Penn State Schuylkill Honors Program, and a founding member of Penn State Schuylkill Co-Op.
For her honors coursework, Hughes completed sole-authored research on "Remembering Harriet Tubman: A Rhetorical Analysis of the 2019 Film 'Harriet' through Public Memory." This research was presented at the Eastern Communication Association virtual conference held in April 2021 and at the Penn State Undergraduate Research Exhibition.
Hughes took time to reflect on her experience with co-op and Independent Dock & Door.
Q: Describe a day in the life at your internship.
Hughes: At Independent Dock & Door, I assist with the creation of forms to strengthen internal communication, complete client research, manage the social media account, answer phones, and enter customer information into the management system.
Q: How will this internship help prepare you for future careers and with your major?
Hughes: My internship at Independent Dock & Door will benefit me in future jobs as I learned technical skills that I could use on form creation, PDFs, and other aspects of daily business.
Q: What advice do you have for students looking to join the CO-OP program and find internships?
Hughes: I recommend any student to join co-op! It has been so beneficial in my search for an internship! Working with Ms. Kate Zimmerman [Penn State Schuylkill's director of cooperative education] has really set the path for my career, and I wouldn't have been able to do it without the co-op program!
Q: Since this company did not have interns prior to you, how did they create this unique experience? Would you recommend students to complete internships here?
Hughes: I would recommend students to complete an internship with Independent Dock & Door! They're open to any ideas a student has to offer and are willing to work with you on what you want to take away from the experience.
To learn more about Penn State Schuylkill Co-Op and how you can get involved as either a student or an employer, visit schuylkill.psu.edu/co-op or contact Kate Zimmerman, director of cooperative education, at [email protected] or 570-385-6296.