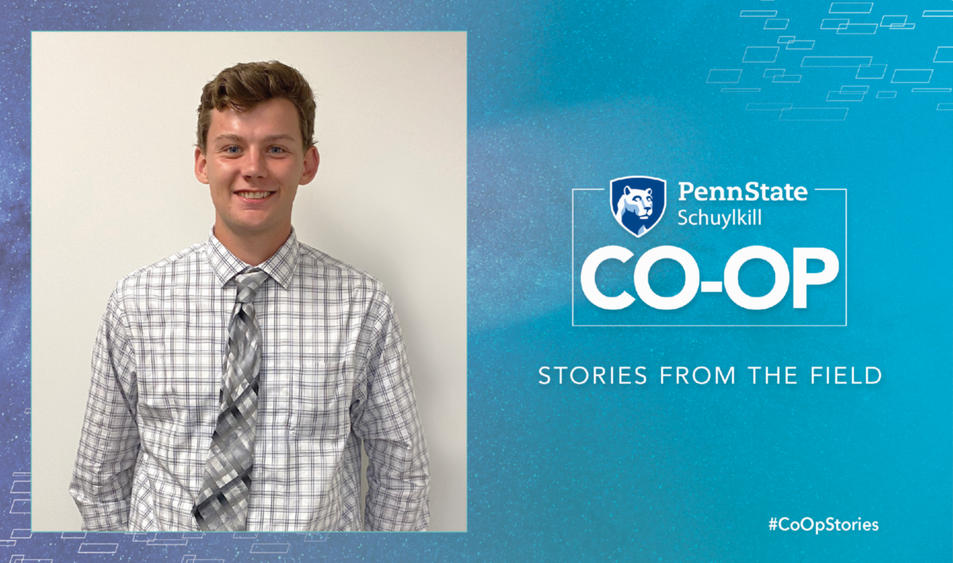 Editor's note: This story is part of a series profiling the summer 2021 internship experiences of undergraduate students participating in Penn State Schuylkill Co-Op. For more stories like Duffy's, visit schuylkill.psu.edu/co-op-stories. The series is written by Courtney Weikel, a fourth-year Penn State Schuylkill student majoring in corporate communication and completing her summer internship in the campus's Office of Strategic Communications.
DOYLESTOWN, Pa. — Penn State Schuylkill student-athlete Sean Duffy got an inside look at careers in criminal justice during an internship this summer at the Bucks County District Attorney's Office in Doylestown, Pennsylvania. For Duffy, this internship has proven beneficial as he hopes to one day become an agent of the Federal Bureau of Investigation.
In preparation for a trial, Duffy and several other interns were given an opportunity that made this internship memorable. "One of the district attorneys in our office asked me and other interns to listen to some evidence that she would be presenting in an upcoming trial," said Duffy. "We gave her our viewpoints as if we were a jury and how we think they would react to the evidence. We also got to watch the trial and see the defendant be convicted."
This compelling hands-on experience helped cement Duffy's resolve to pursue a career in federal law enforcement.
Residing in Perkasie, Pennsylvania, Duffy found this internship close to home, allowing him to gain real-world experience in his desired field. Duffy is a third-year student majoring in criminal justice with a minor in psychology. He is also a member of Penn State Schuylkill Co-Op, the Penn State Schuylkill Honors Program, THON, Lion Ambassadors, and the baseball team.
Duffy's academic excellence earned him membership in the Chi Alpha Sigma Honors Society, which recognizes college students who receive a varsity letter in their sport while earning a minimum 3.4 GPA.
Duffy took a moment to discuss his time interning with the Bucks County District Attorney's office.
Q: Describe a day in the life at your internship.
Duffy: I typically watch criminal trials or work on filing different case folders. I also arrange case files and mail out information to defense attorneys so they are ready for trial.
Q: How have your Co-Op courses prepared you for your summer internship?
Duffy: My Co-Op courses helped me prepare my résumé and cover letter and also gave me valuable tips on speaking. Co-Op also is what got me this internship. Without it and my faculty member's connections, I probably wouldn't have found the opportunity myself.
Q: What advice do you have for students looking to join the Co-Op program and find internships?
Duffy: I think everyone should join Co-Op! It really prepares you well for interviews, résumés, and many other important career areas.
Q: With your interest in pursuing a career with the FBI, how will this internship help in reaching your goal?
Duffy: I think this internship is a great starting point to get used to what the criminal justice field will be like. Next year, I will be looking for an internship more specifically in the field of law enforcement.
To learn more about Penn State Schuylkill Co-Op and how you can get involved as either a student or an employer, visit schuylkill.psu.edu/co-op or contact Kate Zimmerman, director of co-operative education, at [email protected] or 570-385-6296.